Aflibercept Improves Overall Survival in Patients with Metastatic Colorectal Cancer

The novel fusion protein aflibercept added to standard chemotherapy led to an overall survival benefit in a global phase III trial of second-line metastatic colorectal cancer, reported at the 2011 European Multidisciplinary Cancer Congress in Stockholm.1
"Adding aflibercept to FOLFIRI [leucovorin, fluorouracil (5-FU), irinotecan] in patients with metastatic colorectal cancer previously treated with oxaliplatin-based regimens resulted in overall survival and progression-free survival benefits that are both statistically significant and clinically meaningful," said Josep Tabernero, MD, of Vall D'Hebron University Hospital in Barcelona, Spain, who presented the findings at a Presidential Session.

Aflibercept is a new fusion protein of key domains of the human vascular endothelial growth factor (VEGF) receptors 1 and 2. It blocks all VEGF-A isoforms, as well as VEGF-B and placental growth factor, and binds with high affinity.
VELOUR Trial
The VELOUR trial randomly assigned 1,226 patients with previously treated metastatic disease to aflibercept (4 mg/kg IV) or placebo, plus FOLFIRI, every 2 weeks until progression.
The trial reached its primary endpoint of overall survival, with a hazard ratio of 0.82 (P = .0032). Median overall survival was 12.1 months with FOLFIRI alone and 13.5 months with FOLFIRI plus aflibercept, Dr. Tabernero reported.
Positive results were observed as well for progression-free survival, with a hazard ratio of 0.76 (P = .00007). Median progression-free survival was 4.7 months with chemotherapy alone vs 6.9 months with the addition of aflibercept. The investigators noted that response rates were also higher with aflibercept on board, 11.1% vs 19.8%, respectively (P = .0001).
Consistency of Benefit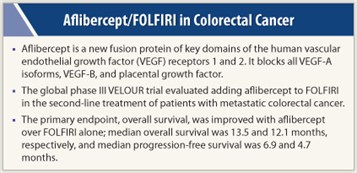 Prespecified subgroup analyses confirmed the consistency of the benefit of aflibercept on both endpoints. The analyses considered the impact of stratification factors (performance status, prior bevacizumab [Avastin] treatment) and patient characteristics (age, gender, geographic region, prior hypertension, number of metastatic sites, disease confined to the liver, location of primary tumor) and observed "the consistency and robustness of the efficacy results across all domains, including prior treatment with bevacizumab," Dr. Tabernero reported.
The greatest treatment effect was seen among patients who had metastases confined to the liver, as compared to metastases elsewhere or no liver metastases.
Among patients with liver-only metastases, risk of death was reduced by 35%, compared with an 11% risk reduction among the other groups. The results for progression-free survival were similar, he said.
Patients who received bevacizumab previously fared as well on aflibercept as patients who had not received bevacizumab. Median progression-free survival was 6.7 months for patients with prior bevacizumab and overall survival was 12.5 months, similar to the overall study results.
The benefit of aflibercept was not dependent upon number of metastatic sites, location of the primary tumor, performance status, occurrence of hypertension, geographic region, or patient age.
The drug was well tolerated, with the frequency of grade 3/4 adverse events in keeping with the anti-VEGF class of agents. Toxicity was not worse for patients with prior exposure to bevacizumab. ■
Disclosure: Dr. Tabernero has served on advisory boards for sanofi-aventis, Roche, and Genentech.
SIDEBAR: Expert Point of View: Aflibercept Improves Overall Survival in Patients with Metastatic Colorectal Cancer
Reference
1. Tabernero J, Van Cutsem E, Lakomy R, et al: Results from VELOUR, a phase 3 study of aflibercept versus placebo in combination with FOLFIRI for the treatment of patients with previously treated metastatic colorectal cancer. 2011 European Multidisciplinary Congress. Abstract 6LBA. Presented September 25, 2011.
---
Related Articles

David Kerr, MD, of the University of Oxford, United Kingdom, who is also President of the European Society of Medical Oncology, formally discussed the study, which he called "well designed and well conducted." He applauded the investigators for performing a preplanned subgroup analysis with a...