DeFi Trial: Novel Gamma Secretase Inhibitor Halts Progression of Desmoid Tumors

Patients with rare desmoid tumors may finally have an effective treatment. A first-in-class gamma secretase inhibitor, nirogacestat, led to an improvement in progression-free survival in the phase III DeFi trial. The results were presented during the Presidential Symposium at the European Society for Medical Oncology (ESMO) Congress 2022.1
"DeFi is the most rigorous randomized controlled trial performed to date in desmoid tumors and the first positive phase III trial of a gamma secretase inhibitor in any indication," said Bernd Kasper, MD, PhD, of the Mannheim Cancer Center at the Mannheim University Medical Center, University of Heidelberg, Germany. "Nirogacestat has the potential to become the standard of care for patients with desmoid tumors requiring systemic treatment."
"DeFi is the most rigorous randomized controlled trial performed to date in desmoid tumors and the first positive phase III trial of a gamma secretase inhibitor in any indication."

— Bernd Kasper, MD, PhD




Tweet this quote



Median progression-free survival was not reached with nirogacestat and was 15.1 months with placebo (hazard ratio = 0.29; P < .001). Not only did treatment with nirogacestat, which targets the Notch pathway, extend remission, it also reduced symptoms and improved quality of life.
Desmoid tumors are invasive soft-tissue tumors and can have a major impact on quality of life. "Due to local and aggressive growth, desmoid tumors can cause pain, disfigurement, and functional problems that can be a real burden for patients," Dr. Kasper said.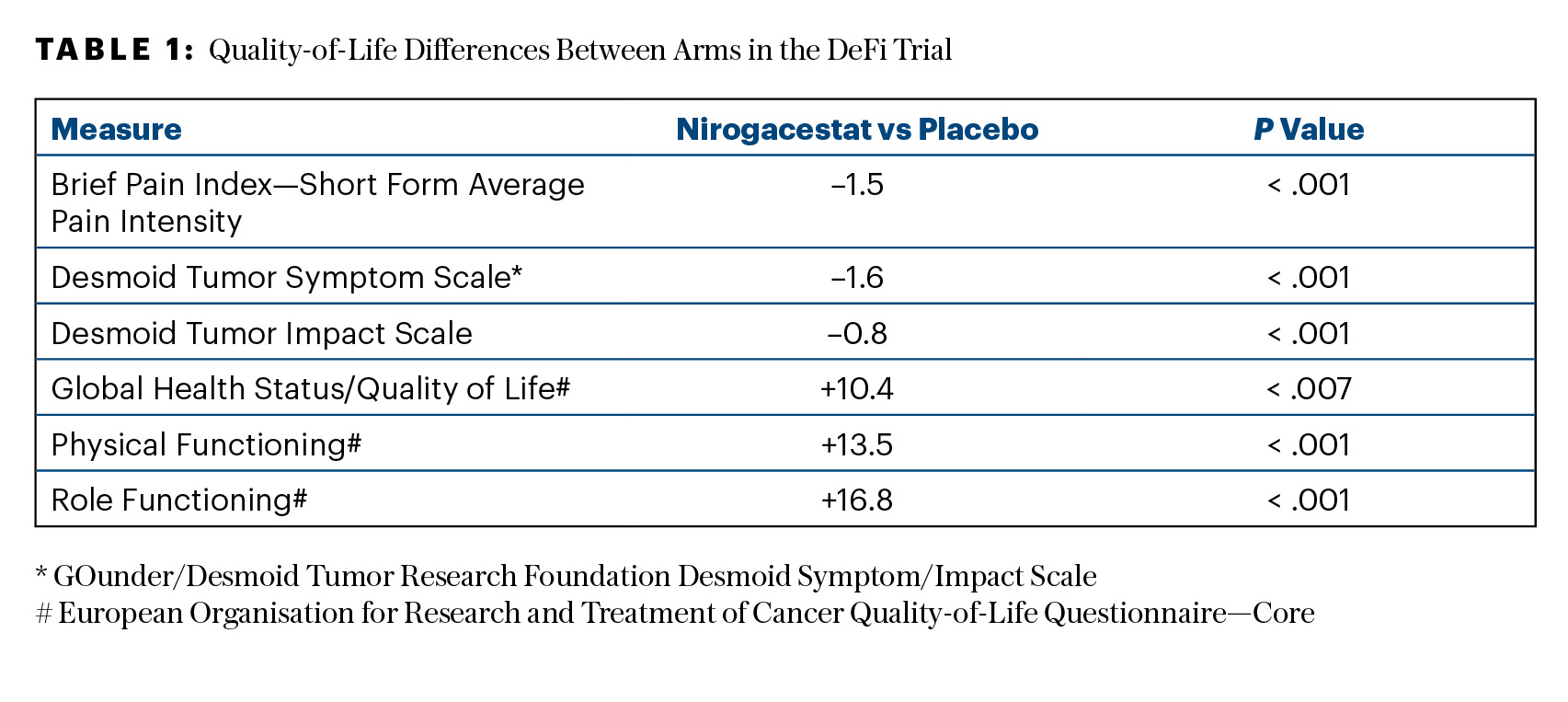 Over the past few years, initial management has shifted away from extensive surgery to active surveillance, given the spontaneous growth arrest and regression seen in up to 20% to 30% of patients. When tumors continue to grow or cause symptoms, nirogacestat may be an attractive option to arrest this growth, given its activity and safety, he said.
Outcomes, Quality of Life, and Safety
The global DeFi trial of 142 patients with progressive desmoid tumors is reportedly the largest randomized study ever conducted in this orphan tumor. Patients were stratified by target tumor locations (ie, intra-abdominal vs extra-abdominal) and randomly assigned 1:1 to receive nirogacestat or a placebo. The primary endpoint was progression-free survival per blinded independent central review.
Results showed a statistically significant 71% relative risk reduction in progressive disease with nirogacestat compared with placebo (P < .001). The objective response rate was also significantly improved—41% vs 8%, respectively (P < .001)—with complete responses seen in 7% of those given nirogacestat and none of those given placebo. Median time to response was 5.6 vs 11.1 months.
KEY POINTS
The phase III DeFi trial evaluated the gamma secretase inhibitor nirogacestat in the treatment of desmoid tumors.
Desmoid tumors are rare and can regress spontaneously or be progressive.
In progressive disease, nirogacestat reduced the risk of disease progression by 71% (P < .001).
MORE INFORMATION
For more on the use of nirogacestat in the treatment of desmoid tumors from the phase III DeFi trial, see an interview with Bernd Kasper, MD, PhD, on The ASCO Post Newsreels at ascopost.com/videos.
Of note, treatment with nirogacestat resulted in significant and sustained improvements in all prespecified patient-reported outcomes, including symptom burden, physical/role functioning, and health-related quality-of-life measures (as shown in Table 1). "It's not only important to optimize the local tumor control, but it's even more important to improve the symptom burden," Dr. Kasper said.
All but 5% of adverse events were grade 1 or 2. The most frequent complaints with nirogacestat were diarrhea (84%), nausea (54%), fatigue (51%), hypophosphatemia (42%), and maculopapular rash (32%). Ovarian dysfunction occurred in 75% of women of childbearing age receiving nirogacestat and resolved in three-quarters of them. The manufacturer of nirogacestat (SpringWorks Therapeutics) plans to submit a new drug application to the U.S. Food and Drug Administration by the end of 2022. 
DISCLOSURE: Dr. Kasper reported financial relationships with Bayer, Blueprint, Boehringer Ingelheim, SpringWorks, GSK, PharmaMar, and Ayala.
REFERENCE
1. Kasper B, Ratan R, Alcindor T, et al: DeFi: a phase III, randomized controlled trial of nirogacestat versus placebo for progressing desmoid tumors. ESMO Congress 2022. Abstract LBA2. Presented September 10, 2022.
---
Related Articles
The invited discussant of the DeFi trial was Jean-Yves Blay, MD, PhD, General Director of the Center Bérard, Lyon, France, and President of Unicancer, the French Federation of Cancer Centers. He called the DeFi study a "rigorous trial" in a "representative population" that "introduces a new class...