Your Stories: 'Being Your Own Advocate'

Kimberly Irvine was used to taking care of the people she loved.  Conquering breast cancer—twice—forced the young mom to learn how to take care of herself in a whole new way. In the Your Stories episode "Being Your Own Advocate," she shares with fellow philanthropist Riccardo Braglia, Board Member, Conquer Cancer, the ASCO Foundation®, how cancer changed her family, and offers advice for patients who confront cancer in the prime of their lives.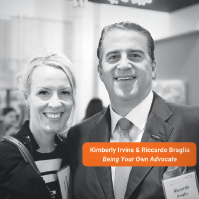 The Business of Conquering
Find a care team. Schedule appointments and surgeries. Organize insurance forms. This is the job most patients and their families take on following a cancer diagnosis—and the work continues as treatment begins.
"I learned very quickly that I was the CEO of that health-care team," said Ms. Irvine of the people she assembled to help during both of her breast cancer recoveries.
With several healthy years behind her, Ms. Irvine now works to ensure other people who are facing cancer are inspired to put themselves first and be their own advocate.
"None of us know if this is going to happen to us, but we can take some of the control back from what cancer tends to take away from all of us," she said.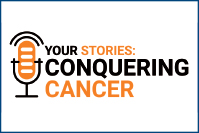 Parenting as a Patient
"The question I get most often is, 'How did you parent through cancer?'" Ms. Irvine recalls the struggles of caring for her daughter and son, who were 6 and 4, when she was in treatment, and searching to find answers to the hard questions her children asked about life and death.
"It was unfortunate that these kids have had to endure a cancer diagnosis not once, but twice, but they learned resilience," explained Ms. Irvine.
Ms. Irvine said that while the anxiety cancer brings to a family never leaves, "There is hope. When you have kids and you're going through a diagnosis, I want you to have hope."
For more on their story, listen to the full episode at CONQUER.ORG, iTunes, or Google Play.
---