Support Caregivers During National Family Caregivers Month With ASCO Answers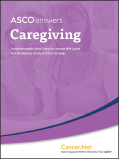 Cancer.Net provides a variety of tools and resources for caregivers, including the ASCO Answers Guide to Caregiving. This guide includes:
Practical tips for supporting a patient with cancer
Advice for talking with family and the health-care team
Convenient symptom and medication trackers
And more.
ASCO Answers guides provide direct and easy-to-understand information, making them the ideal patient education resource.
Find these resources and a library of other titles at www.cancer.net/ascoanswers. Visit www.cancer.net/estore to order high-quality materials for your practice and give your patients the support they need. Free domestic shipping, and members save 20%. 
© 2020. American Society of Clinical Oncology. All rights reserved.
---