Inaugural Class of FDA-AACR Oncology Educational Fellows Announced

The American Association for Cancer Research (AACR) has announced the 2020–2021 class of U.S. Food and Drug Administration (FDA)-AACR Oncology Educational Fellows. This is the first year of the fellowship, a joint initiative of the Oncology Center of Excellence at the FDA and the AACR.

Margaret Foti, PhD, MD (hc)
The FDA-AACR Oncology Educational Fellowship is designed to promote scientific progress through the exchange of knowledge in oncology education, collaborative learning, and research. Through targeted educational activities and interactions with experts from the FDA Oncology Center of Excellence and the AACR, the fellows will increase their familiarity and experience with oncology drug development and the regulatory review process. The 20 fellows in this year's class are hematology/oncology fellows and early-career cancer investigators at centers across the United States and Canada, selected through a competitive application process.
"The AACR is very proud to partner with Dr. Pazdur and his exceptional team at the FDA's Oncology Center of Excellence on the FDA-AACR Oncology Educational Fellowship program," said Margaret Foti, PhD, MD (hc), Chief Executive Officer of the AACR. "This exciting project will provide 20 talented young researchers and physician-scientists with a unique opportunity to more fully appreciate how regulatory science informs the way in which new cancer medicines are evaluated for their safety and efficacy."
The 2020–2021 FDA-AACR Oncology Educational Fellows are:
Samer Al Hadidi, MD, Baylor College of Medicine, Houston
Gagandeep Brar, MD, Weill Cornell Medicine and NewYork-Presbyterian, New York
Michael Burns, MD, PhD, Northwestern University, Chicago
Chris Chen, MD, Stanford University Department of Medicine, Palo Alto, California
Izak Faiena, MD, Columbia University Medical Center, New York
Parvaneh Fallah, MD, McGill University, Montreal
Aparna Hegde, MD, University of Alabama at Birmingham O'Neal Comprehensive Cancer Center
Henry J. Henderson III, PhD, Vanderbilt University Medical Center, Nashville
Jasmine Huynh, MD, University of California Davis Comprehensive Cancer Center, Sacramento
Ana Rosa Sáez Ibáñez, PhD, Albert Einstein College of Medicine/Icahn School of Medicine at Mount Sinai, New York
Yasmin Kadry, PhD, University of Pennsylvania, Philadelphia
Justin Lo, MD, PhD, Vanderbilt University Medical Center, Nashville
Lin Mei, MD, Charleston Area Medical Center, Charleston, West Virginia
Ryan Nguyen, DO, University of Illinois at Chicago
Timil Patel, MD, Yale University School of Medicine, New Haven, Connecticut
Jacqulyne Robichaux, PhD, The University of Texas MD Anderson Cancer Center, Houston
Ilana Schlam, MD, MedStar Georgetown Washington Hospital Center, Washington, DC
Misty Dawn Shields, MD, PhD, Moffitt Cancer Center, Tampa, Florida
Jasmine Sukumar, MD, The Ohio State University Comprehensive Cancer Center, Columbus, Ohio
Neil Vasan, MD, PhD, Memorial Sloan Kettering Cancer Center, New York.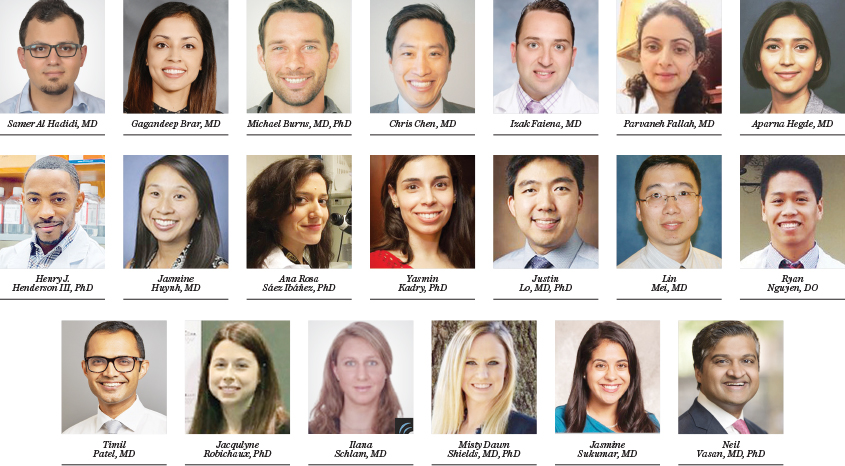 ---