Dr. Christina Cone Honored With Mary Pazdur Award for Excellence in Advanced Practice in Oncology

The Advanced Practitioner Society for Hematology and Oncology (APSHO) presented the third annual Mary Pazdur Award for Excellence in Advanced Practice in Oncology to Christina Cone, DNP, APRN, ANP-BC, AOCNP, of Duke Cancer Institute, at this year's JADPRO Live Virtual conference, an annual educational conference for oncology advanced practitioners. The annual award, created in honor of Mary Pazdur, RN, MSN, is given to an advanced practitioner APSHO member who consistently demonstrates exemplary leadership and outstanding contributions to clinical practice, research, and education in the oncology/hematology field.

Mary Pazdur, RN, MSN
Dr. Cone is a board-certified adult nurse practitioner and serves as Administrative Director of The Preston Robert Tisch Brain Tumor Center (PRTBTC) at the Duke Cancer Institute, one of the largest brain tumor centers in the world. She also serves as Administrative Director for the Duke Center for Brain and Spine Metastasis, which focuses on the treatment of solid tumor brain and spine metastases. She was previously the Advanced Practice Provider Team Lead at the PRTBTC, where she had been a nurse practitioner since 2010.
"Christina is a brilliant and inspirational leader, and it is one of the professional pleasures of my life to be able to work so closely with her on a daily basis in our extraordinarily busy oncology program," said Henry S. Friedman, MD, Division Chief in the Department of Neurosurgery and Deputy Director of the PRTBTC. "I truly believe Christina is a remarkable clinician, leader, and educator who impacts the lives of her patients as dramatically as she does the lives of the health-care professionals in the PRTBTC and the Center for Brain and Spine Metastasis."
Education and Professional Experience
Dr. Cone obtained her Doctorate in Nursing Practice from East Carolina University in 2016 and her Master of Science in Nursing in the Adult Nurse Practitioner program with a specialty in oncology from the Duke University School of Nursing in 2004. She has been practicing advanced oncology nursing as a board-certified adult nurse practitioner for 15 years.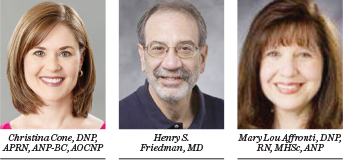 "Dr. Cone is an advocate for interdisciplinary advanced practice providers to practice to the extent of their licensure and education," commented Mary Lou Affronti, DNP, RN, MHSc, ANP, Brain Tumor Center Adult Clinical Director, Brain Tumor Center Nurse Practitioner/Primary Investigator, and Associate Professor at the Duke School of Nursing. "Under her leadership, she has effectively set up independent advanced practice providers–led clinics where nurse practitioners, physician assistants, and clinical pharmacists can autonomously practice to improve patient care and access."
APSHO is accepting nominations for the fourth annual Mary Pazdur Award for Excellence in Advanced Practice, which will be presented at the 2021 JADPRO Live conference. The winner will receive an honorarium and an all-expenses-paid trip to the 2021 conference in Nashville, as well as recognition at the meeting and in the Journal of the Advanced Practitioner in Oncology. 
---