COVID-19's Impact on Cancer Care Around the World: Perspectives From the ASCO International Affairs Committee

As the world continues to respond to the COVID-19 pandemic, ASCO is committed to providing the most current information and resources to its members and the larger oncology community to help ensure that patients with cancer receive high-quality care. Here, members of the ASCO International Affairs Committee discuss how COVID-19 has impacted them and cancer care in their respective countries.
ASCO has compiled a wide range of resources to support clinicians, the cancer care delivery team, and patients with cancer during the pandemic. This is a rapidly evolving situation and ASCO resources are updated on a regular basis. We are united in working together to continue the critical work of conquering cancer during this health-care crisis. ASCO's tools, data, and information on COVID-19 are available at asco.org/asco-coronavirus-information.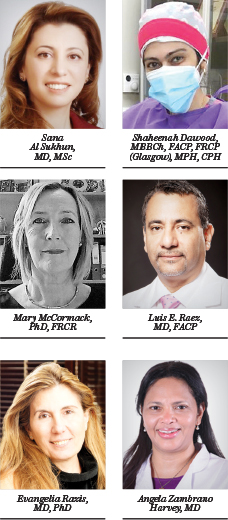 Telemedicine and Emotional Connection: Perspective From Jordan
By Sana Al Sukhun, MD, MSc
Telecommunication is the hallmark of our century, dramatically so in the "COVID era." However, it turned out that we, human beings, are social beings—we are most comfortable when we're connected, sharing strong emotions and concerns face to face in the company of each other.
Telemedicine wasn't going to fill the emotional void of virtual consult. The latter wasn't a recognized form of consult in Jordan, yet it was a necessity when clinics were suspended. The struggle to follow patients, address their concerns, and reassure them while physically distant was daunting for both sides. How can you introduce a new approach to your practice, educate your patients, and properly address their concerns at times of uncertainty and anxiety? That resistance and struggle were completely understood.
Even I, the "professional" who is used to telecommunication, missed the reality of in-person scientific meetings despite the overwhelming virtuality—I missed the genuine and warm company of friends and colleagues.
Dr. Al Sukhun is Chair-Elect of the ASCO International Affairs Committee. She is an Adjunct Professor of Medical Oncology and Director of the Al Hyatt Oncology Practice in Amman, Jordan. Follow her on Twitter @SanaAlSukhun.
Kicking Out COVID-19: The UAE Experience
By Shaheenah Dawood, MBBCh, FACP, FRCP (Glasgow), MPH, CPH
March 5, 2020, will be a date always ingrained in my mind. After having largely ignored the COVID-19 outbreak that was taking place in various parts of the world, thinking it could not affect a place like the United Arab Emirates (UAE), I received a call from a friend and dear colleague informing me that it was now closer to home. Travel restrictions were now in place.
On March 8, schools were shut down. On March 11, the World Health Organization declared COVID-19 as a pandemic. On March 22, Dubai began its national sterilization program; 4 days later, a curfew was imposed. The world as we knew it had changed dramatically. Freedom was no longer something to be taken for granted, but something to be earned. We were all responsible for what was happening, and we now needed to all band together to solve the problem.
As a medical oncologist, my biggest concern was how to protect patients who were immunocompromised while being treated with chemotherapy. There was a sudden explosion of recommendations from everyone and everywhere on how to care for patients with cancer during a pandemic, and all were based on consensus opinion and not scientific evidence. Everyone was an expert. These recommendations were based on initial evidence from a nationwide analysis of patients with COVID-19 in China that reported that patients with cancer who were affected with COVID-19 had a higher morbidity and mortality risk. Not surprisingly, all in the oncology world, irrespective of their status, panicked.
The fundamental question was how to protect our patients. No one wanted COVID-19 to touch their centers and their patients, but everyone quickly realized that no one was immune. We panicked like everyone else, and we cut down services like everyone else. Then we took a step back and quickly realized that, yes, patients with cancer were more vulnerable to COVID-19, but they also needed to be treated for their cancer. We needed to create a safe environment for everyone, both patients and health-care workers, without compromising cancer care in any way.
We essentially built a cancer fortress ensuring patient safety: fever and symptom screening, limiting visitors, spacing out treatment timings, switching to less immunosuppressive protocols while maintaining efficacy, regular testing for COVID-19 among patients and health-care providers, and, most importantly, providing personal protective equipment to everyone who needed it.
During this time, I quickly learned three very important lessons. First and foremost, it was important to develop safety protocols based on what was available and the type of patient cohort you are dealing with. I work in a very a multiethnic environment and as such, needs are varied. We had to adapt to the needs of everyone. Second, masks were preventing us from proper communication with our patients. A reassuring smile from a physician or a nurse was no longer there. We learned to talk more and take more time with patients to ensure that everyone felt comfortable. Third, it was important to become socially responsible, work as a team to tackle the problem, and step up and take a lead in protecting our patients. While everything was in chaos, I felt responsible and took charge and became the COVID-19 lead in the cancer center, ensuring we worked together to provide not only a safe environment but also the best care to our patients. I also learned to make the best of a very restrictive environment. Everyone was stressed, and psychological well-being was just as important. Communicating and talking were now more important than ever. Personally, I became the most colorfully dressed oncologist in the building, if only to bring a smile to everyone working in a very stressful environment.
The world has changed, and I am not sure for how long—or if it will go back to the way it was before the pandemic. As we work toward kicking out COVID-19 from existence, we have to learn from what has happened. At the beginning of the pandemic, I wish I had listened carefully to what was happening worldwide. My advice to everyone is that we need to learn from past experiences, from each other, and, most important, we need to be prepared for the worst. This is not the first pandemic, and it will certainly not be the last.
Dr. Dawood is a consultant medical oncologist and Associate Professor of Clinical Oncology at Mediclinic City Hospital - North Wing, Mohammed Bin Rashid University of Medicine and Health, Dubai Health Care City, in the United Arab Emirates. Follow her on Twitter @Shaheenah1.
Anxiety and Fear: Perspective From the United Kingdom
By Mary McCormack, PhD, FRCR
I work in a large teaching hospital (University College London Hospital NHS Foundation Trust) in London. We are fortunate to have several hospitals and multiple separate buildings within our group.
Initially, I felt extremely anxious for my personal safety and that of my family. At work, we immediately started to draw up contingency plans to maintain an oncology service if a significant number of staff were taken ill. Consequently, working patterns changed.
My advice? See all patients as individuals, and resist pressure to prioritize all patients according to how their disease might respond to treatment and how long they might be expected to live, which makes one feel like one is working with a commodity. I held firm and continued treatment for those patients in a low-priority group but where it was clinically appropriate.
My greatest fears (exacerbated by scenes of chaos and despair from Italy and New York) were that we would be swamped with cases and be unable to deliver any cancer care or other medical care to non-COVID patients, and that we would run out of personal protective equipment. Fortunately, neither materialized.
Ultimately, the biggest challenge for our health-care system has been to reassure those with medical problems—new and ongoing—that it is safe to seek medical care or go to the hospital. The general public are more afraid of COVID than cancer.
Many of our junior oncology trainees were seconded to the inpatient wards, and, therefore, their oncology training was largely suspended during that time. The more senior trainees, together with their peers, were faced with unprecedented conditions and clear, rational, collective decision-making was all-important.
Faced with the prospect of having to ration resources really made one think about the most fundamental aspects of a course of treatment and which elements could perhaps be dropped or amended. It made me think about colleagues in other low-income settings where this is part of everyday life as an oncologist—and made me grateful that such woes were temporary.
Dr. McCormack is a consultant clinical oncologist at University College Hospital London in the United Kingdom.
Telemedicine and Cancer Care in Florida During the COVID-19 Pandemic: Perspective From the United States
By Luis E. Raez, MD, FACP
Telemedicine signifies the use of information and communication technologies to improve patient outcomes. When the COVID-19 pandemic started, it was a challenge not only to keep fighting the pandemic but also to keep our cancer center running. Telemedicine played a very important role for our patients with cancer: we were able to follow our survivors and patients who were on oral therapies; see new patients and order workups to confirm cancer diagnoses; give second opinions to people living in other counties; and follow patients on clinical trials overseas. A large utilization of telehealth services was for oncology support services, too: social workers, nutrition, psychology, integrative medicine consults, and patient navigation.
Telemedicine is here to stay; it may never replace our live conversations and visits with our patients with cancer, but from now on, an important number of our visits will be done by telemedicine, and we hope that we can incorporate more and new advantages of telehealth.
Dr. Raez is President of the Florida Society of Clinical Oncology (FLASCO), an ASCO State/Regional Affiliate. He is Chief Scientific Officer and Medical Director at Memorial Cancer Institute/Memorial Health Care System and Clinical Professor of Medicine at Florida International University. Follow him on Twitter @LuisERaez1.
The Pandemic... An Aftermath: Less Is More in Greece
By Evangelia Razis, MD, PhD
My country went into lockdown early in March 2020 because of a rising number of COVID-19 cases, mostly imported from neighboring Italy. We were able to quickly switch our private practice to seeing and treating only the absolutely necessary cases, while holding some additional encounters via telemedicine.
At the same time, we spent all our free time at home and stopped traveling; going out for a walk or grocery shopping was only allowed after sending an SMS text message to the state.
As an eternal optimist, I tried to see what positive can come out of this. It seems we can all benefit by realizing how much of what we do is not necessary—in all fields of our lives, not just in medicine and oncology.
We lived in a world of florid exaggeration—whether for test requests, conference attendance, or restaurant options, everything is maximal, at least in high-income countries. But do we actually need three monthly scans for most patients? How much evidence is there for the frequency of maintenance administration of checkpoint inhibitors?
Considering that the pandemic itself may be the result of the exaggerated impact of humans on the planet, maybe what we should all do is reevaluate all we do and go back to the basics—to doing only what is clearly necessary.
Dr. Razis is Director of the 3rd Oncology Department and Contemporary Oncology Team at Hygeia Hospital in Athens, Greece.
The COVID-19 Pandemic: Experience in a University Hospital in the Southwestern Region of Colombia
By Angela Zambrano Harvey, MD
Fundación Valle del Lili is a nonprofit university hospital located in Cali, Colombia. It provides service to approximately 12,700 patients with cancer per year, and during the COVID-19 pandemic, several strategies were implemented to mitigate the impact on cancer outcomes.
The biggest challenge for our hospital was the creation and start-up of an educational plan. This strategy was disseminated through electronic channels, like websites, e-mails, and social media. The process included training in biosecurity, adequacy of workspaces, risk classification of patients, empowerment about self-protection, and emotional crisis management. This approach was aimed at health-care workers, patients, and their families. For achieving this goal, the participation of multidisciplinary teams was necessary, including everyone from engineers to psychiatrists. Nevertheless, virtual visits represented a challenge because, in our cultural behavior and beliefs, in-person contact is crucial. 
Dr. Zambrano has been a hemato-oncologist for more than 10 years; she currently practices in the Hematology Oncology Department at Fundación Valle del Lili in Cali, Colombia. Her focus over the past 5 years has been solid tumors, with a particular interest in gastrointestinal cancer, melanoma, prevention, and basic science.
---