After Leaving His Home in Syria to Train Abroad, an Oncologist Makes a Tough Decision to Return

For this installment of the Living a Full Life series, guest editor Jame Abraham, MD, FACP, spoke with Nedal Estfan, MD, a noted Syrian oncologist who was at the forefront of his county's earliest efforts to establish a national cancer care system during a time of political and military turmoil. Dr. Estfan's son, Bassam N. Estfan, MD, is a medical oncologist and colleague of Dr. Abraham at the Cleveland Clinic's Taussig Cancer Institute. The younger Dr. Estfan credits his father as a role model who inspired his own career as an oncologist.
Nedal Estfan, MD

On his upbringing: "I was raised in a family of humble means, but one that put high value on education. My father was a teacher, and we grew up in an atmosphere of learning."
On returning to Syria after his time in England: "It was not an easy decision, but to this day, we have no regrets regarding our return, despite the unsettled economic, political, and security atmosphere…."
On advice for prospective medical students: "Always expand your horizons through reading books; I fear today's generation is more focused on the Internet and social media knowledge."
Family Values: Education First
Dr. Estfan was born in 1945 and spent his early childhood in Safita, a small city in northwestern Syria, situated in the Syrian Coastal Mountain Range. When he was in ninth grade, his family moved to the much larger city of Latakia, which is the principal port city of Syria.
"I was raised in a family of humble means, but one that put high value on education. My father was a teacher, and we grew up in an atmosphere of learning. I am the third of four children; my two older brothers went into engineering," said Dr. Estfan.
Dr. Estfan was a standout student during high school, which allowed him, under the Syrian educational system, to choose his field of higher education and ultimately his career path. "There were no doctors in my family at that time to influence my decision to pursue a career in medicine. However, given my excellent grades in high school and my love of science, my parents encouraged me to consider becoming a doctor, which I embraced because I saw it as a profession where one can truly make a difference in people's lives," said Dr. Estfan.
Medical School and a New Bride
After graduating from high school in 1963, Dr. Estfan was accepted into the Faculty of Medicine of Damascus University, which was founded in 1903, holding the distinction of being the first university college established in Syria. Medical education in Syrian universities consists of a 6-year educational program. The first 3 years cover the basic sciences, and in the 4th, 5th, and 6th years, students undergo clinical clerkships in the university hospitals.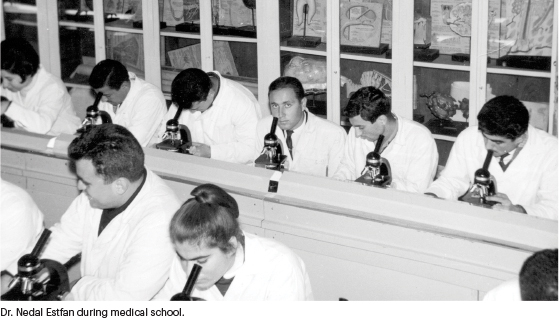 "My medical school class had about 95 students. The tuition in our state-based universities was, and still is for the majority of students, free of charge and readily accessible for all socioeconomic classes," said Dr. Estfan. He added: "I met my wife during college, when she was studying Arabic literature. She later became an Arabic language teacher."
Dr. Estfan explained that Damascus University is the only medical university in the Arab world that—still to this day—teaches medicine in Arabic. In their wisdom, the founders of the university medical school were convinced that their students would absorb, reflect, and express themselves better in their native language.
A Scholarship Abroad
Dr. Estfan received his medical degree from the Faculty of Medicine at Damascus University in 1970 and then began a 1-year training internship at a general hospital. "After my internship years, I was awarded a scholarship to study medical and radiation oncology at the University of Leeds in England. I was assigned to the oncology program by the granting committee, which proved to be a fortuitous step for my career. At that time in Syria, we did not have formal medical studies in oncology. In fact, there were no practicing oncologists in the country with the exception of disease-oriented specialties such as surgery and urology. My two sons, Bassam and Rami, were born in England during my oncology scholarship years," said Dr. Estfan.
During his studies in medical and radiation oncology at the University of Leeds, Dr. Estfan reached senior register level. In 1979, after being in England for 7 years, he was confronted with a daunting decision. "I was faced with a choice of staying in England to settle my scholarship with the government or to return home. Our children were reaching school age, and this was a major factor in our decision. The living and economic situation in Syria was very rough at that time. Plus, the country was in the midst of violent insurgencies and revolt, which made the decision all the more difficult, considering we had two young sons," said Dr. Estfan.
He continued: "But after much hard deliberation—and despite many of our associates and friends advising against it—we decided to return, wanting to raise our children in Syria, close to our parents and family, in addition to serving the country after my training in a much needed specialty. It was not an easy decision, but to this day, we have no regrets regarding our return, despite the unsettled economic, political, and security atmosphere, including the most recent war in and on Syria."
Syria's First Oncologist
When Dr. Estfan returned home with his family in 1980, he was the first registered oncologist in Syria. "Along with my private practice, I fulfilled my scholarship obligation by serving on the staff at the government-based Nuclear Medicine Center, later Al-Bayrouni University Hospital. My private clinic started slowly, but within a year, I was becoming well known and getting steady referrals from all across Syria. For self-pay patients, we used to give push chemotherapy in the office and infusions in one of the private hospitals. Those needing radiation treatment had to go to the government-based Nuclear Medicine Center," said Dr. Estfan.
During his tenure at Al-Bayrouni University Hospital, Dr. Estfan taught and mentored oncology trainees. He has also been a sitting member on the nation's medical testing and exam committee. In 1992, Dr. Estfan and colleagues founded the Syrian Oncology Syndicate, assuming the General Secretary position. The syndicate is a scientific body that organizes teaching and educational activities to promote awareness and education of oncology issues in Syria.
Dr. Estfan reflected on the state of Syrian oncology over the arc of his career. "While 40 years ago, there were a handful of oncologists, mainly centered in Damascus, currently there are many more in all governorates, some trained abroad and some in Syria. Many governorates have government-based oncology divisions. The government continues to provide systemic therapies to its patients free of charge, including some of the more expensive and novel treatments like immunotherapy, although the supply can get short at times. The oncology community in Syria is active in educational activities, and many participate in social gatherings and enjoy friendly relationships."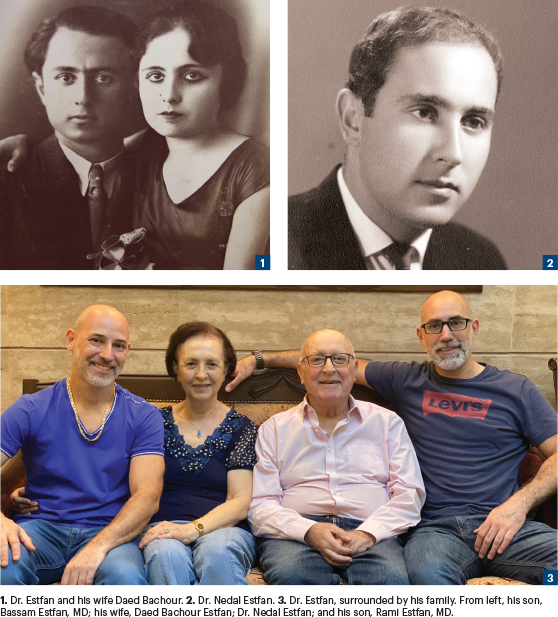 Despite the challenges, there are still opportunities to improve the Syrian oncology system, Dr. Estfan noted. "For instance, we could develop a model where oncologists are more subspecialized; adhering to, and continually updating, care pathways. Research is another area that could be made more robust through the creation of mechanisms for transparency, accountability, and regional institutional review boards. We lack a robust therapeutic research program and certain specialties that are essential for the delivery of high-value care, such as interventional radiology and gynecologic oncology."
Although military conflicts in the Middle East are well reported, their impact on health care, especially oncology, is rarely, if ever, discussed. Dr. Estfan gave a snapshot of that reality: "The current war in Syria has caused currency inflation, and as a result, many patients are unable to afford medications if being treated in the private sector. This causes more stress on the government-based centers to accommodate the influx of patients. The economic sanctions and embargo on Syria have also caused decreased availability for certain materials (eg, radioactive iodine) and maintenance and replacement parts for some radiotherapy machines, beside the increased cost of caring for those machines."
A Long and Valued Career
Now, at the age of 75, after a lifetime of dedicated service to the Syrian oncology community, Dr. Estfan is facing imminent retirement. Even at this late stage of a long career, Dr. Estfan remains one of the most recognized names in Syrian medical circles.
GUEST EDITOR

Jame Abraham, MD, FACP
Dr. Abraham is Professor of Medicine, Lerner College of Medicine, and Chair of the Hematology and Medical Oncology Department at Taussig Cancer Institute, Cleveland Clinic.
"We live in a humble apartment in Damascus, a few minutes away from the historic old city," said Dr. Estfan. "Our two sons, Bassam and Rami, are both physicians trained in the same university I graduated from. My wife and I stressed the value of discipline, respect, and education. My elder son, Bassam, is an oncologist in the United States, and Rami is an orthopedic surgeon in England. We have four grandchildren who bring endless joy to our lives, and we try to visit them as often as possible."
What does a busy, semiretired oncologist do to decompress? "Damascus is a busy and vibrant city, so whenever we have a break, we go back to our home city of Safita to spend some quiet quality time with our relatives. We are very active socially and enjoy our network of friends," said Dr. Estfan.
When asked if he had any advice for medical students choosing a career path, Dr. Estfan replied: "Always expand your horizons through reading books; I fear today's generation is more focused on the Internet and social media knowledge. For those studying medicine in Syria in Arabic, I cannot stress enough the importance of collateral studying of medicine in a foreign language—preferably English—from the early years of college. I still remember the struggles I and others had to go through in our early training. Seek advanced training abroad if possible. And know what your passion in medicine is, and follow it." 
DISCLOSURE: Dr. Estfan reported no conflicts of interest.
---