Cancer.Net: Physician-Generated Content for Patients With Cancer Worldwide

Receiving a cancer diagnosis is a disorienting moment for our patients who are then faced with making difficult decisions regarding their treatment. In order to improve shared decision-making and to increase patient involvement in their care, it is essential to provide patients and their families with high-quality information about their treatment choices.

Enrique Soto Pérez de Celis, MD, MSc
The advent of the Internet and social media has increased the possibilities for patients to obtain a wide range of information, to interact with other patients and with experts in the field, and to generate content narrating their own experiences after a cancer diagnosis. Throughout the world, patients with cancer are increasingly searching online for information about their diagnosis, treatment, and prognosis. In the United States, more than 80% of patients with cancer seek information regarding their disease online. This is also true in other countries around the world1—in Mexico, for example, although Internet use is less common, up to 60% of patients with cancer actively seek information online, and most patients rate the Internet as their preferred source of health-related information.2
Unfortunately, a large amount of the information available online is low quality. Several studies have examined the quality of the information contained in cancer-related websites—as well as their ease of readability—using validated tools and criteria. One study evaluated the quality of 45 English-language websites providing supportive information to patients facing a decision to undergo breast surgery and found that only 24% of the websites could be considered "good," and only 7% provided adequate information to support decision-making.3 This has been mirrored by studies conducted in Germany and in the United Kingdom, which have also found that the majority of websites have low-quality content that is presented mostly by for-profit companies.4,5
Dr. Soto Pérez de Celis is a geriatric oncologist at Instituto Nacional de Ciencias Médicas y Nutrición Salvador Zubirán, Mexico. He is one of Cancer.Net's advisory panelists.
In order for patients to assess an information source and to determine the trustworthiness of a cancer-related website, the American Cancer Society (ACS) has drafted a series of recommendations for Internet users (Table 1).
The Importance of Trusted Patient Information
In this context, the role of nonprofit organizations is of paramount importance in order to craft and deliver high-quality, trustworthy information for patients who are seeking guidance in a moment of great need. Worldwide, the most reliable sources of health information tend to be government agencies, universities, and major public health advocacy organizations, such as the ACS and ASCO.6
In order to provide a link between experts in the various aspects of cancer care and patients, ASCO launched its patient information website in 2002 as "People Living with Cancer" and relaunched it in 2008 as Cancer.Net.7 The goal of Cancer.Net is to provide timely, oncologist-approved information to help patients and their families make informed health-care decisions. All of Cancer.Net's content is peer-reviewed by an editorial board composed of more than 150 experts in cancer care from leading institutions in the United States and internationally. Although the content of Cancer.Net is mostly created by United States–based oncologists, in recent years, there has been an attempt to increase the website's international outreach in order to provide information to patients living in other regions of the world.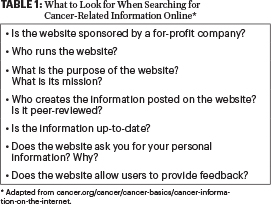 Information shared through Cancer.Net is mostly written in English, which is currently the first language of approximately 380 million people worldwide, but Cancer.Net has a significant amount of its original content translated to Spanish, thus reaching an additional 460 million people living in 31 countries whose first language is Spanish.8
The content included in Cancer.Net includes information about cancer types, navigating cancer care, coping with cancer, research and advocacy, and survivorship. Although some of the information is specific to the U.S. health-care system, most of the content can be easily applied to the experiences faced by patients in many regions of the world and can provide relevant information regardless of the patient's nationality. Additionally, some of the content deals with issues faced by racial and ethnic groups that are usually underrepresented in websites offering cancer-related information for patients. An example of this is a recently published blog on the site discussing barriers faced by older Hispanic adults with cancer and their families when trying to access cancer care and how to overcome them.9 This type of information is relevant not only for Hispanic patients living in the United States but also for patients in Latin American countries, who share similar social and family structures to those of Hispanic communities in the United States. Another example of content that can be useful for patients living in countries other than the United States is the availability of information regarding survivorship care, which is scarce in many regions of the world.10
Cancer.Net has also curated a global list of cancer centers, advocacy organizations, and online communities for cancer support separated by language and region. This webpage contains links to organizations providing cancer-related information in 50 different languages, as well as more links to professional oncology societies in Europe and in Latin America.
Patient Information Outreach Through Social Media
Although the existence of websites aimed at providing health-related information directly to patients is relevant and useful, recent changes in the way information is disseminated and assimilated have brought new means of communication, such as social media, to the forefront. Social media is a powerful tool for patient engagement, which could potentially be translated into an improvement in patient-centered care and treatment outcomes.11 Cancer-specific online communities have recently been created on Twitter, for example, and their online discussions represent a gathering of patients, patient advocates, physicians, and other health-care professionals who discuss treatment options and provide relevant information about specific aspects of cancer care.12 However, just as with websites, the content posted on social media can also be low-quality and include references to unproven or even dangerous therapies or interventions. Therefore, the availability of high-quality, peer-reviewed content such as what is offered by Cancer.Net through its social media presence is particularly valuable.
Cancer.Net offers its content through various social media outlets, including Twitter (@CancerDotNet), Facebook (facebook.com/CancerDotNet), and YouTube (youtube.com/user/CancerDotNet/featured). Cancer.Net has almost 12,000 followers on Twitter and more than 50,000 people follow Cancer.Net's Facebook page.
The use of social media and mobile health applications can also increase the reach of information in resource-limited settings globally. Social media, for example, can connect individuals across long distances and obviate the need for travel. This can be particularly useful for patients with rare cancers or for those living in areas where specialized care is scarce.13 Cancer.Net has created a free mobile health app (Cancer.Net Mobile) for both Android and iOS devices that includes up-to-date information, a medication log, a symptom tracker, a scheduling tool, and an area to write questions for the patient's next medical appointment. Additionally, just like the Cancer.Net website, the app is available in Spanish.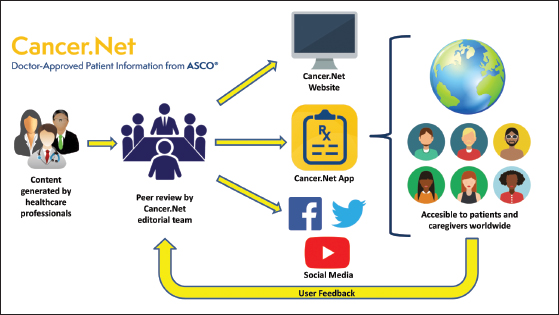 FIGURE 1: Cancer.Net: Doctor-Approved Patient Information From ASCO.
Fulfilling ASCO's Mission
In conclusion, Cancer.Net represents a valuable resource for patients, caregivers, and physicians interested in sharing information regarding the multiple dimensions that encompass cancer care. Although the resources included in Cancer.Net were initially conceived for patients living in the United States, the expansion of information technologies and the creation of new platforms (such as social media and mobile apps) as well as the translation of the content into other languages have made it accessible to a large proportion of the world's population (Figure 1). The global expansion of Cancer.Net represents a pivotal component of ASCO's vision for 2023, in which ASCO is a leader in the delivery of information and diverse expertise needed by the global oncology community to reduce the burden of cancer.14 Making a global impact through the dissemination of information, quality tools, and research is one of ASCO's most important goals, and Cancer.Net will undoubtedly be an essential vehicle to achieve it successfully.
Originally published in ASCO Daily News.
References
1. Adjei Boakye E, et al: Correlates of health information seeking between adults diagnosed with and without cancer. PLoS ONE 5:e0196446, 2018. 
2. Soto Pérez de Celis E, et al: Health-related information-seeking behaviors and preferences among Mexican patients with cancer. J Canc Educ 33:505-509, 2018.
3. Bruce JG, et al: Quality of online information to support patient decision-making in breast cancer surgery. J Surg Oncol 112:575-580, 2016.
4. Kuenzel U, et al: Evaluation of the quality of online information for patients with rare cancers: Thyroid cancer. J Canc Educ 33:960-966, 2018.
5. Arif N, et al: Quality of online information on breast cancer treatment options. The Breast 37:6-12, 2018. 
6. American Cancer Society: Cancer information on the Internet. Available at cancer.org/cancer/cancer-basics/cancer-information-on-the-Internet. Accessed October 23, 2019.
7. Cancer.Net: About Cancer.Net. Available at cancer.net/about-us/about-cancernet. Accessed October 23, 2019.
8. Ethnologue: Summary by language size. Available at ethnologue.com/statistics/size. Accessed October 23, 2019.
9. Soto Perez de Celis E: Cinco conversaciones para mejorar la atención del cáncer para adultos mayores hispanos. Available at cancer.net/es/blog/2018-08/cinco-conversaciones-para-mejorar-la-atenci%C3%B3n-del-c%C3%A1ncer-para-adultos-mayores-hispanos. Accessed October 23, 2019.
10. Cancer.Net: Life after cancer. Available at cancer.net/survivorship/life-after-cancer. Accessed October 23, 2019.
11. Markham MJ, et al: Social media for networking, professional development, and patient engagement. ASCO Educational Book 37:782-787, 2017.
12. Attai DJ, et al: Social media in cancer care: highlights, challenges & opportunities.  Future Oncol 13:1549-1552, 2016.
13. Prochaska JJ, et al: Social media and mobile technology for cancer prevention and treatment. ASCO Educational Book 37:128-137, 2017.
14. American Society of Clinical Oncology: ASCO 2019-2023 Strategic Plan. Available at asco.org/sites/new-www.asco.org/files/content-files/about-asco/pdf/2018-ASCO.org-Strategic-Plan.pdf. Accessed October 23, 2019.
---