ESMO Congress 2019 Offers a Global Stage for Important Clinical Data
Remarks From the ESMO President, ESMO 2019 Scientific Co-Chair, and ESMO 2019 Press Officer


Pilar Garrido, MD, PhD, Guest Editor

Josep Tabernero, MD, PhD, Guest Editor

Jean-Yves Blay, MD, PhD, Guest Editor
The European Society for Medical Oncology (ESMO) Congress 2019, held September 27 to October 1 in Barcelona, welcomed clinicians, researchers, journalists, and exhibitors from around the world to hear advances across the oncology spectrum, in both clinical medicine and basic research. For this Congress Highlights special meetings issue of The ASCO Post, guest editors from ESMO shared their thoughts, calling this year's meeting a milestone year.
"ESMO has become one of the most important cancer societies," said ESMO 2019 Press Officer Pilar Garrido, MD, PhD, of University Hospital RamÓn y Cajal in Madrid. "The ESMO Congress 2019 was very well attended, with almost 30,000 registrants from 137 countries attending more than 620 sessions and hearing results from 2,218 abstracts. This included 93 late-breaking abstracts that represent relevant, and potentially practice-changing, findings."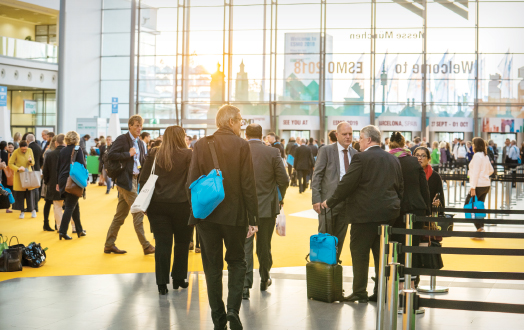 "The ESMO Congress is a global stage that showcases the very latest clinical data and translational cancer research and serves as a forum for multidisciplinary conversations that will spur transformative therapies," said ESMO President Josep Tabernero, MD, PhD, of Vall d'Hebron Institute of Oncology in Barcelona.
This year's program drew upon ESMO's multispecialty and collaborative approach to promote the theme, "Translating science into better cancer patient care," with sessions aimed at bridging the gap between basic and clinical research. A growing understanding of tumor biology and the immune system is the key driver of the progress occurring in the field, said ESMO 2019 Scientific Co-Chair Jean-Yves Blay, MD, PhD, of the Centre Léon Bérard in Lyon, France. "ESMO 2019 offered not only advances in clinical medicine, but insights into basic and translational research that is currently underway. Attendees saw the signposts of next steps in discovery," Dr. Blay said.
Late-Breaking Abstracts
Many important studies were presented at this year's ESMO Congress. Among the main attractions were the three Presidential Symposia, which featured studies that will shift the treatment landscape of several tumor types. "We had a rich panel of late-breaking abstracts that will change our standards of treatment, including the first-line treatment of aromatase inhibitors plus cyclin-dependent kinase 4 and 6 (CDK4/6) inhibitors in breast cancer, poly (ADP-ribose) polymerase (PARP) inhibitors in combination with chemotherapy and/or for maintenance as first-line therapy in high-grade serous adenocarcinoma of the ovaries, and immunotherapy in small cell lung cancer and other tumors," Dr. Blay said. Reports on these studies are included in this special Congress Highlights issue of The ASCO Post.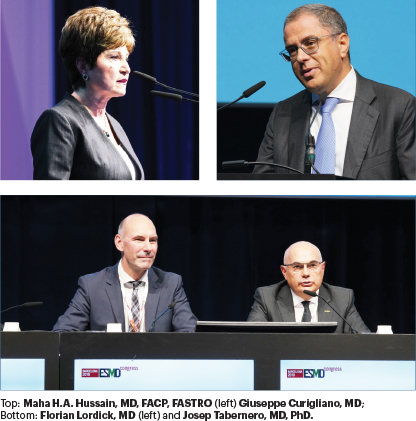 Elaborating on the lung cancer studies presented in one of the Presidential Symposia, Dr. Blay noted they focused on different subsets of advanced non–small cell lung cancer and were both clinically relevant. The FLAURA study compared osimertinib, an oral third-generation, EGFR tyrosine kinase inhibitor, to the first-generation tyrosine kinase inhibitors gefitinib and erlotinib. "The study demonstrated a clinically significant benefit in overall survival, low toxicity profile, significant progression-free survival benefit, and better brain penetrance, making osimertinib especially competitive in the first-line setting," he commented.
CheckMate 227 was a phase III study with dual primary biomarker endpoints, he further noted. The primary endpoint of progression-free survival with nivolumab plus ipilimumab vs chemotherapy in patients with a tumor mutational burden ≥ 10 mut/Mb was reported previously. At ESMO, attendees heard that the primary endpoint of overall survival was met for combination immunotherapy in patients with tumor programmed cell death ligand 1 (PD-L1) expression ≥ 1%, "adding a new chemotherapy-free treatment option for patients in the first-line setting," he said. These were just two studies among many in lung cancer, "an area of great innovation and rapid change in the past few years," Dr. Blay offered.
Rare Cancers
"We also heard about advances in diseases that are rare and underserved," Dr. Blay continued. "New treatments with novel modes of actions on driver molecular alterations were also reported to improve progression-free survival in orphan tumors with few treatment options and in some cases, limited overall survival as well."
Encouraging findings were reported at the meeting for the isocitrate dehydrogenase 1 (IDH1) inhibitor ivosidenib and the fibroblast growth factor receptor (FGFR) inhibitor pemigatinib in cholangiocarcinoma; the antiangiogenic agent surufatinib in nonpancreatic neuroendocrine tumors; the RET inhibitor selpercatinib (formerly LOXO-292) in medullary thyroid carcinoma; and the new-generation KIT inhibitor ripretinib in gastrointestinal stromal tumors (GIST). The pivotal phase III trial of ripretinib in GIST revealed a statistically significant improvement in progression-free survival vs placebo in patients previously treated with imatinib, sunitinib, and regorafenib, with clinically significant survival improvement shown.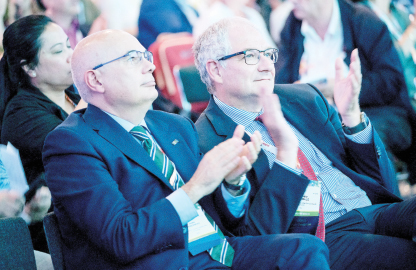 ESMO President Josep Tabernero, MD, PhD (left) and ESMO Past President Fortunato Ciardiello, MD.
Sessions on critical policy issues—such as access to innovative therapies, drug shortages, and universal health coverage—and the clinical application of the ESMO Magnitude of Clinical Benefit Scale were also highlighted by ESMO leaders. "These sessions are important for promoting actions that help us better care for our patients," Dr. Blay said.
This supplement to The ASCO Post contains summaries of presentations that the ESMO Congress Officers considered important, and in some cases, practice-changing. ■
—The Editors
DISCLOSURE: Dr. Garrido has had a consulting/advisory role with Roche, MSK, BMS, Boehringer Ingelheim, Pfizer, AbbVie, Guardant Health, Novartis, Lilly, AstraZeneca, Janssen, Sysmex, Blueprint Medicines, and Takeda; was a speaker for Roche, MSD, BMS, Pfizer, Novartis, Boehringer Ingelheim, AstraZeneca, Takeda, and Rovi; and has received research support from Guardant Health and Sysmex. Dr. Tabernero reported personal financial interest in form of scientific consultancy role for Array Biopharma, AstraZeneca, Bayer, BeiGene, Boehringer Ingelheim, Chugai, Genentech, Inc., Genmab A/S, Halozyme, Imugene Limited, Inflection Biosciences Limited, Ipsen, Kura Oncology, Lilly, MSD, Menarini, Merck Serono, Merrimack, Merus, Molecular Partners, Novartis, Peptomyc, Pfizer, Pharmacyclics, ProteoDesign SL, Rafael Pharmaceuticals, F. Hoffmann-La Roche Ltd, Sanofi, SeaGen, Seattle Genetics, Servier, Symphogen, Taiho, VCN Biosciences, Biocartis, Foundation Medicine, HalioDX SAS and Roche Diagnostics. He reported personal financial interest in form of scientific consultancy role for Array Biopharma, AstraZeneca, Bayer, BeiGene, Boehringer Ingelheim, Chugai, Genentech, Inc., Genmab A/S, Halozyme, Imugene Limited, Inflection Biosciences Limi. Dr. Blay has received research grant/funding (institution) and travel grants from Roche and Novartis.
---