ME STRONG Joins With ASCO's Conquer Cancer Foundation to Support Research for Men's Cancers and Neuroblastoma

ME STRONG, a nonprofit public charity in Deland, Florida, is one of the newest supporters of Conquer Cancer. Linda Ryan, ME STRONG co-founder and 16-year cancer survivor, understands the importance of research: it saved her life decades ago, and she's relying on experimental treatment as she conquers cancer again.

Ms. Ryan was diagnosed with thyroid cancer in 2002. In 2004, she was diagnosed with cervical cancer; three recurrences would follow. To treat her latest diagnosis, Ms. Ryan is enrolled in an immunotherapy clinical trial at The University of Texas MD Anderson Cancer Center. Conquering cancer for so many years is physically and emotionally draining, but Ms. Ryan is optimistic. Buoyed by the support of her friends and family, she lives in the moment.
"Worrying does no good," said Ms. Ryan. "It gives the cancer power and life and takes away the joy I have today."
Ms. Ryan needs that power to run ME STRONG, which she cofounded with four other friends. Since becoming an official 501(c)(3) in 2012, ME STRONG has raised more than $700,000 to support patients and families in the central Florida community who are struggling financially due to a cancer diagnosis. The charity also supports research grants awarded through the Society of Gynecologic Oncology and Foundation for Women's Cancer.
"People can wrap their brains around the importance of research. To be able to give back to young investigators who are working on cutting-edge ways of eliminating or treating cancer so it's a little bit easier for someone else who is diagnosed is really important to us," said Ms. Ryan. "It would be nice if none of us had to hear the words you have cancer and none of us had to share that news with our families."
ME STRONG has committed generous support toward two 2019 Conquer Cancer Foundation of ASCO Young Investigator Awards (YIAs) focused on men's cancer and neuroblastoma, because the organization wanted to expand its support to other types of cancer and honor some people who are close to them.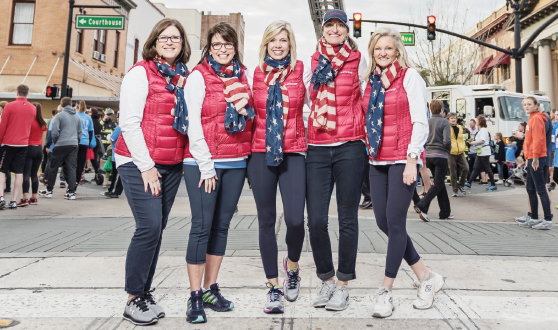 Linda Ryan (center) with ME STRONG founding members.
"We reached out to Conquer Cancer because we know ASCO has a strong reputation. We are glad we are able to direct those funds and combine them with other funding to impact young investigators, so a smaller grant may turn into a larger grant and then leverage those funds to learn how to treat other cancers, too," said Ms. Ryan.
"Conquer Cancer is so appreciative of this generous support from ME STRONG, which will help us advance cutting-edge research and invest in the most promising young investigators with bright ideas about the best ways to treat cancer," said Nancy R. Daly, MS, MPH, Executive Vice President and Chief Philanthropic Officer of Conquer Cancer.
To generate funds needed to advance its mission, ME STRONG's signature event is a 5k run/walk. Fitting, since the foundation name was born during a walk through a Boston public garden with friend and co-founder Kim Winters. As a strong-looking woman ran by, Ms. Winters said, "Me strong woman!"
Before creating the foundation, Ms. Ryan first used the Tarzan-inspired title for a blog she wrote to share updates on her treatment.
The image of that strong woman runner still motivates Ms. Ryan as a patient and an advocate, and it inspires the small town of Deland where the 5k has been held since 2012. In 2017, the race attracted more than 4,000 participants and hundreds of spectators from 90 Florida cities. The 8th annual event, scheduled for February 2, 2019, will aim to bring in more sponsors to increase patient support and research.
ME STRONG reflects a beautiful story of friendship and community for people with cancer and all those who care about them.
"Sadly, so many people have been touched by cancer, so to feel that support from all over is a really incredible thing," said Ms. Ryan.
Learn more about ME STRONG at mestrong.net, and learn more about the YIA program at CONQUER.ORG/YIA. ■
© 2018. American Society of Clinical Oncology. All rights reserved.
---