Family Archivist Holds Joyful Memories Amid Grief of Losing Loved Ones

BOOKMARK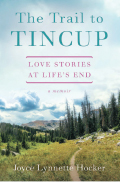 Title: The Trail to Tincup: Love Stories at Life's End
Editors: Joyce Lynnette Hocker
Publisher: She Writes Press
Publication date: May 2018
Price: $23.95, hardcover, 288 pages
Human mortality is embedded in the day-to-day challenges of clinical oncology; a cancer diagnosis is a reality check, one that turns the ordinary ticking of a clock on its biologic head. Charles Krauthammer, the well-known political commentator who recently died of complications of gastrointestinal cancer, once remarked that he thought about his own mortality for at least 1 or 2 minutes each day. He had good reason to ponder death. While a 20-something at Harvard Medical School, he suffered a near-fatal accident on the school's diving team, which left him a lifelong paraplegic. In that regard, he spent a lifetime of doing and accomplishing all the while preparing for his death.
However, excogitating on one's mortality need not be a morose pastime. In fact, it can be edifying, as evidenced by a new memoir called The Trail to Tincup: Love Stories at Life's End by Joyce Lynnette Hocker.
A Tight-Knit Family
"I am weeping in the waiting room of the University of Colorado's counseling center. I'm not crying softly, as might be appropriate for a 31-year-old assistant professor, but sobbing loudly. What brought me to this collapse?" So begins The Trail to Tincup, a delicate, poetic, and sometimes rambling memoir about the crushing loss of loved ones and a terrifying brush with death with a ruptured spleen that informs a life of greater joy, confidence, and openness.
The author grew up in a close family that moved frequently due to her father's work as a minister. During the rowdy social unrest of the 1950s to 1970s, his support of civil rights and fierce opposition to the Vietnam War made his work in conservative churches difficult, often leading to his abrupt dismissal. Despite the family tumult, the reader is treated to an uncanny family bond, one that sustains throughout a rapid succession of tragedies.
The author moves back in time to set the stage for the book's central theme of redemption through introspection and self-reflection.

—




Tweet this quote



Ms. Hocker, a former professor of communications and clinical psychologist, falls into deep clinical depression after the cancer-related deaths of four of her family members: sister-in-law, Diane; sister and best friend, Janice; and both her parents, Jean and Lamar—all over the course of 2 years. The author moves back in time to set the stage for the book's central theme of redemption through introspection and self-reflection. After the emotional dust has settled after the four deaths, Ms. Hocker becomes the family's de facto archivist, a task she relishes, as it gives her an opportunity to excavate and heal old wounds.
Planning Ahead for Final Resting Place
In the opening chapter, she reflects on one of her sister's drawings for a vacation at their family cabin, "Shalom," in the Gunnison National Forest in western Colorado. The Hocker family spent many joyous summers and holidays there. The drawing brings to mind a memory of when she and her sister, Janice, are exploring a wooded area outside the ghost town of Tincup, where they stumble on an old cemetery with graves from the mining days of the 1870s.
"We read old markers, most of them for men who died in their 20s or 30s. The cemetery is overgrown by brush, with graves scattered in haphazard plots. We see some markers with the same names, buried in the 1940s; we guess they are descendants of the miners, since no one lives in the town of Tincup now except in the summer. We go back to the hill at the edge of the cemetery, where we can barely see our parents in the distance, as twilight dims. Janice sits on the split rail fence in her blue-striped T-shirt and red cotton pedal pushers, and two messy blonde ponytails. She looks happy. When we die, I want to be buried here," Ms. Hocker proclaims.
Several decades later, Ms. Hocker's father takes her to the same place and says, "I want to show you the plot Jean and I bought. It's for all of us." This brief escape into an abandoned graveyard is the genesis of the book's title and its recurring theme of tending to the dying and overcoming grief. The most devastating, and well-drawn episode is when the author's beloved sister is diagnosed with terminal brain cancer. "My heart cracks open. My faults stand out clearly: keeping the lamp on late at night in our shared room, talking on the phone, leaving Janice out—but I can't think of any of hers. Even during that time, I thought my little sister was wonderful. Now she is dying and I just want to be with her, doing anything," writes the author.
Anguish of Loss
There are times in this book that feel like Ms. Hocker is opening a vein and bleeding onto the pages. Shortly after her sister dies, her mother is diagnosed with stage IV pancreatic cancer, and although they had a challenged relationship—one that could have been fleshed out more deeply—it is an emotionally crippling experience.
"Mom has stage IV pancreatic cancer. I feel so many mixed feelings, heavy and wooden. I realize mom is dying and I feel extremely sad. She has always lived her life with such resilience…. She told me this year, for the first time, that she loves me," writes Ms. Hocker, adding a confessional tone to the book.
Although cancer robbed Ms. Hocker of those she cherished most in life, this heart-rendering memoir is not a typical cancer memoir in that the reader doesn't experience cancer, from diagnosis to death, never getting close to alopecia or vomiting or a surgeon's scalpel. That said, Ms. Hocker reveals the experience of dying and of watching loved ones close their eyes forever, managing to make it touching and uplifting. Despite its quirky structure—a series of stories—and a rather wordy section about the author's genealogy and history, this book is recommended for readers of The ASCO Post. ■
---