Cancer Care in the U.S. Prison System

PHOTO: GETTYIMAGES.COM
A health-care system is evaluated by various metrics: one is how it cares for its most vulnerable patients. The United States spends far more on health care than any nation in the world, yet access to high-quality oncology services remains elusive to certain minority populations—none more so than men and women with advanced cancer serving time in our nation's prison system.
Graying Prison Population
Like American society at large, prisons also have an aging population, and since cancer mainly afflicts the elderly, our penal system's cancer burden is destined to worsen exponentially. According to a study by the American Civil Liberties Union (ACLU), by

Gabriel Eber
2030, more than one-third of prisoners in the United States will be older than 55 years of age.1 In an interview with The ASCO Post, Gabriel Eber, Senior Staff Counsel at the ACLU National Prison Project, explained that although he has seen compassion among health-care providers in the prison system, far too many inmates with life-threatening illnesses such as cancer are either ignored or receive substandard care due, in part, possibly to cost issues and the limitations of the challenging environment of providing care in a correctional setting.
Medical Community Needs to Advocate for Change
"The only way to make fundamental improvements in the prison health-care delivery system is to have pressure from leaders in the medical community. The message also needs to come from the corrections people, the families of the dying, and when possible, even the voices of the dying themselves," stressed Mr. Eber. 
He added that older, sick patients are not a risk to the public, and compassionate release should be considered in such cases. For example, according to a 2012 report by the ACLU (The Mass Incarceration of the Elderly) in New York,2 only 7% of prisoners released from prison between the ages of 50 and 64 returned to prison for new convictions within 3 years. That number dropped to 4% for prisoners aged 65 and older. In contrast, this number is 16% for prisoners released at age 49 and younger. Further, most aging prisoners are not incarcerated for murder but are in prison for low-level crimes.
Dying in Solitary Confinement
The dynamics that fueled the mass incarceration and the warehousing of aging prisoners in the United States is a complex admixture of sociopolitical and economic factors, many of which were an outgrowth of the "tough on crime" and "war on drugs" harsh sentencing policies of the 1980s and 1990s. Mr. Eber described holding desperately ill inmates in the prison infirmary, which can be a de facto form of solitary confinement where prisoners may get little or no outdoor recreation or interaction with others.
"I met an inmate who had multiple myeloma, and he hadn't seen the sun in almost 2 years. He may never see the sun again. This is but one example of standard prison policy that works against the best interest of very sick inmates."
Mr. Eber also mentioned the lack of palliative care for dying inmates and cited misunderstandings that may lead to its lack of use. "First, there's the misunderstanding of what palliative care is, which builds mistrust among the inmates who might believe it's a cost-cutting way to an early grave. Then, of course, there is the concern about diversion of morphine and other opioids, which further exacerbates the undertreatment of cancer pain. Despite the challenges, it's our obligation as a just and compassionate society to make sure that prisoners receive adequate palliative care. No one should die in treatable pain," he commented.
Poor Access to Care
Inmates in the correctional system comprise a unique population in the United States: they have a constitutional right to health care. In a landmark 1976 case, Estelle v. Gamble, the Supreme Court held that not providing adequate medical care to prisoners was a violation of the Constitution's Eighth Amendment against cruel and unusual punishment.3 However, a constitutional right to health care does not guarantee its equitable delivery or its quality.
A 2009 first-ever study published in the American Journal of Public Health examined the health standards of all prison and jail inmates nationwide, finding high rates of serious illness and poor access to care.4 Lead author Andrew P. Wilper, MD, MPH, Chief of Staff at the Boise VA Hospital, Idaho, told The ASCO Post that he and fellow investigators found that more than 800,000 inmates—about 40% of the nation's prison and jail population at the time—reported a chronic medical condition such as cancer, an illness rate far higher than other Americans of a similar age. "More than 20% of these sick inmates in state prisons, 68.4% of jail inmates, and 13.9% in federal prisons had not seen a doctor or nurse since their incarceration," said Dr. Wilper.
Ethical Issues
Studies indicate that inmates with symptoms of possible cancer, such as localized pain, weight loss, or bloody stools, are often inadequately evaluated. Naturally, there are logistical and financial disincentives to perform diagnostic testing, but even when prison health-care providers choose to evaluate a suspicious finding, it may take several weeks or months before a cancer specialist sees an inmate,5 according to an article in the Journal of Hospice and Palliative Nursing. The paper's lead author, Laurie J. Lyckholm, MD, an oncologist at Iowa Carver College of Medicine, began caring for prisoners with cancer when she was an attending oncologist at Virginia Commonwealth University Cancer Center.
"Cancer pain presents multiple clinical challenges, and for the most part it is not managed well in the prison setting."

— Laurie J. Lyckholm, MD




Tweet this quote



In this article, Dr. Lyckholm shared a case study of a 55-year-old inmate to illustrate the vexing conditions and inadequate care that cause unnecessary pain and suffering among many prisoners with advanced cancer. The inmate had stage IV rectal cancer involving the rectum and regional lymph nodes. He presented to the surgical oncologist with severe anorectal pain, difficulty passing bowel movements, bright red rectal discharge, and urinary retention. "His pain was so profound that he refused food for 4 days prior to the appointment, fearing the added pain of a bowel movement," Dr. Lyckholm told The ASCO Post.
Months of Intense Pain
Several weeks passed between each referral, and the inmate told the oncology team that he wanted only palliative care, not curative care, as "prison is worse than death." His pain control was abysmal, taking more than 3 months and several changes of analgesics before his pain score of 9 out of 10 came down to 6, a level he felt he could tolerate. On the medical pain scale, at 9, a patient was unable to speak and was bedridden, crying out, or moaning.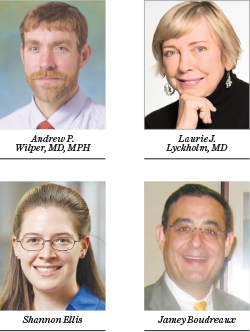 Although access to high-quality cancer care varies across the nation's massive correctional landscape, Dr. Lyckholm's research indicates that pain management may be the most difficult of all clinical issues for prisoners and providers alike. "Cancer pain presents multiple clinical challenges, and for the most part it is not managed well in the prison setting. The foundation of severe cancer pain treatment is morphine, and there is a fundamental reluctance among corrections' people to administer it. I've seen prisoners whose cancer pain was managed wonderfully in the inpatient hospital setting only to return to prison and have their opioids cut off or curtailed, sending the patient back into the severe pain spiral. The other chief pain management barrier is a lack of cancer pain specialists in the correctional setting," stated Dr. Lyckholm.
Noteworthy Class Action Lawsuit
Fluvanna Correctional Center for Women is Virginia's largest and highest-level security women's prison, housing some 1,200 inmates. On July 24, 2012, the Legal Aid Justice Center, a Virginia-based nonprofit organization and others filed a class action lawsuit against the Virginia Department of Corrections and its health-care contractor(s) for failing to provide constitutionally adequate medical care to the inmates of Fluvanna. The suit is noteworthy because it established health-care standards for the prison holding Virginia's sickest women prisoners, including numerous patients with cancer. Six years later, the prisoners have now asked a federal judge to hold the Department of Corrections in contempt of court for continuing to fail to provide adequate medical care.
Shannon Ellis, an attorney on the class action suit, recently spoke with The ASCO Post about the case. "Fluvanna is where Virginia sends female prisoners with serious medical needs. It has a large infirmary and was designed to be, in some ways, a medical prison. Around 2010, however, our office began hearing horror stories from sick Fluvanna prisoners about their medical treatment," revealed Ms. Ellis. "We investigated the situation and confirmed that the medical conditions at the prison were dire, so we filed the class action suit."
Shortly before going to trial on the prisoners' original complaint, the Virginia Department of Corrections decided to settle the suit, agreeing on specific stipulations that Fluvanna upgrade its health-care delivery system. "We monitored the situation since and saw that the health-care upgrades had not been implemented and the sick women were still suffering. We filed a motion to show cause that requests the judge to find the Department of Corrections in contempt for failing to abide by the settlement agreement," Ms. Ellis added.
A week-long contempt trial was held in the case in June 2018, in the federal court in Charlottesville, Virginia. The judge has yet to issue a ruling.
Model Palliative Care Program
Located on 18,000 sprawling acres, the Louisiana State Penitentiary, known as Angola, is the largest maximum-security prison in the United States. Angola has long been considered one of the nation's harshest and most violent prisons. It has a large population of aging men serving long sentences; in 2014, one report suggested that 85% of the inmates who walk through the gates of Angola will die within its walls.6 Yet, over the past couple of decades, Angola has developed another distinction: its palliative care unit is considered the best in the nation's penal system.
Jamey Boudreaux, Executive Director of the Louisiana-Mississippi Hospice and Palliative Care Organization, told The ASCO Post that over time, the educational transition to palliative care at Angola produced a sea change in end-of-life care. "The inmates became intimately involved in the care of their dying brethren. But it took almost a decade of working with the warden and correctional officers to change a rigid them-against-us institutional mindset to one that recognizes the humanity of these inmates and allows those with late-stage cancer to die free of pain, surrounded by their loved ones," said Mr. Boudreaux.
Inmate volunteers at Angola sign up for 40 hours of training before they can become a part of a patient's 4-person rotation and perform hospice duties. That training includes discussions on spirituality and religious respect toward the patient and a personal reflection on the volunteer's first encounter with death, which often involves the crime committed. Mr. Boudreaux said that the hospice program has fostered compassion at Angola and reduced violence.
Closing Thoughts
Prison is a netherworld to most Americans, and there is a natural tendency to dismiss prisoners as victims of their own doing. But physicians are different in that they must abide by the doctrine of their trade in viewing all sick people equally, as patients in need of medical care.
CARING FOR PRISONERS WITH ADVANCED CANCER: LESSONS LEARNED
Importance of appropriate cancer care, including diagnosis and treatment
Need for continuity of care and communication
Respect for autonomy and patients' right to make medical decisions
Concern for strict confidentiality and privacy
Dietary considerations
Benefits of supportive care, with system-wide palliative and hospice approach
Source: Lyckholm LJ, Glancey CL.5
Multiple studies and advocacy initiatives have shown that cancer care in the prison population is substandard and pain management for inmates with advanced cancer is appalling. Each year, millions of people, largely in the developing world, die in agony because they do not have access to morphine. No one in a wealthy and socially advanced country like the United States should suffer from undertreated pain, especially at the end of life. Therefore, as noted by Mr. Eber of the ACLU, it is up to the medical community to advocate for standardized, high-quality medical care and pain control for the incarcerated population. ■
The opinions expressed in this report do not necessarily reflect the views of ASCO or The ASCO Post.
DISCLOSURE: All speakers reported no conflicts of interest. 
REFERENCES
1. Chettiar I, Gupta V: Why are we spending so much to lock up elderly prisoners who pose little threat? ACLU. Available at www.aclu.org/blog/smart-justice/why-are-we-spending-so-much-lock-elderly-prisoners-who-pose-little-threat. Accessed August 13, 2018.
2. ACLU: At America's expense: The mass incarceration of the elderly. June 2012. Available at www.aclu.org/files/assets/elderlyprisonreport_20120613_1.pdf. Accessed August 13, 2018.
3. Estelle v. Gamble. Oyez. Available at www.oyez.org/-cases/1976/75-929. Accessed August 13, 2018.
4. Wilper AP, et al: The health and health care of US prisoners. Am J Public Health 99:666-672, 2009.
5. Lyckholm LJ, Glancey CL: Ethical issues in caring for prison inmates with advanced cancer. J Hosp Palliat Nurs 18:7-12, 2016.
6. Loeb SJ, et al: Who wants to die in here? Perspectives of prisoners with chronic conditions. J Hosp Palliat Nurs 16:173-181, 2014.
---