Two Individuals Recognized With NCCS Ellen L. Stovall Award

THE NATIONAL COALITION FOR CANCER SURVIVORSHIP (NCCS) presented its second annual Ellen L. Stovall Award for Innovation in Patient-Centered Cancer Care recently in Washington, DC. This year's award recipients were Pat Coyne, MSN, of the Medical University of South Carolina, and Meg Gaines, JD, of the University of Wisconsin at Madison. Mr. Coyne was nominated by Thomas J. Smith, MD, of Johns Hopkins University School of Medicine. Ms. Gaines was nominated by Julia H. Rowland, PhD, recently retired Director of the Office of Cancer Survivorship at the National Cancer Institute. 
Supporting Patients a Common Mission 
MR. COYNE, AN ADVANCED PRACTICE NURSE, has devoted his career to the advancement of the field of palliative care. He is one of the founders of End-of-Life Nursing Education Consortium (ELNEC), which has educated more than 21,000 nurses in over 90 countries, and he has published over 100 papers on a variety of symptom management and policy issues. 
Ms. Gaines is a lawyer by training, a cancer survivor, and one of the founders of the Center for Patient Partnerships at the University of Wisconsin. The Center trains students in the fields of law, medicine, nursing, pharmacy, and social work to provide advocacy to cancer patients. Interdisciplinary teams help cancer patients understand their diagnoses, obtain the information necessary to make critical treatment decisions, and support patients' efforts to receive the treatment they need.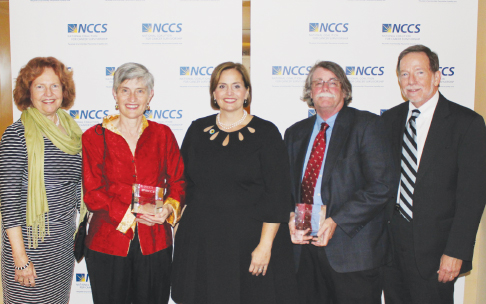 The NCCS held its second annual Ellen L. Stovall Award for Innovation in Patient-Centered Cancer Care and reception recently in Washington, DC. Shown here, left to right: Julia Rowland, MD; Meg Gaines, JD; NCCS CEO Shelley Fuld Nasso; Pat Coyne; and Thomas J. Smith, MD. Credit: Dan Weber/NCCS.
Remembering Ellen Stovall 
NAMED FOR LONGTIME CHIEF EXECUTIVE OFFICER of NCCS and three-time cancer survivor Ellen L. Stovall, who died in 2016 due to complications of her cancer treatment, the award aims to honor her memory and advocacy by annually recognizing individuals, organizations, or other entities that are innovators in improving cancer care. In more than 2 decades of service and leadership at the NCCS, Ms. Stovall crusaded for the delivery of quality cancer care to all Americans. As a cancer survivor for more than 4 decades, she sought to design her own system of patient-centered care to address the serious late and long-term effects of her cancer treatment, including the treatment of a second cancer. In pursuing her own system of care, she focused on care that emphasized strong doctor-patient communication, coordination of care and symptom management, and full consideration of the evidence supporting treatment options. 
According to spokespersons from NCCS, Ms. Stovall's pursuit of her own quality cancer care informed NCCS efforts to improve the overall cancer care delivery and payment system. She and her colleagues at NCCS pursued changes in public and private payment systems that would encourage cancer care professionals to provide patient-centered care through partnership with their patients and through redesign of their systems to honor the principles of patient-centeredness. 
Applications for the 2018 Stovall Award will be accepted beginning February 1, 2018. Visit canceradvocacy.org for additional information. ■
---