New Cancer Care Collaboration Brings Memorial Sloan Kettering Cancer Care to Norwalk Hospital

NORWALK HOSPITAL and Memorial Sloan Kettering Cancer Center (MSK) announced a new cancer care collaboration that will integrate MSK medical and radiation oncologists and care practices with the existing cancer program at the C. Anthony and Jean Whittingham Cancer Center at Norwalk Hospital. 
For the first time, MSK doctors will be leading cancer services within another hospital's cancer program outside of New York State. This is a unique model of collaboration through which Norwalk Hospital's current team of oncologists, nurses, surgeons, and pathologists will be practicing alongside MSK doctors. 
The innovative relationship between the esteemed cancer program at Norwalk Hospital and renowned MSK will give residents of Fairfield County accelerated access to the newest cancer treatment options in the comfort of their local community setting. Patients treated at Norwalk Hospital will remain Norwalk Hospital patients but will now have easy access to MSK for more complex cases and hundreds of clinical trials.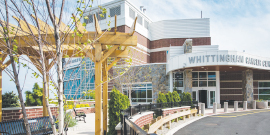 Opened in 2016, the new Whittingham Cancer Center is a 35,000–square foot facility featuring an outdoor healing garden, contemporary consultation rooms, private infusion suites, light-filled infusion bays with views of Long Island Sound, a dedicated computed tomography simulator, and state-of-the-art linear accelerators. The new center includes spacious areas for clinical trials and collaborative research programs with additional space for the multidisciplinary support team of nurse and patient navigators, registered dietitians, psychosocial support, and cancer genetics.
MSK Collaborators 
AS PART OF THIS COLLABORATION, three MSK experts—Linda T. Vahdat, MD, MBA; Daniel Shasha, MD; and Hsiang-Chi (Gary) Kuo, PhD—have joined the Norwalk Hospital staff and will lead the medical oncology, radiation therapy, and medical physics cancer services at Norwalk Hospital. Dr. Vahdat, a breast medical oncologist at MSK, will serve as Chief of Medical Oncology and Clinical Director of Cancer Services at Norwalk Hospital. Dr. Shasha, a radiation oncologist at MSK, will serve as Chief of Radiation Oncology at Norwalk Hospital. Dr. Kuo, a physician at MSK, will serve as Chief of Medical Physics at Norwalk Hospital. 
All six of Norwalk Hospital's current medical and radiation oncologists have also joined MSK's medical staff. These oncologists are well known for their expertise in breast, lung, colorectal, prostate, and gynecologic cancer care and with support from the new relation
ship with MSK, they will now expand and deepen opportunities to treat a greater range of cancers. They will participate in MSK disease management teams and work closely with their MSK colleagues to share perspectives and best practices, all with the goal of providing cancer care tailored to the unique needs of each patient. ■
---