Life With Death in the Room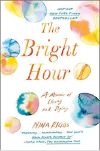 It began, as so many do, with what a doctor often calls "a small spot," a vague description that makes a potentially fatal disease sound like something that, with a slight bit of attention, can be ridded, like erasing a misplaced comma. In 2015, during a routine mammogram, doctors found one "small spot" in the left breast of Nina Riggs. In January 2017, she died of metastatic breast cancer, a few months before her gut-wrenching but beautiful and never overly emotional memoir The Bright Hour: A Memoir of Living and Dying was published. She left behind a husband, two boys aged 7 and 10, and a book that will be read and re-read for a long time. 
"Dying isn't the end of the world," my mother liked to joke after she was diagnosed as terminal. "I never really understood what she meant, until the day I suddenly did—a few months after she died—when, at age 38, the breast cancer I'd been in treatment for became metastatic and incurable." So begins The Bright Hour, a story not of dying of cancer but rather of living life to its fullest despite cancer and of embracing all that life has to offer until the end. 
A direct descendent of Ralph Waldo Emerson, Ms. Riggs was a poet herself, and she fills her memoir with wit, humor, and prose that often reads like poetry, using quotes from Emerson, not as window dressing but to firm up her own messaging about the beauty of each day we have. 
BOOKMARK
Title: The Bright Hour: A Memoir of Living and Dying
Author: Nina Riggs
Publisher: Simon & Schuster
Publication Date: June 2017
Price: $25.00 hardcover, 320 pages
Stages of Cancer 
SHE CRAFTED HER BOOK in the stages of her cancer. In stage one, the reader learns of the "spot," which turned out to be breast cancer, to which upon hearing the news her mother reacts: "You've got to be kidding me. Not you, already." The already hangs in the air, a genetic predisposition from mother to daughter that was lurking in her body, like a cloud that suddenly became dark. 
There is a poignant moment in this section of the book during which the author and her husband, John, are in bed. John says, "I just can't wait for things to get back to normal." Ms. Riggs, of course, knew that the normal her husband wishes for will never come, and she understands his longing but also realizes that he's "On another side of the moon." She writes, "Thinking that way kind of invalidates my whole life right now. I have to love these days in the same way I love any other." 
To bring heart-rendered reality to her story, the author, at the perfect moment in the narrative, flashes back to her life before the cancer diagnosis. But it's the writing itself that breathes life into her work. She writes: "Several weeks before the call, a warm night: John and I sit on the front porch with a glasses of whiskey and let the sun set in our eyes— bathing us and the whole world in orange, as it sinks below the neighbor's roofline across the street, where he's out on his swing—the retired professor who can no longer remember his dog's name." This is the kind of beautifully evocative writing that fills each page of this stunning book. 
Motherly Concern 
WHEN WE GET TO STAGE TWO, Ms. Riggs is alarmed by how fast her disease is spreading. During this part of the book, Ms. Riggs is also coping with the slow death of her mother, a woman whose humor and frankness are on display up until her final moments, when she says to her daughter: "You are a great person in many ways, but I wish you were better at going to the dentist." 
"John is a superstar dad, but now I keep a running list on my phone of the things I'm worried no one will teach my kids."

— Nina Riggs




Tweet this quote



Throughout her book, Ms. Riggs intertwines the day-to-day challenges of living with terminal cancer, taking care of her children, loving and coping with her husband's own emotional roller coaster, and wrestling to find meaning in her dwindling days on earth. Toward the end, she begins to think about the life she's leaving behind, not in a self-pitying way, but out of motherly concern. She writes: "John is a superstar dad, but now I keep a running list on my phone of the things I'm worried no one will teach my kids." 
Ms. Riggs died in the morning, which, as her husband notes in the afterword, was her favorite time of day. In the final paragraph of this remarkable book, Ms. Riggs talks about her two sons, who are "whooping and surviving" outside in the woods that surround their family home. It was getting dark and stormy outside, but Ms. Riggs wants them to have fun in the woods. She writes: "It will be getting dark soon…but I am not ready to call them back in. There is nothing in this whole world that could make me call them back in." 
People, even those with metastatic cancer, are not in a state of dying. People are born and eventually die, but everything in between, that is life. Ms. Riggs' book teaches us that. The Bright Hour is highly recommended for readers of The ASCO Post. ■
---