Conqueror in Action: Six-Time Survivor Brittany Sullivan Takes on Sarcoma

Alveolar soft part sarcoma (ASPS) is a cancer so rare that some oncologists have never heard of it.
Brittany Sullivan, a 29-year-old anatomy teacher from Nashville, Tennessee, learned about it when she was 3 years old. She has been conquering it ever since.
Since her childhood diagnosis, Ms. Sullivan's cancer has returned five times. Most recently, in 2012, a team of doctors discovered a sizable, inoperable tumor inside her heart. She was 3 months pregnant.
"Throughout the pregnancy and for several years after, we waited to see if the cancer would grow and then tried a treatment that failed," recalled Ms. Sullivan. "I had widely metastatic cancer, a husband, a 2-year-old daughter, and a lot to lose."
The same year that Ms. Sullivan's ASPS returned, Breelyn Wilky, MD, received a Young Investigator Award (YIA) from the Conquer Cancer Foundation of ASCO supported by The WWWW Foundation, Inc. (QuadW). With the support of the CCF/QuadW YIA in memory of Willie Tichenor, Dr. Wilky could continue researching rare sarcomas.
"I sat at the ASCO Annual Meeting and watched the Plenary Session where a new immune therapy drug was producing near-cures in melanoma," Dr. Wilky said. "I knew that I wanted to spend my career on that pivotal frontline and that I wanted my efforts to make a difference for patients with sarcoma."
Just 2 years later, Dr. Wilky's continued research resulted in a new clinical trial. Ms. Sullivan was the first patient to enroll.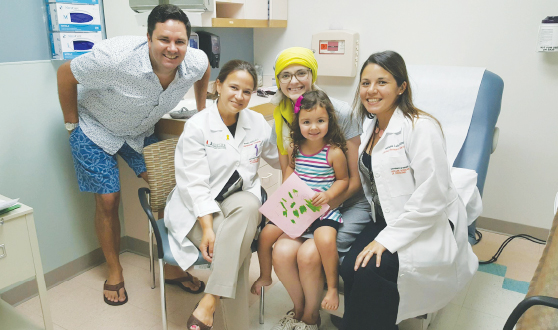 Ms. Sullivan (center) and Dr. Wilky (second from left), with Ms. Sullivan's family and Dr. Wilky's colleague at the University of Miami.
"The only way these new treatments will become available for me and for so many others is for more clinical trials to be sponsored and started, for more doctors to be funded and inspired. We desperately need these doctors and we desperately need these trials," said Ms. Sullivan, who shared her story at CCF's annual dinner, An Evening to Conquer Cancer.
"Up to this point, in that moment, and in the many difficult moments to come, cancer research gave me hope that there would be life without cancer again," she said, "and indeed there will be."
After 12 months under Dr. Wilky's care, Ms. Sullivan explained, her widespread cancer was reduced to only a few small tumors: "The large, scary tumor that had been in my heart for 4 years has melted away to small shadows." 
Not only is the clinical trial providing life-sustaining treatment, it is allowing this six-time survivor to live out her dream.
"I have hoped to be part of the cure for cancer since I was a little girl. I went to PA [physician's assistant] school to become a clinician but was stopped from that career by my cancer," Ms. Sullivan explained. "I may not be able to be a Young Investigator now, but I am still contributing to cancer research as a patient so that we can bring hope and life to many others whose cancers are considered untreatable."
Visit CONQUER.ORG to learn more about how generous donors are making a difference in cancer care by funding the brightest minds in cancer research like Dr. Wilky.
To show your own support, visit CONQUER.ORG and make a donation today. ■
Originally featured by the Conquer Cancer Foundation. © American Society of Clinical Oncology. "Conqueror in Action: Six-Time Survivor Brittany Sullivan Takes on Sarcoma." www.CONQUER.ORG. All rights reserved.
---