Two Big 10 Universities Compete in Challenge and Help Raise More Than $5.9 Million for Childhood Cancer Research

The first-ever Wolverine–Badger challenge between C.S. Mott Children's Hospital at the University of Michigan (Wolverines) and the University of Wisconsin's American Family Children's Hospital (Badgers) helped raise more than $5.9 million for pediatric cancer research.
An October 1 football game between the two schools was the culmination of a month-long competition between the rivals to see who could raise the most money during September's Childhood Cancer Awareness month. For much of the month, the Badgers were in the lead. But thanks to a large gift from an anonymous donor, Michigan leaped ahead in the last week. Nine-year-old leukemia fighter Ethan Watts led the marching band to Michigan Stadium and was invited onto the football field to accept the plaque on behalf of Mott Children's.
"In 1 month, Wolverine and Badger fans helped raise more than $5.9 million to support groundbreaking research to find better, safer cures for childhood cancers. Everyone wins," said Valerie Opipari, MD, a pediatric oncologist and Chair of the Department of Pediatrics and Communicable Diseases at C.S. Mott Children's Hospital. "We may cheer for different teams in the stands, but we are on the same side in the fight against childhood cancer. When we work together, we can make a difference for so many children and families affected by this devastating disease."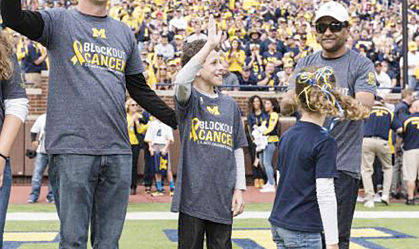 Ethan Watts, a 9-year old leukemia fighter, on the field at Michigan Stadium. Photo Credit: University of Michigan Health System.
The Wolverine–Badger challenge was part of the month-long Block Out Cancer campaign at Mott, designed to increase awareness about the need for pediatric cancer research in September.
Each year, more than 13,000 parents will learn that their child has cancer. Despite great advancements in research and treatment, one of five children with cancer does not survive, and cancer is still the leading cause of death by disease among children in the United States.
Research aimed at uncovering cures is woefully underfunded—with just 4% of federal funding for cancer research supporting children's cancer.
For more information on how you can play a role in #BlockOutCancer, visit www.mottchildren.org/blockoutcancer. ■
---