How ASCO Is Preparing Members for MACRA
A Conversation With Daniel F. Hayes, MD, FACP, FASCO, and Stephen Grubbs, MD


We believe MACRA is the right move to improve patient care, and we are going to help our membership make the transition with as little inconvenience as possible.

— Daniel F. Hayes, MD, FACP, FASCO




Tweet this quote



On October 14, 2016, the Centers for Medicare & Medicaid Services (CMS) announced its final policy on what physicians need to do to begin implementing the Quality Payment Program outlined in the Medicare Access and CHIP Reauthorization Act of 2015 ­(MACRA). The Quality Payment Program is a pay-for-performance system that emphasizes quality of care, not quantity. MACRA replaces the unpopular Sustainable Growth Rate formula as a mechanism for determining how CMS reimburses physicians for their services.
Although the requirements outlined in MACRA do not take effect until January 1, 2019, payment adjustments made in 2019 will be evaluated and paid based on performance data collected starting as early as January 1, 2017. However, to give physicians more time to adjust to the new requirements, CMS has introduced a transitional period for 2017 and is offering providers the option to start collecting data anytime between January 1 and October 2, 2017. Whenever providers choose to start the program, they will need to send in their performance data to CMS by March 31, 2018.
MACRA's Two Payment Pathways
MACRA legislation requires physicians to participate in one of two payment tracks: the Merit-Based Incentive Payment System (MIPS) or Advanced Alternative Payment Models (APMs). The Merit-Based Incentive Payment System combines three existing incentive programs, including meaningful use of electronic health records, the Value-Based Payment Modifier, and the Physician Quality Report System (2016 submission through ASCO is at no cost to the practice). A new fourth category, Clinical Practice Improvement Activity, will be added as part of the overall composite score. Merit-Based Incentive Payment System scoring will not include Value-Based Payment Modifier cost metrics in the 2017 performance year.
Physicians will receive a bonus or penalty based on their composite score across the performance categories of quality of care, clinical practice improvement, and meaningful use of electronic health records, now called advancing care information.
Physicians who choose the Merit-Based Incentive Payment System path of the Quality Payment Program but do not participate in 2017 will receive a negative 4% payment adjustment in 2019. For physicians participating in the Merit-Based Incentive Payment System, there are three options available to them:
Submission of a minimum amount of data—for example, one quality measure or one improvement activity for any point in 2017—to avoid a downward payment adjustment
Submission of 90 days of 2017 data to earn a neutral or small positive payment adjustment
Submission of a full year of 2017 data for the potential to earn a moderate positive payment adjustment.
Participation in the Advanced Alternative Payment Models pathway allows physicians to earn an annual lump sum bonus of 5% during 2019–2024 if they assume serious financial risk under their particular payment model and hit their quality targets. Participating in an Advanced Alternative Payment Model exempts physicians from the Merit-Based Incentive Payment System and its penalties. The final rule identified the following Advanced Alternative Payment Models for 2017:
Next-generation accountable care organizations
Comprehensive Primary Care Plus
Medicare Shared Savings Program Tracks 2 and 3
Comprehensive End-Stage Renal Disease Care Model
The CMS Oncology Care Model (OCM).
To help support the participation of small practices in MACRA, the final rule exempts practices that fall below the requirements of at least $30,000 Medicare Part B charges or 100 Medicare patients from participating in 2017. In addition, the final rule provides $20 million a year for 5 years to train and educate Medicare clinicians in small practices of 15 or fewer practitioners and those working in underserved areas.
To learn more about the details contained in MACRA, go to the CMS Quality Payment Program website at https://qpp.cms.gov.
ASCO's Response
"ASCO applauds CMS for its interpretation of the MACRA law and for taking a critical step toward transitioning Medicare from volume-based reimbursement to a system that emphasizes high-quality, patient-centered care," said ASCO President Daniel F. Hayes, MD, FACP, FASCO, Clinical Director of the Breast Oncology Program and Stuart B. Padnos Professor in Breast Cancer Research at the University of Michigan Comprehensive Cancer Center, Ann Arbor.
"In announcing the release of its final rule on MACRA, CMS has demonstrated welcomed flexibility and choices for clinicians," he continued. "We are particularly encouraged that CMS has introduced a Quality Payment Program transitional period for 2017 and has included an oncology-based specialty measure set, which is more applicable to oncology practices than the general medical quality measures. We are also very pleased to see special considerations being given to small and rural practices, which will help ensure that care for vulnerable patients with cancer will not be disrupted during this period of transition."
To prepare ASCO members for the transition from the Sustainable Growth Rate to the MACRA system and to help them avoid any potential reductions in reimbursement fees or penalties, ASCO has developed a Top 10 List for ­MACRA Readiness (see sidebar on page 122), as well as a series of educational programs, including webinars, workshops, and a new conference, ASCO Oncology Practice Conference: The Business of Cancer Care, which will include sessions on MACRA implementation. The conference will be held March 2, 2017, in Orlando, Florida. For additional information, visit opc.asco.org. To view past webinars or to register for an upcoming one, go to www.asco.org/sites/new-www.asco.org/files/content-files/MACRA-calendar-of-education-events.pdf.

Naturally, there is some nervousness about how exactly MACRA will be implemented and what impact it will have on individual practices and on patients. That is why we are working hard to educate ASCO members about the requirements ahead of the January 1, 2017, first reporting date.

— Stephen Grubbs, MD




Tweet this quote



To learn more about the active role ASCO is taking to prepare members for the change to the MACRA Quality Payment Program, The ASCO Post talked with Dr. Hayes and Stephen Grubbs, MD, ASCO's Vice President of Clinical Affairs.
Beneficial Change
How will the change from the Sustainable Growth Rate formula, which was based primarily on a fee-for-service payment system, to MACRA, a pay-for-performance reimbursement system, benefit both oncologists and patients with cancer?
Dr. Hayes: Long before I became President of ASCO, I felt our medical system was set up to reward doctors for doing things to patients rather than for patients. ASCO is very supportive of improving the quality of care for our patients, and we were in favor of repealing the [Sustainable Growth Rate] formula because it didn't make sense, and we support the concepts of physician payment reform incorporated into the MACRA legislation for physician reimbursement.
As a result, ASCO has developed substantial educational opportunities for our members to learn about ­MACRA and prepare for the new payment system.
ASCO Involvement
Was ASCO involved in helping CMS develop the requirements in MACRA?
Dr. Grubbs: There have been two components of ASCO's involvement in the development of MACRA. The first component was in the policy realm, to help repeal the Sustainable Growth Rate, which was a terribly flawed system of reimbursing physicians that went on for more than 10 years. So, the first step in our involvement was to get physicians into a new system that would move us from a payment system based on quantity to one based on quality and patient outcomes.
The second component of ASCO's involvement has been to affect MACRA implementation rules so that they serve the best interests of our patients. ASCO is pleased that CMS has responded to many ASCO comments in the final rule, including flexibility of the [Merit-Based Incentive Payment System] implementation timeline and the inclusion of an oncology-based specialty measure set.
The legislative and CMS rulemaking periods are over, but the real challenge of implementing the program is just beginning, and ASCO is very much involved in ensuring that the transition for our members is seamless.
Dr. Hayes: ASCO wants to do the right thing for our members and our patients, and we think MACRA is the right thing. The devil is in the details, but we feel that we have a place at the table.
Member Reactions
What are you hearing from ASCO members about the change to MACRA?
Dr. Grubbs: Everyone is relieved to get rid of the [Sustainable Growth Rate formula]. Naturally, there is some nervousness about how exactly MACRA will be implemented and what impact it will have on individual practices and on patients. That is why we are working hard to educate ASCO members about the requirements ahead of the January 1, 2017, first reporting date.
Dr. Hayes: Change is scary, and as I said earlier, the devil is in the details of the plan, but I've been on the road talking with ASCO members about the change and most members say they understand the reasoning behind the switch to ­MACRA and its goals and objectives.
Physicians in general have a close relationship with their patients, but oncologists are especially close to their patients. Our patients become our family members, and we want to do the right thing, making sure that we provide higher-quality care at good value for people with cancer.
Smaller Practices
How will smaller community-based oncology practices be affected by MACRA, and what will they need to do to make the transition to the new payment model?
Dr. Grubbs: This is going to be a challenge for every oncologist, but there is no doubt that physicians in smaller practices are going to have to be much more engaged in the day-to-day operational transition of their business than an oncologist in an academic or large practice setting, where there is more administrative support. Nevertheless, the elements in MACRA are applicable to smaller practices in terms of the general requirements of the Merit-Based Incentive Payment System, which measures how a practice is performing and then adjusts payments accordingly.
We are all required to be practicing quality oncology, and there are measures, such as ASCO's Quality Oncology Practice Initiative (QOPI®), already in place to track that information. I believe we are delivering high-quality cancer care to patients, so I don't see transitioning to MACRA as a huge challenge or burden for physicians. There is no reason why a small practice can't be as successful in this new payment system as a large practice.
To fulfill the MACRA requirements, oncology practices are going to have to attest to a certain level of practice improvement, and I don't think it is going to be difficult to make the practice improvements and then attest to them. The Advanced Alternative Payment Model is a little bit of a different story and may prove more challenging for smaller practices to meet the requirements compared with larger practices, but even that payment pathway is doable for everyone.
Dr. Hayes: ASCO is helping members make this transition in several ways. For example, we were just informed that the QOPI system could be used to meet the quality reporting requirements in 2017 (of 2016 data). And once CancerLinQ™ is completely rolled out, oncologists will be able to download data from their patients' electronic health records, which will help oncologists judge whether they are practicing within the confines of acceptable practice pathways and guidelines to meet MACRA's quality requirements.
Dr. Grubbs: Just to reiterate, ASCO has systems in place for practices that fit very nicely into this new world of MACRA. As Dr. Hayes mentioned, our QOPI system is set up to do the quality reporting for practices right now. We have practices inputting data through the QOPI system that we are reporting to CMS for quality performance in 2016 and are evaluating the reporting requirements through QOPI for 2017, when [the Merit-Based Incentive Payment System] kicks in. Practices' ability to report quality data will only get better over time, as we become more efficient at electronic reporting with the use of CancerLinQ.
Also, QOPI and QOPI certification are designed to track clinical practice improvement activity to enable users to get a higher score in the [Merit-Based Incentive Payment System]. In addition, ASCO offers a quality training program that oncology practices can use to improve quality patient care. So we are helping members cover up to 75% of their [Merit-Based Incentive Payment System] score for performance in 2017.
ASCO is developing practice transformation tools to improve both quality and cost-effective care that will apply to successful performance with both the [Merit-Based Incentive Payment System] and [Alternative Payment Models].
Preparing for Change
Is there something specific that small practices have to do now to prepare their staff for the shift to the CMS value-based payment models?
Dr. Grubbs: I recommend that every practitioner and practice administrator read ASCO's Top 10 List for ­MACRA Readiness to learn where there may be gaps in their organization and where they may need to make changes. Providers in MIPS also need to pick from among the three options for 2017 data reporting, and all practices are going to have to do some work to better manage their patients in the office setting and control costs that may require changes with the nursing staff and scheduling.
We will soon announce tools that oncology practices can use to improve those areas of their care performance, but it might mean some rearrangement of how practices currently operate. The tools we are developing will move ASCO into the consulting business for members, whereby practices will evaluate what they need to do to meet ­MACRA requirements, and then ASCO will offer members the tools to accomplish those goals.
Dr. Hayes: The theme for my presidential year of service is "What ASCO Can Do With You to Improve Cancer Care," and this is a classic example of what I mean. We believe MACRA is the right move to improve patient care, and we are going to help our membership make the transition with as little inconvenience as ­possible. ■
Disclosure: Drs. Hayes and Grubbs reported no potential conflicts of interest.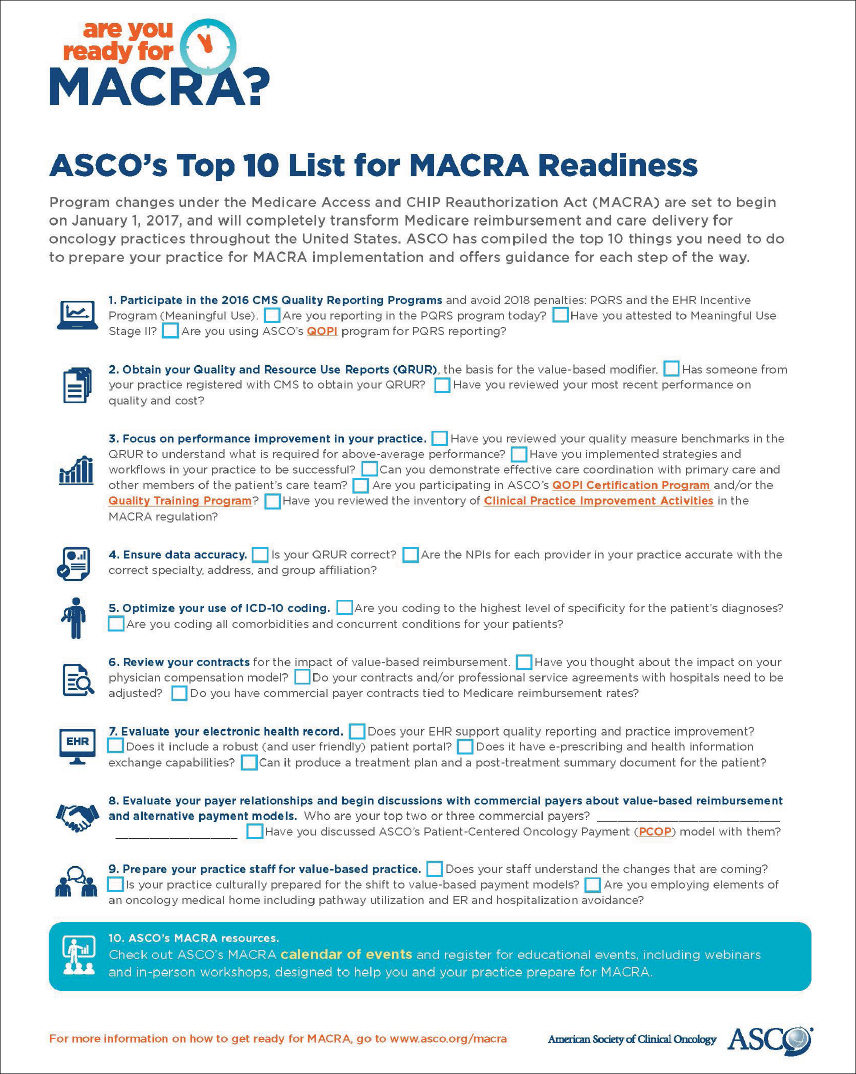 ---