Dexamethasone to Preempt Radiation-Induced Pain


Alysa Fairchild, MD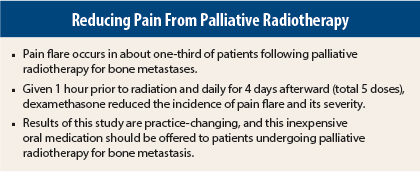 Reducing Pain From Palliative Radiotherapy
Dexamethasone can help avoid debilitating pain due to radiation therapy and should now be recommended as standard of care for all patients receiving radiotherapy for bone metastasis.

—Alysa Fairchild, MD
Bone is a common site of metastasis for prostate, breast, and lung cancers, and palliative radiotherapy is often used to treat these metastases. Although it is an effective therapy, severe pain flare following radiation occurs in about one-third of patients. It usually resolves within 10 days, but during that time, it can be quite debilitating.
Use of dexamethasone can significantly reduce the occurrence of pain flare, according to results of a randomized controlled phase III trial presented at the 2015 ASTRO Annual Meeting.1
"Pain flare should no longer be considered a barrier to radiation of bone metastasis. Dexamethasone, an inexpensive treatment, can help avoid debilitating pain due to radiation therapy and should now be recommended as standard of care for all patients receiving radiotherapy for bone metastases," stated a coauthor of this study, Alysa Fairchild, MD, a radiation oncologist at the Cross Cancer Institute and University of Alberta, Edmonton, Canada.
Study Details and Results
The study enrolled 298 patients from 23 centers in Canada. All patients had one to two bone metastases and were randomized to receive oral dexamethasone (8 mg) or placebo for 5 days beginning on day 1 of radiotherapy. All patients were treated with single-dose radiotherapy of 8 Gy in 1 fraction directed at the bone metastasis. Patients were asked to complete a pain diary on days 1–10 and were followed up on day 42.
Pain flare was defined as at least a 2-point increase in patient-rated worst pain on a scale of 0–10 with no decrease in analgesic intake, or a 25% or greater increase in analgesic intake with no decrease in worst pain score from days 0–10.
Pain flare was reported in 17.6% of patients in the dexamethasone arm vs 29.3% in the placebo arm in those for whom complete patient diary data are available (P = .01). When pain flare occurred, it was less severe in the dexamethasone-treated arm than in the placebo arm.
The median increase in pain score during days 6–10 of pain flare was 2.5 out of 10 for the dexamethasone arm vs 4 out of 10 for the placebo arm. On day 10, dexamethasone resulted in significantly less functional interference, nausea, and vomiting compared with placebo (P = .02, P = .04, and P = .02, respectively).   ■
Disclosure: The study was supported by a grant from the National Cancer Institute of Canada Clinical Trials Group. Dr. Fairchild reported no potential conflicts of interest.
Reference
1. Chow E, Meyer R, Ding K, et al: Dexamethasone versus placebo in the prophylaxis of radiation-induced pain flare following palliative radiotherapy for bone metastases: A double-blind randomized, controlled, superiority trial. 2015 ASTRO Annual Meeting. Abstract LBA1. Presented October 18, 2015.
---
Related Articles
You don't need high-tech interventions to prove value. Sometimes we can use a medication that has been around a long time," declared press conference moderator Brian D. Kavanagh, MD, MPH, FASTRO, of the University of Colorado, Anschutz Medical Campus, Denver.
"It is better to prevent the problem...