Combined EGFR and VEGF Inhibition Ameliorates the Impact of  the EGFR T790M Mutation in NSCLC


Rolf A. Stahel, MD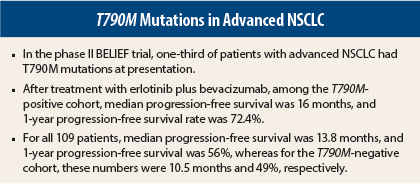 T790M Mutations in Advanced NSCLC
Our target was ambitious. We wanted to reach a 12-month progression-free survival rate of 63% in the subpopulation of T790M mutation–positive patients at diagnosis. We reached our endpoint.

—Rolf A. Stahel, MD
Treatment with erlotinib and bevacizumab (Avastin) may help overcome the poor prognosis associated with T790M mutations present at diagnosis in advanced non–small cell lung cancer (NSCLC), according to the results of the phase II BELIEF trial.1
At the 2015 European Cancer Congress, Rolf A. Stahel, MD, of University Hospital Zurich in Switzerland, presented the findings of the phase II open-label single-arm BELIEF trial, which was conducted by the Spanish Lung Cancer Group and the European Thoracic Oncology Platform. The study evaluated combined inhibition of the epidermal growth factor receptor (EGFR) and the vascular endothelial growth factor (VEGF) in patients with advanced NSCLC with activating EGFR mutations, with and without T790M mutations at diagnosis.
Pretreatment T790M Mutations
The T790M EGFR gatekeeper mutation has been described as the main mechanism of acquired resistance to EGFR tyrosine kinase inhibitors. Pretreatment T790M mutations can be identified before exposure to an EGFR tyrosine kinase inhibitor and is related to shorter progression-free survival in patients receiving EGFR tyrosine kinase inhibitors, Dr. Stahel explained.
In preclinical models of such tumors, he said, gefitinib and erlotinib are not very active but with the addition of an antiangiogenic agent, tumors seem to shrink.
BELIEF is exploring whether first-line erlotinib (150 mg daily) plus bevacizumab (15 mg/kg on day 1) improves progression-free survival in 109 patients with EGFR-mutant advanced NSCLC. Two cohorts are being evaluated: those with the T790M mutation at diagnosis and those without.
Pretreatment T790M was centrally determined by a sensitive method based on laser microdissection and peptide nucleic acid–clamping polymerase chain reaction. Of the 109 patients, 37 were determined to be T790M-positive, and 72 were found to be T790M-negative.
"The presence of the T790M mutation at diagnosis was documented in 34% of patients who also had classical EGFR mutations, using our sensitive assay," said Dr. Stahel. This percentage is much higher than what is usually detected with conventional DNA sequencing (1%–8%).
The groups were similar in terms of baseline characteristics. The T790M-positive cohort was followed for a median of 16 months, whereas the T790M-negative group was followed for 18.6 months. The median time of treatment was 13.1 and 8.7 months, respectively. Approximately half the mutation-positive group discontinued treatment due to progressive disease, whereas 73% of the negative group did so.
'Ambitious' Target Was Met
"Our target was ambitious," Dr. Stahel indicated. "We wanted to reach a 12-month progression-free survival rate of 63% in the subpopulation of T790M mutation-positive patients at diagnosis. We reached our endpoint."
Among the T790M-positive cohort, median progression-free survival was 16 months, and 1-year progression-free survival rate was 72.4%. For all 109 patients, median progression-free survival was 13.8 months, and 1-year progression-free survival was 56%. For the T790M-negative cohort, these numbers were 10.5 months and 49%, respectively.
"With the exception of just one patient, all patients with measurable disease had some documented tumor shrinkage," he reported.
Response rates were 70.3% for the T790M-positive patients (8.1% complete responses) and 79.2% in the T790M-negative cohort (5.6% complete responses). Median duration of response for the whole population was 14.8 months; it was not reached for the mutation-positive cohort and was 12 months in the mutation-negative group.
The T790M-positive patients treated with erlotinib and bevacizumab had longer progression-free survival than the mutation-negative cohort, in virtually all subgroups examined, he said.
Dr. Stahel put the findings into context with previous studies, highlighting the potential benefit of combining an EGFR tyrosine kinase inhibitor with an antiangiogenic agent in treating T790M-positive patients. In the EURTAC trial of erlotinib alone, he noted, patients with T790M mutations at presentation had a median progression-free survival of 9.7 months, compared with 16.0 months in the current study.2   ■
Disclosure: Dr. Stahel reported financial relationships with Abbott, Astellas, AstraZeneca, Bayer, Bristol-Myers Squibb, Boehringer Ingelheim, Clovis, Eli Lilly, Genentech, Merck, Novartis, Pfizer, Puma Biotechnology, and Roche.
References
1. Stahel RA, Dafni U, Gautschi O, et al: A phase II trial of erlotinib and bevacizu­mab in patients with advanced non-small-cell lung cancer with activating epidermal growth factor receptor mutations with and without T790M mutation. The Spanish Lung Cancer Group and the European Thoracic Oncology Platform BELIEF trial. 2015 European Cancer Congress. Abstract 3BA. Presented September 28, 2015.
2. Costa C, Molina MA, Drozdowskyj, A et al: The impact of EGFR T790M mutations and BIM mRNA expression on outcome in patients with EGFR-mutant NSCLC treated with erlotinib or chemotherapy in the randomized phase III EURTAC trial. Clin Cancer Res 20:2001-2010, 2014.
---
Related Articles
Martin Reck, MD, PhD, Head of the Department of Thoracic Oncology at the Lung Clinic Grosshansdorf in Germany, discussed the study at the Presidential Session, calling it "very important work."
This study shows that, with more sensitive assays, T790M mutations are much more frequent than...