Partnering With Community Centers to Advance Oncology Care
A Conversation With Richard R. Barakat, MD, FACS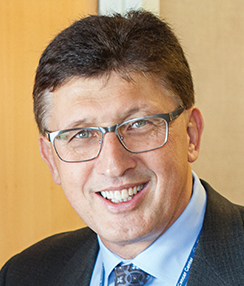 Richard R. Barakat, MD, FACS
We wanted to export … the latest, most effective treatments that are often developed in large comprehensive cancer centers and bring them out more rapidly into the community setting.

—Richard Barakat, MD, FACS
The collaboration is allowing us to practice oncology care in a way that we consider to be standard of care in the most advanced way possible.

—Richard R. Barakat, MD, FACS
Last fall, Richard R. Barakat, MD, FACS, the Ronald O. Perelman Chair in Gynecologic Surgery at Memorial Sloan Kettering Cancer Center, was named to the new position of Deputy Physician-in-Chief for the Memorial Sloan Kettering Regional Care Network and Cancer Alliance, a new initiative meant to foster a strong partnership with community oncology providers. The Memorial Sloan Kettering Cancer Alliance was borne out of the realization that while the vast majority of oncology care in the United States is delivered by community oncologists, it often can take years for cancer advances developed in comprehensive cancer centers to be adopted in the community setting, according to Dr. Barakat. The Cancer Alliance was created with the aim of speeding up that process.
The Alliance is also meant to create a new model of care that will reduce the barriers to high-quality cancer care for patients and improve their lives. Among the goals of the newly formed Cancer Alliance is the establishment of Memorial Sloan Kettering clinical trial sites at specific Alliance member hospitals to increase the number of patients enrolled in clinical trials. Increasing enrollment into clinical trials is becoming especially important, said Dr. Barakat, as clinical trials become more complex and are designed based on mutation-driven classification rather than on disease type.
A year ago, Hartford HealthCare, a multihospital health-care system in Connecticut, was selected as the charter member of the newly formed Memorial Sloan Kettering Cancer Alliance. Over that time, experts from Memorial Sloan Kettering and Hartford HealthCare established a single, elevated standard of care among all five of Hartford HealthCare's cancer programs, now known collectively as the Hartford Health Care Cancer Institute. In September, the Hartford Health Care Cancer Institute became the first certified member of the Memorial Sloan Kettering Cancer
Alliance.
In addition to his position as Deputy Physician-in-Chief of the Memorial Sloan Kettering Cancer Alliance, Dr. Barakat is also President of the Society of Gynecologic Oncology (SGO) and the Foundation for Gynecologic Oncology. The ASCO Post talked with Dr. Barakat about the goals of the Cancer Alliance and his agenda for his term as President of SGO.
Project Rationale
Why did Memorial Sloan Kettering create the Cancer Alliance?
The idea was mission-driven and based on a realization presented in the Institute of Medicine report, Delivering High-Quality Cancer Care: Charting a New Course for a System in Crisis, which maintained that the majority of cancer care in the United States occurs in the community and not at large comprehensive cancer centers. We wanted to export, as was recommended in that report, the latest, most effective treatments that are often developed in large comprehensive cancer centers and bring them out more rapidly into the community setting.
In addition, we knew that with all the new advances in medical oncology, we wanted to expand our access to patients so that they could be included in cutting-edge cancer research. For example, Hartford HealthCare Cancer Institute, the first member in the Cancer Alliance, sees over 6,000 patients a year. Having access to that many more patients will expand our ability to enroll greater numbers of patients into clinical trials and bring new treatments to more patients. In fact, the Hartford HealthCare Cancer Institute will include our first clinical trials site established through the Cancer Alliance.
Central to the Alliance is the concept of bidirectional learning, in which both institutions share a willingness to collaborate and learn from each other. The Hartford HealthCare system consists of five hospitals. We met with members of their disease management teams focusing on the six most common disease sites treated in the Hartford HealthCare system, including breast, colon, lung, prostate, endometrial, and kidney cancer, to develop standards of care that we all agree on.
The first phase of the collaboration was to look at how Hartford HealthCare physicians practice oncology, what their standards of care are, and how they compared to ours. We then agreed on acceptable standards, so the Hartford HealthCare system could be aligned with the Memorial Sloan Kettering system, which will allow their patients to be treated in a similar manner.
Some of the Hartford HealthCare clinicians have also joined our disease management teams, and it has been a very rewarding experience to provide them with training in new procedures. For example, our gynecologic surgeons have developed a sentinel lymph node mapping system for gynecologic cancers. Some of Hartford HealthCare's gynecologic surgeons came to our center and observed how we do the procedure, and they are now starting to use it throughout their hospitals.
Conversely, Hartford HealthCare has a Center for Education Simulation and Innovation, which offers a comprehensive range of robotic and high-technology training capabilities, and several of our fellows have visited the center to further their surgical training. So the collaboration is allowing us to practice oncology care in a way that we consider to be standard of care in the most advanced way possible.
Other Members
Who are the other members in the Cancer Alliance?
We are in active discussions with other several regional institutions, but until the official letter of intent is signed, I can't talk about who the other members might be. Our goal is to have a small number of high-quality systems included in the Alliance. This is a heavily collaborative and interactive model and, therefore, it will probably only involve a few (ie, 3–5) excellent partners.
Community Integration
Will having this partnership strengthen community oncology practices?
Yes, absolutely. It will align them with our standards of care, provide access to cutting-edge clinical trials, and allow for new technologies to get diffused into the community setting much more quickly.
Society Goals
What are your goals for your Presidential term in the Society of Gynecologic Oncology and the Foundation for Gynecologic Oncology?
What is of greatest concern to everyone is how medical care reimbursement will occur in the future, so in 2012 we convened a Practice Summit of thought leaders in gynecologic oncology to assess the health-care system and develop and test new payment systems, including a diagnosis-based episode bundled payment system. We used endometrial cancer as a disease site, and we plan to come up with a payment model that we can present to insurers.
That is one major focus of ours. Another is the resolution passed in June by the American Medical Association opposing any limitation on ordering of genetic testing based solely on physician specialty. We support the resolution and are planning a Genetics Summit in January with thought leaders in gynecologic oncology to assess the landscape of the current practice of genetic testing and counseling and develop a model for future practice. The last thing we want to see happen is a decrease in access to genetic testing.
We also recently published our endpoints for studies of ovarian cancer to address the unique characteristics of the disease and improve outcomes for patients.1
Patients with ovarian cancer are living longer. Sometimes when the disease recurs, patients can be completely asymptomatic, so overall survival might not be the best endpoint for trials in ovarian cancer. When patients have a recurrence, there is often a crossover of treatment, so we presented our concerns about developing meaningful clinical trial endpoints to the U.S. Food and Drug Administration. We then met in person with the agency and had a constructive dialogue about surrogate endpoints for overall survival when considering drug approval, such as response rate, progression-free survival, patient-reported outcomes, and composite endpoints that include other features of clinical benefit, such as symptom modulation or physical activity.
We discussed our issues concerning the role of molecular profiling in the community setting, whether clinical trials involving agents with no track record of efficacy should be allowed for patients with platinum-sensitive disease, and the addition of molecular targets to upfront therapy. It was an open-forum discussion and it produced some positive results, including the possibility of conducting a workshop to bring more experts into the discussion.
We are pleased that our article helped ignite this important conversation, and I'm looking forward to tackling the other issues I mentioned confronting gynecologic oncologists, so we can make greater progress in these cancers. ■
Disclosure: Dr. Barakat reported no potential conflicts of interest.
Reference
1. Herzog TJ, Armstrong DK, Brady MF, et al: Ovarian cancer clinical trial endpoints: Society of Gynecologic Oncology white paper. Gynecol Oncol 132:8-17, 2014.
---