Nivolumab Yields 'Impressive' Duration of Response as Late-Line Melanoma Treatment


Jeffrey S. Weber, MD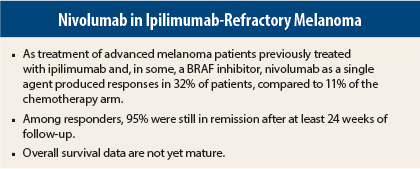 Nivolumab in Ipilimumab-Refractory Melanoma
I hope that, at least for second- or third-line therapy, this study is the death knell for chemotherapy in melanoma … and puts to rest the idea that it should be a comparator arm in trials. We now have better drugs.

—Jeffrey S. Weber, MD
Nivolumab yielded an "impressive" duration of response when used as second- or third-line treatment for patients with advanced melanoma, according to Jeffrey S. Weber, MD, of the Moffitt Cancer Center in Tampa, Florida, who presented preliminary results of a phase III trial at the European Society for Medical Oncology (ESMO) 2014 Congress in Madrid.1
"Here we present a definitive phase III trial of nivolumab in patients who failed prior treatment," he said at an ESMO press briefing. "Of 38 patients who responded, 36, or 95%, are ongoing at week 24. The vast majority of responders to nivolumab are still in remission. The median duration of response has not been reached and will certainly be very long."
Nivolumab is a monoclonal antibody targeting the programmed death receptor-1 (PD-1) immune checkpoint protein. Based on the findings from this study, nivolumab received a Priority Review designation from the U.S. Food and Drug Administration as a treatment for pretreated patients. The drug is already approved for use in Japan.
CA209-037 Details
The phase III CA209-037 trial compared nivolumab with dacarbazine or carboplatin/paclitaxel in previously treated patients with unresectable or metastatic melanoma. Patients in this study had all received the CTLA-4 blocker ipilimumab (Yervoy) and 18% had received the BRAF inhibitor vemurafenib (Zelboraf). Baseline characteristics were similar except for the fact that the nivolumab arm contained slightly more patients with brain metastasis and more with elevated lactate dehydrogenase (LDH) levels, which have been associated with worse outcomes in melanoma.
The 405 patients were randomly assigned 2:1 to single-agent nivolumab at 3 mg/kg intravenously every 2 weeks (n = 272) or investigator's choice of chemotherapy (n = 133). The coprimary endpoints were objective response rates in the first 120 patients after at least 6 months of follow-up (ie, at the planned interim analysis) and overall survival.
High Response Rates, Long Response Duration
At the time of the analysis, the nivolumab arm had a median time on treatment of 5.3 months, compared to 2.0 months in the chemotherapy arm. The percentages discontinuing treatment were 52% and 82%, respectively, which was due to progression in 43% and 61%, respectively.
Responses, which were assessed "rigorously" by central review using RECIST 1.1 criteria, Dr. Weber said, were demonstrated by 32% of patients in the nivolumab arm compared to 11% receiving chemotherapy, with complete responses observed in 3% and 0%, respectively.
Among responders, 95% had ongoing responses after a minimum follow-up of 24 weeks; median duration of response was not reached in the nivolumab arm and 3.5 months with chemotherapy. "The vast majority of responders continue in remission," Dr. Weber noted.
Responses were observed regardless of pretreatment PD-L1 [ligand] expression status, BRAF mutation status, or prior ipilimumab benefit. While response rates were higher (44%) among patients with PD-L1 expression, PD-L1 was not a predictive marker, since 20% of PD-L1-negative patients also responded, he pointed out.
In addition, a number of patients continued nivolumab beyond the RECIST-defined progression, and 8% overall experienced at least a 30% reduction in target lesion tumor burden. Dr. Weber pointed out that RECIST 1.1 does not encompass this delayed benefit accruing with immunotherapy.
Data on overall survival are still pending. Dr. Weber predicted that the long duration of response will ultimately translate into prolonged overall survival.
Tolerability Demonstrated
"In terms of side effects and toxicity, there was a clear edge for nivolumab," Dr. Weber added.
Grade 3/4 adverse events were much less frequent in the nivolumab arm (9% vs 31%), and there were no nivolumab-related grade 3/4 toxicities that were reported by more than 2% of patients. Adverse events of any grade were observed in 68% and 79%, respectively.
"The majority of nivolumab treatment–related adverse events were low-grade and manageable using recommended treatment algorithms," he added.
No More Chemotherapy
While chemotherapy as a treatment for melanoma had long been unsatisfactory to clinicians and patients, Dr. Weber said at the press briefing that CA209-037 will spell the end of chemotherapy in advanced melanoma.
"I haven't used single-agent dacarbazine in years or carboplatin/paclitaxel in many months," he said. "I hope that, at least for second- or third-line therapy, this study is the death knell for chemotherapy in melanoma … and puts to rest the idea that it should be a comparator arm in trials. We now have better drugs." ■
Disclosure: Dr. Weber disclosed receiving honoraria from Bristol-Myers Squibb, Merck, Genentech, AstraZeneca, and AbbVie; clinical research funding from Bristol-Myers Squibb, Merck, GlaxoSmithKline, and Macrogenics (to Moffitt Cancer Center); serving as an advisor to Ichor Therapeutics, Lion Biotechnologies, and Pieris, and owning stock in Celldex Therapeutics, Altor BioScience, and cCAM Biotherapeutics.
Reference
1. Weber J, Minor D, D'Angelo SP, et al: A phase 3 randomized, open-label study of nivolumab (anti-PD-1; BMS-936558; ONO-4538) versus investigator's choice chemotherapy in patients with advanced melanoma with prior anti-CTLA-4 therapy. 2014 ESMO Congress. Abstract LBA3_PR. Presented September 29, 2014.
---
Related Articles
As discussant of the nivolumab paper presented by Weber et al at the ESMO Presidential Symposium, Ignacio Melero, MD, PhD, of the Universidad de Navarra in Spain, said "We are presented today with very exciting clinical data. The only disappointment is that the survival data are not mature."
Dr....