Long-Term Results of COU-AA-302 Confirm Abiraterone Benefit


Charles J. Ryan, MD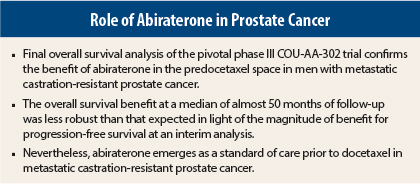 Role of Abiraterone in Prostate Cancer
Despite 44% crossover from the control arm to treatment with abiraterone, the survival benefit associated with abiraterone was maintained.

—Charles J. Ryan, MD
Final results of the COU-AA-302 trial continue to support the survival benefit of abiraterone acetate (Zytiga) in men with chemotherapy-naive metastatic castration-resistant prostate cancer, often referred to as the "predocetaxel space."
"The study met the overall survival endpoint and all secondary endpoints with statistical as well as clinical significance," stated Charles J. Ryan, MD, Professor of Clinical Medicine and Urology at the University of California, San Francisco, Helen Diller Family Comprehensive Cancer Center. "Despite 44% crossover from the control arm to treatment with abiraterone, the survival benefit associated with abiraterone was maintained." Dr. Ryan presented these results at the 2014 ESMO Congress in Madrid.1
Study Details
COU-AA-302 randomly assigned 1,088 patients with metastatic castration-resistant prostate cancer to treatment with abiraterone plus concurrent prednisone at 5 mg or placebo plus the same dose of prednisone. The study was unblinded after an interim analysis by an independent data monitoring committee found a significant difference in radiographic progression-free survival and a trend toward improved overall survival. At that time, patients in the placebo arm were allowed to cross over to active treatment.
At the third interim analysis, radiographic progression-free survival was significantly improved in the abiraterone-treated group: 16.5 vs 8.2 months in the placebo group, representing a 48% risk reduction of disease progression and death for abiraterone (P < .0001). At that time, it appeared that there would be an overall survival benefit as the data matured, Dr. Ryan said. "A clear-cut benefit for [abiraterone] was observed for all secondary endpoints," he noted.
Survival Data
In the final overall survival analysis, the benefit for abiraterone appeared less robust than that suggested by progression-free survival at the interim analysis. After a median follow-up of 49.2 months, overall survival was significantly better for patients receiving abiraterone, with a median of 34.7 vs 30.3 months for placebo (P = .0027). The survival treatment effect was consistent across clinical and demographic variables.
After adjusting for crossover of 44% of placebo patients to the abiraterone arm, abiraterone reduced the risk of disease progression or death by 26%, Dr. Ryan continued.
He noted that the survival curves separated gradually, and the curves remained separated at the final analysis. "Well over 25% of abiraterone-treated patients have survived 48 months or longer," he noted.
Before unblinding, subsequent therapy was used by 67% of the abiraterone group and 80% of the control arm. In the final analysis, median time to opiate use was significantly longer in the abiraterone group: 33.4 vs 23.4 months, respectively (P < .0001).
Regarding prespecified adverse events of special interest, abiraterone recipients had more fluid retention, more cardiac disorders, and more alanine transaminase increases compared with the control arm.
"The final data support the continued collection of all data vs early trial termination in clinical trials conduct," Dr. Ryan said.
"The management of metastatic [castration-resistant prostate cancer] has undergone a sea change with the regulatory approval of five agents for this indication. Most of these agents were approved after the COU-AA-302 trial enrolled its first patients. It is likely that sequential use of these agents will improve survival overall for men with castration-resistant prostate cancer. Future trials will need to be designed with this in mind, as sequential use of so many therapies can delay separation of survival curves and confound trial data. This is a good problem to have," Dr. Ryan commented. ■
Disclosure: Dr. Ryan has received honoraria from Janssen.
Reference
1. Ryan C, Smith M, Fizazi K, et al: Final overall survival analysis of COU-AA-302, a randomized phase 3 study of abiraterone acetate in metastatic castration-resistant prostate cancer patients without prior chemotherapy. ESMO 2014 Congress. Abstract 753O. Presented September 28, 2014.
---
Related Articles
Regarding this confirmatory analysis presented by Ryan et al at the ESMO 2014 Congress, formal discussant Bertrand Tombal, MD, PhD, Chairman of the Division of Urology and Associated Professor of Physiology at Université Catholique de Louvain, Brussels, said, "COU-AA-302 profoundly impacted the way ...