Encouraging Early Signals for Cediranib in Recurrent Cervical Cancer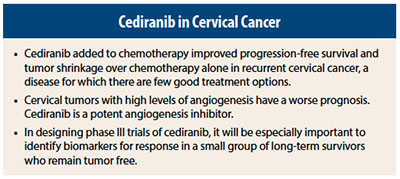 Cediranib in Cervical Cancer
This study has opened up a new avenue of investigation for this difficult-to-treat cancer. I think we have the basis for a phase III trial in the future.

—Paul Symonds, MD, FRCP, FRCR
Cediranib (a potent tyrosine kinase inhibitor of vascular endothelial growth factor receptor (VEGFR)-1, -2, and -3) produced a modest improvement in progression-free survival and a robust improvement in response rates compared with placebo when added to chemotherapy in patients with recurrent cervical cancer, according to results of the Cediranib in Recurrent Cervical Cancer (CIRCCa) trial reported at the European Society for Medical Oncology (ESMO) 2014 Congress in Madrid.1
The news from this trial was greeted with cautious optimism, and correlative biomarker studies are ongoing in several long-term survivors to determine which patients have the best chance of benefit.
"Cediranib improved progression-free survival and significantly increased responses, with a manageable increase in diarrhea, hypertension, and neutropenia. This study has opened up a new avenue of investigation for this difficult-to-treat cancer. I think we have the basis for a phase III trial in the future," stated Paul Symonds, MD, FRCP, FRCR, Professor in Clinical Oncology, University of Leicester, and consultant oncologist to the University Hospitals of Leicester NHS Trust, United Kingdom.
Study Details
The majority of patients with cervical cancer are cured, but those who experience recurrence have a dismal prognosis and typically die within 1 year, Dr. Symonds explained. "We know that patients with high levels of tumor angiogenesis are more likely to have a recurrence after treatment, so it was logical to study cediranib," he noted.
The study included 69 patients with histologically proven, relapsed or metastatic cervical cancer unsuitable for radiation or surgery. Patients were randomly assigned 1:1 to receive carboplatin/paclitaxel with or without oral cediranib. About 70% had some component of pelvic tumor, 30% had extrapelvic disease only, 13% had local disease only, and 57% had both pelvic and local disease.
The primary endpoint was progression-free survival. Secondary endpoints included change in plasma VEGFR-2 from baseline to 28 days after response to chemotherapy.  Six cycles of chemotherapy were delivered in 79% of patients.
The study met the primary endpoint, with a modest increase in progression-free survival, from 30 weeks on placebo to 35 weeks with cediranib. No difference was observed in overall survival, but the study was not powered to detect such a difference, Dr. Symonds noted. Median overall survival was 59 weeks on placebo and 63 weeks on cediranib.
Overall response rate was 66% in the cediranib arm vs 42% in the control arm. "This is a good response rate, and we haven't seen this in previous trials," Dr. Symonds said.
Additionally, a marked increase from baseline in log10 VEGFR expression was observed in the placebo arm, whereas a drop in VEGFR expression was found in the cediranib arm, showing that the drug was working as expected.
Long-Term Survival
Dr. Symonds pointed out that although the survival curve for both arms falls precipitously at the beginning of the trial, after 1 year, there is a tail in the curve for long-term survivals with no evidence of progression. He noted that there were nine patients in each arm who were 2-year survivors.
"These patients are living without tumor. It will be important to see what correlative biomarker analysis shows in this group, and this will provide clues for our next group of studies. We hope to have those data early next year," he noted.
The toxicity was manageable. Diarrhea was controlled with loperamide, and hypertension was treated with calcium channel blockers. Although neutropenia was increased in the cediranib arm, no febrile neutropenia or sepsis occurred. No treatment-related deaths were reported in the trial. ■
Disclosure: Dr. Symonds reported no potential conflicts of interest. For full disclosures of all study authors, visit www.esmo.org.
Reference
1. Symonds P, Gourley C, Davidson S, et al: CIRCCa: A randomised double blind phase II trial of carboplatin-paclitaxel plus cediranib versus carboplatin-paclitaxel plus placebo in metastatic/recurrent cervical cancer. ESMO 2014 Congress. Abstract LBA25_PR. Presented September 28, 2014.
---
Related Articles
Andrés Poveda, MD, Fundación Instituto Valenciano de Oncologia, Valencia, Spain, who was not involved in the Cediranib in Recurrent Cervical Cancer (CIRCCa) trial, said that the study provides supportive evidence that adding an antiangiogenic drug is beneficial in recurrent cervical cancer. Dr....