A History of Medical Oncology


Pierre R. Band, MD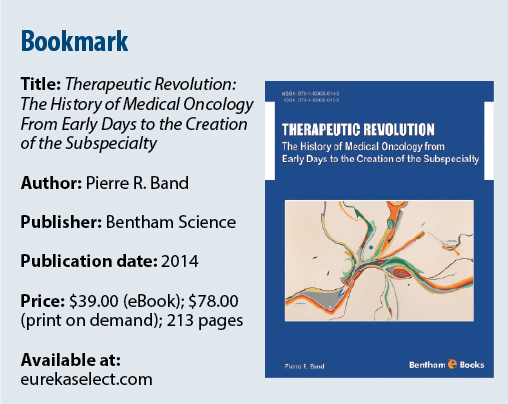 Therapeutic Revolution: The History of Medical Oncology From Early Days to the Creation of the Subspecialty
The story of medical oncology was written by men and women of courage, and conviction … [and] above all passion, that led us to where we are today.

—Pierre R. Band, MD
BOOKMARK

Title: Therapeutic Revolution: The History of Medical Oncology From Early Days to the Creation of the Subspecialty
Author: Pierre R. Band
Publisher: Bentham Science
Publication date: 2014
Price: $39.00 (eBook); $78.00 (print on demand); 213 pages
Available at: eurekaselect.com
According to Pierre R. Band, MD, author of the recently published book, Therapeutic Revolution: The History of Medical Oncology From Early Days to the Creation of the Subspecialty, "Many books have been written about cancer and many articles have been published on the history of chemotherapy, but none to our knowledge on the history of medical oncology, that is, the events that led to this new subspecialty of internal medicine."
Dr. Band is correct: many books have been written about cancer. Dr. Band is also correct that the history of medical oncology has rarely, if ever, been tackled in book form. Moreover, he is the perfect author to write such a history. As noted in the book's forward—written by his colleague and friend, James F. Holland, MD—Dr. Band is not a historian distant in time from the conflicts of what he writes about because "he was fully engaged in the extraordinary turbulence that permeated the early years of medical oncology."
Personal Background
For historical perspective, Dr. Band introduces himself to the readers in chapter 1. He was born in Paris to Hungarian parents who immigrated to Canada when he was 15. The adolescent upheaval was traumatic, and Dr. Band dropped out of high school to work in a restaurant. A year later, he reentered high school and persevered his way to medical school, attaining his medical degree from the University of Montreal.
During his internship in 1961, he decided to pursue a career in cancer medicine. The enthusiastic young doctor sent letters of inquiry to the American Cancer Society asking what American institutions provided residencies in cancer medicine and what kind of training they offered. He received an unexpected reply: "There really isn't any recommended special training for oncology because the oncologic specialty system of medical practice determines the course of treatment of the cancer patient, thus making a 'cancer specialist,' a non-entity."
Pursuing a career as a 'non-entity' intensified Dr. Band's realization that oncology was a new frontier, with endless possibilities—a perfect fit for his restless and inquisitive mind. After serving as a resident in Montreal, Dr. Band seized an opportunity in 1966 to join the Department of Medicine headed by Dr. Holland, then Chief of Medicine at Roswell Park Cancer Institute in Buffalo, New York. "Holland's contributions to cancer medicine will figure prominently in this book," writes Dr. Band. And they do, as the book begins an intricate tour, from the inside out, of the history of medical oncology.
Remarkable History
In chapter 2, Dr. Band gives what he calls a brief overview "From Dinosaurs to the Dawn of Chemotherapy." This is dense and intense content that discusses, among other topics, lymphatic theory, cell theory, and hormonal procedures. It is meant for small bites of reading, which better allow the reader to fully digest the remarkable history being told.
For instance, Dr. Band writes about Hippocrates' descriptions of visible or readily palpable cancer including those of the skin, head and neck, breast, and cervix, noting that his description of virilization in two women who died of their disease is of special interest: "Menstruation ceased and the body took on a virile appearance, this woman became hairy all over, she grew a beard, her voice acquired harshness … this woman died in short time."
Dr. Band stresses that these cases may be "the first-ever reported of virilizing ovarian or adrenal cancers, which at the time could not be diagnosed as such." (These cancers were thought to be explained by the theory of the four humors, involving an excess of black bile.) But Dr. Band's underlying message here to current oncology practitioners and researchers is that these investigations took place in 300 BC. That is not only humbling, it's a call to action.
Archaeologic Dig
This is a scholarly work, but it is constructed with such care that it pulls you into the past of oncology, giving the feel of an archaeologic dig, which is one of the book's true pleasures. In this chapter, we're taken from the Hippocratic school through the Renaissance, to the "incomparable genius" of Paul Ehrlich, MD (of "magic bullet" fame), to groundbreaking studies in hormonal therapies.
Once again, Dr. Band gives some historical perspective, which medical oncology fellows and residents should find of interest: "In the mid-sixties, at the time the author began his training in oncology, hormonal treatment whether surgical or medical, was the mainstay against advanced breast cancer. At the time, chemotherapy was offered as a last resort."
The connection between warfare and cancer treatment is outlined superbly in chapter 3. And although the influence of mustard gas on the development of nitrogen mustard—marking the dawn of modern chemotherapy—is well documented, the connection between the scientific efforts to combat malaria in World War II and the development of U.S. cancer programs is less well known. Dr. Band points out that the malarial war program was "a gigantic cooperative effort … involving a number of disciplines and techniques, including chemistry, drug screening in experimental animal systems and human pharmacology and toxicology clinical trials."
Giants in the Field
Seeing the success of the cooperative malarial efforts, several American researchers sought to bring the same vision and organization to oncology at the National Institutes of Health. The randomized clinical cancer trial was born, arguably one of the greatest advances in cancer research and treatment. Giants in the field stepped forward. "One of them was Dr. Charles Gordon Zubrod," writes Dr. Band.
At this point, the narrative accelerates, suddenly arriving at chapter 5: "The Years of Creativity: 1953-1965. Pre-Clinical." This epoch in cancer research, discovery, and sheer force of personality might be unmatched. The reader meets the great experimentalists such as Drs. Zubrod, Holland, Emil Frei III, Lloyd Law, and Emil J. Freireich, to name just a few.
Readers will find this particular trip into the history of U.S. medical oncology refreshing and slightly sad, in that the open field of exploration known to these pioneers has been clogged by undue regulation and red tape. This chapter also offers the book's most compelling and insightful anecdotes about these pioneering researchers who worked side-by-side as colleagues and friends while they changed the face of oncology.
Moreover, chapter 5 offers today's cancer researchers a glimpse into an ethos that should be the foundation of the collective march toward better clinical research and outcomes for patients. Dr. Band's firm control of the subject gives needed balance between anecdotes and scientific content, again, adding pleasure to what at times is somewhat dry material.
Fitting Design
Drs. Sidney Farber, David Karnofsky, Vincent DeVita, Denis Burkitt, Lawrence Einhorn, Bernard Fisher, Gianni Bonadonna, and others well known to the readers of The ASCO Post appear in the chronologic order marked by their huge and lasting contributions. This architecture of the book fits its ambitious goal.
The chapters are remarkably concise. Given the overwhelming amount of information, that in and of itself is a triumph. This is not a book for the meek reader. However, it is a book for anyone who has a serious interest in the field of oncology.
As the author notes in the closing paragraph, "The story of medical oncology was written by men and women of courage, and conviction … [and] above all passion, that led us to where we are today." Dr. Band was one of those men, and his fine scholarly work deserves a place in the canon of oncology. ■
---