Susan Halabi, PhD, Is Helping to Fund Future of Cancer Research
Donates textbook profits to Conquer Cancer Foundation


Susan Halabi, PhD, thinks in terms of probabilities. Based at Duke University School of Medicine, where she is an Associate Professor of Biostatistics and Bioinformatics, Dr. Halabi specializes in the design and analysis of clinical trials, statistical analysis of biomarker and microarray data, and development and validation of prognostic models of clinical outcomes. She knows that realizing the Conquer Cancer Foundation's vision—a world free from the fear of cancer—is ultimately a numbers game.
Every individual who joins the Conquer Cancer Foundation team—whether he or she dedicates time, creativity, and expertise to conduct or encourage cancer research; helps to raise funds to support research; or makes a direct financial contribution—brings us a step closer.
"The value of human capital is enormous," says Dr. Halabi. "Time is just as important as money. It's not necessarily a matter of making large financial contributions. Volunteering—whether you're giving time or money—makes a quantitative, effective, meaningful impact."
"I support the Conquer Cancer Foundation because its goals align with mine," she says. "I'm more committed than ever to advancing cancer research, as is the Foundation."
Advancing Knowledge through Donation of Book Proceeds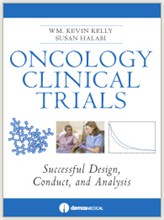 Dr. Halabi has come up with an innovative way to contribute to the Conquer Cancer Foundation—one in which the vehicle for her philanthropy is in perfect alignment with the program it supports. She and her co-editor, Kevin Kelly, DO, are donating all proceeds of their book Oncology Clinical Trials: Successful Design, Conduct, and Analysis to the Foundation—with the gift earmarked specifically for use in funding its Young Investigator Awards.
"The book is intended to serve as a guide for junior faculty members who may be conducting their first—or one of their first—clinical trials," Dr. Halabi says. "There's a great synergy, in that both the book and the Young Investigator Awards support the work of our young colleagues as they embark on their careers."
"I know that my early career experiences really shaped my future," she continues. "The importance of excellent mentors, institutional support—in terms of protecting research time for junior faculty—and the kind of early funding that we provide through the Young Investigator Awards cannot be overstated. It's essential that we support and prepare the next generation of cancer researchers."
Nurturing the Next Generation of Cancer Researchers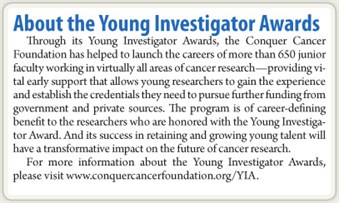 Growing up in a family of engineers in Venezuela and Lebanon, Dr. Halabi's aptitude for math—she was one of the first students in the undergraduate biostatistics program at the American University of Beirut—was complemented by an interest in medicine. "I liked math and I was interested in research," she recalls. "And there are synergies. Both math and medicine are fields in which you need to be comfortable with uncertainty."
Dr. Halabi's passion for cancer research took hold while she was completing her doctoral work at The University of Texas Health Sciences Center at Houston and collaborating on breast cancer and lung cancer studies with researchers at MD Anderson Cancer Center. During that time, her best friend was diagnosed with breast cancer that would eventually claim her life. She was the first of Dr. Halabi's friends and colleagues to be affected by the disease—but not the last.
"As I was growing older, I would encounter more and more people, including family members and friends who were diagnosed with cancer," she says, remembering her intensifying awareness of the desperate need to find answers.
At Duke, Dr. Halabi works on clinical trials for prostate cancer, bladder cancer, and renal cancer. She has developed a nomogram, or multivariable model, for calculating probability of survival among patients with prostate cancer—a tool that may ease treatment decisions and help improve quality of life. A recent Research Project Grant (RO1) from the NCI is funding 4 more years of research as Dr. Halabi works to develop new prognostic models for use in treating men with advanced prostate cancer.
Off-campus, Dr. Halabi is working with a team of researchers in another nonprofit organization, on a public health project addressing residential mercury—a potent carcinogen—in Peru and Bolivia. She is also active with ASCO and the Society for Clinical Trials—serving on the Society's Board of Directors and on the program committees of both organizations, with plans to host their first joint workshop at the 2012 ASCO Annual Meeting. Dr. Halabi has served on the Grants Selection Committee for the Conquer Cancer Foundation of ASCO's Young Investigator Awards and Career Development Awards for the past 4 years.
"As we move deeper into the world of personalized medicine, biostatistics will play a huge role," she says. "Both need and opportunity will be enormous in the very near future."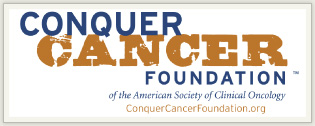 Growing the next generation of cancer researchers is very much on Dr. Halabi's mind—and she believes that the Young Investigator Awards play a crucial role.
"The pioneers who led the work that has contributed to our great progress in cancer research over the past 30 or 40 years—will be retiring in the next few years. It's critical that we support the people who will lead us into the future." ■
---