National Organization Offers Guidance on Employment and Financial Issues for Patients with Cancer and Survivors

The Cancer Legal Resource Center (CLRC) is a joint program of the Disability Rights Legal Center and Loyola Law School Los Angeles. This national organization provides free and confidential information on cancer-related financial and legal issues to cancer survivors, families, employers, health-care professionals, and others dealing with cancer.
For oncology health-care professionals and all health providers with an interest in cancer, a resource manual is available that provides answers to the various questions and issues often faced by patients with cancer and survivors. It also provides useful information about cancer-related legal issues, from diagnosis through survivorship, and can be downloaded at no cost through a grant from LIVESTRONG (see sidebar). 
The Resource Center provides advice on work-related and other issues ranging from insurance coverage and claims denials to workplace discrimination and estate planning. Staff at the Center can also answer questions about laws relevant to an individual's personal situation and can direct patients with cancer and survivors to the appropriate resources as laws vary state by state.
The CLRC recently hosted national Cancer Rights Conferences in Chicago (September 2011) and Ann Arbor (October 2011). For additional information, visit: www.CancerandCareers.org and www.cancerlegalresourcecenter.org ■
SIDEBAR: The HCP Manual: A Legal Resource Guide for Oncology Health Care Professionals (2nd Edition - 2011)
---
Related Articles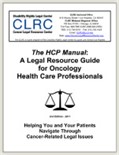 This manual is a resource for health-care professionals (eg, doctors, nurses, social workers, psychosocial care providers, patient navigators, and advocates) on the various questions and issues often faced by patients coping with cancer, and provides valuable information about cancer-related legal...