Everolimus Overcomes Resistance to Hormonal Therapy in Advanced Breast Cancer

Adding everolimus (Afinitor) to exemestane in postmenopausal women with advanced breast cancer resistant to aromatase inhibitors significantly improved outcomes, according to the phase III BOLERO-2 trial reported at the 2011 European Multidisciplinary Cancer Congress, held September 23–27 in Stockholm and sponsored by the European Society for Medical Oncology, European Cancer Organisation, and the European Society for Radiotherapy and Oncology. The group treated with the combination of these two drugs had an improved progression-free survival of almost 7 months and a 57% reduced risk of cancer progression vs exemestane alone.
"Everolimus is the first agent to enhance the clinical benefit of hormonal therapy in patients refractory to hormonal therapy. This treatment represents a paradigm shift in the way we treat breast cancer," said lead investigator José Baselga, MD, of Massachusetts General Hospital and Harvard Medical School in Boston.
Fabrice Andre, MD, formal discussant of the trial, called everolimus "the most important advance in breast cancer since trastuzumab [Herceptin]." Dr. Andre is at the Institut Gustave Roissy, Villejuif, France.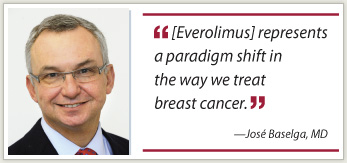 Although hormonal therapy is a mainstay of treatment for estrogen receptor (ER)-positive patients, nearly all patients who develop metastatic breast cancer become resistant to hormonal therapy. The results with everolimus in this group of patients are particularly important, because the benefits from any secondary therapy are typically limited, Dr. Baselga explained.
Everolimus inhibits the mTOR protein in cancer cells, which acts as an important regulator of tumor cell division, blood vessel growth, and cell metabolism. "The rationale for the combination therapy in this trial rests on the crosstalk between estrogen receptor and mTOR signaling. Synergy has been shown in a number of models and in a pilot phase II study," Dr. Baselga told listeners.
BOLERO-2 enrolled 724 patients with ER-positive advanced breast cancer refractory to either letrozole or anastrozole (aromatase inhibitors). Patients were randomly assigned to treatment with exemestane or exemestane plus everolimus until disease progression or unacceptable toxicity. Crossover to the unassigned therapy was not allowed in this trial.
Dr. Baselga presented results from the first interim analysis, when the study was stopped in light of the superiority of the combination arm. At the time of data cut-off, 47% in the combination arm and 29% in the exemestane arm were on therapy.
Key Results

The trial met its primary endpoint, showing that the addition of everolimus to exemestane improved median progression-free survival from 2.8 months with exemestane alone to 6.9 months with the combination (P < .0001), according to investigator assessment. According to central radiologic review, everolimus extended progression-free survival from 4.1 months with exemestane alone to 10.6 months (P < .0001). This improvement was consistent across all subgroups, including number of prior therapies, presence of visceral metastases, bone metastases, and prior use of chemotherapy.
Response rates were significantly higher in the combination arm—9.5% vs 0.4%, respectively (P < .0001)—and the rate of clinical benefit was also significantly higher in those treated with the combination: 33.4% vs 18%, respectively (P < .0001). Overall survival data are not yet mature, Dr. Baselga noted.
Side effects were consistent with those reported for everolimus, with the most common grade 3/4 adverse events including stomatitis (7.7%), anemia (5.8%), dyspnea (3.9%), hyperglycemia (4.3%), fatigue (3.7%), noninfectious pneumonitis (3.1%), and elevated liver enzymes (3.1%). ■
Disclosure: Dr. Baselga is a consultant for Novartis Pharmaceuticals. Dr. Andre has received a research grant from Novartis and is a speaker for and on the advisory board for Novartis.
Expert Point of View: Everolimus Overcomes Resistance to Hormonal Therapy in Advanced Breast Cancer
Reference
1. Baselga J, Campone M, Sahmoud T, et al: Everolimus in combination with exemestane for postmenopausal women with advanced breast cancer who are refractory to letrozole or anastrozole: Results of the BOLERO-2 phase IIII trial. 2011 European Multidisciplinary Cancer Congress. Abstract 9LBA. Presented September 26, 2011.
---
Related Articles
The goal of this study was to reverse the resistance to endocrine therapy and delay time to chemotherapy, explained Fabrice Andre, MD, Institut Gustave Roissy, Villejuif, France. "The control group is appropriate because we have no better endocrine therapy than exemestane. Progression-free survival ...