AACR Issues Landmark Report on Cancer Progress

At a recent press conference in Washington, DC, the American Association for Cancer Research (AACR) assembled luminaries from the cancer research and care communities to discuss the salient points of the association's newly released progress report on the current and future state of cancer research in the United States.1 During the opening remarks, AACR CEO Margaret Foti, PhD, MD (hc), noted that although much progress has been made since the National Cancer Act was signed into law (in 1971), the past  several years of flat funding for the National Institutes of Health (NIH) and National Cancer Institute (NCI) may result in a slowing in the rate of future progress.
Call for a Renewed Commitment


According to Dr. Foti, a central reason for developing the AACR Cancer Progress Report is to underscore the advances in cancer research that have benefitted patients and highlight the future challenges in cancer research that will require our nation's policymakers to safeguard vital investments, such as the cancer research and biomedical science supported by the NIH and NCI. "Now is not the time to retreat from our mission, which is to prevent and cure cancer. We are here this afternoon to call for a renewed commitment to make the eradication of cancer at the earliest possible time a national priority," said Dr. Foti.
Dr. Foti acknowledged that the current U.S. economic malaise has had an across-the-board impact on research funding for cancer. However, policymakers need to understand that well-spent research funding produces downstream treatments that ultimately reduce costs. She pointed out that in 2010—due to medical costs, premature deaths, and lost productivity—the NIH estimated that the total annual costs of cancer were $263.8 billion. "But as the cancer research advocate Mary Lasker said, 'if you think research is expensive, try disease.' That simple phrase sums up why we should invest more in the research, which is the future of cost-effective health care," said Dr. Foti.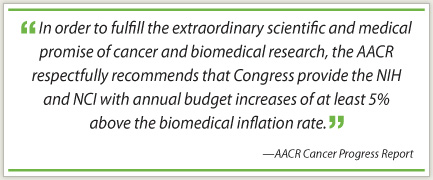 The next speaker at the press conference was James F. Holland, MD, Mount Sinai Medical Center, who was AACR President in 1971, and was in attendance when President Richard Nixon signed the National Cancer Act into law. Dr. Holland gave an impassioned call for more funding, citing a litany of previous medical advances that have changed humankind for the better, but would not have been possible without dedicated scientific research. The AACR progress report urges Congress to provide a sustained budget increase of at least 5% above the biomedical inflation rate.
"This year marks the 40th anniversary of the signing of the National Cancer Act. It was historic legislation, and dramatic in its consequences because it focused the country's attention on the vital need to conquer this disease," said the next speaker, 2009 Nobel Laureate and immediate AACR Past President Elizabeth H. Blackburn, PhD.
Dr. Blackburn noted that many of the advances we have seen over the past 4 decades are due to research funded by the NIH and NCI. "We are on the cusp of being able to translate our current findings into therapies that will dramatically reduce the threat of cancer. But our ability to exploit these opportunities depends on a renewed commitment by Congress to provide NIH and NCI with the necessary funds," said Dr. Blackburn.
Increased Funding Pays Dividends

Continuing the call to increase research funding, current AACR President Judy Garber, MD, MPH, explained that we are in a defining moment in cancer research. "The value of biomedical research to the economic health and well-being of the nation cannot be overestimated. Decreased funding can have a dangerously chilling effect on our ability to recruit bright young researchers into the field. We cannot afford to lose them," she warned.
Dr. Garber said that we are at an inflection point, and it is urgent to increase scientific momentum. She also stressed that even during an economic downturn, it makes fiscal sense to spend dollars in biomedical research. "Scientific innovation not only saves and improves lives, but it also bolsters our competiveness in a global market and contributes to a more robust domestic economy by making medical investments in the future," said Dr. Garber.
Dr. Garber explained that more than 80% of the NIH budget is competitively awarded to research grants and institutions across the nation. "According to a 2008 study by Families USA, each dollar of NIH funding generates more than two times as much revenue in state economic output through the multiplier effect, adding an influx of jobs and capital in the communities where the research is conducted," said Dr. Garber.
Anna D. Barker, PhD, Director of Transformative Healthcare Networks at Arizona State University and Co-chair of the AACR Progress Report said that the nation has reached a defining moment in the fight to conquer cancer. "We now see a future in which every patient with cancer can actually get his or her tumor sequenced and receive a therapy for a particular cancer, not every cancer. As we have come to realize, knowledge of your genome is power. For instance, very recently scientists used gene sequencing to identify a molecular defect in melanoma, in a gene we call BRAF," said Dr. Barker.
Dr. Barker said that the BRAF defect occurs in about 50% of melanoma patients. "This discovery is important because with this knowledge we were able to develop a drug targeting a particular group of patients. Testing in this cohort recently showed a significant increase in progression-free survival and actually demonstrated increased overall survival," commented Dr. Barker.
She added that although there are other genetically targeted therapies, the impact of this discovery is game-changing in that the defect is very specific. "The drug was developed and approved by FDA—simultaneously with the diagnostics and therapeutics—which really underpins the support for biomarker and drug development working in parallel. A huge step," added Dr. Barker.
Embracing New Disciplines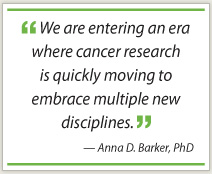 To date, more than 290 cancer genes have been identified, and the list continues to grow as advance technologies facilitate the generation of complete sequences of DNA from cancer cells. To ensure that progress does not stall, Dr. Barker stressed that we need to add more computational science into the mix, to manage and interpret our massive data sets.
"To capitalize on the decades of progress that are documented in this report requires that we bring in new areas of science, especially computational scientists who can develop original analytical models and tools to help us convert these data into usable information that will lead to the discovery of biomarkers and subsequently developed targeted agents," said Dr. Barker.
"We are entering an era where cancer research is quickly moving to embrace multiple new disciplines. The areas that we are looking to now, such as physics, mathematics, engineering, and integrating new technologies such as stem cell and nanotechnology will help us change the future of cancer in ways we can't anticipate today. We are in a defining moment; it is up to us to seize it," concluded Dr. Barker. ■
Disclosure: Drs. Barker, Blackburn, Foti, Garber, and Holland reported no potential conflicts of interest.
Reference
1. American Association for Cancer Research: AACR Cancer Progress Report 2011: Transforming Patient Care Through Innovation. Available at www.cancerprogressreport.org. Accessed October 11, 2011.
---