A Conversation with Richard J. Gilbertson, MD, PhD
New Director of St. Jude Children's Research Hospital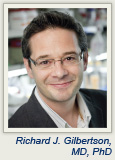 St. Jude Children's Research Hospital, Memphis, the country's first and only NCI-designated Comprehensive Cancer Center devoted solely to children, recently appointed internationally regarded pediatric brain tumor researcher, Richard J. Gilbertson, MD, PhD, as its new Cancer Center Director. In a recent conversation with The ASCO Post, Dr. Gilbertson shed light on how his research background will help shape his goals at St. Jude.
Career Path
In a nutshell, please describe your journey to the St. Jude directorship.
I was born in England and, after graduating medical school in Newcastle upon Tyne, I trained in pediatrics, becoming a member of the Royal College of Pediatrics (this is equivalent to being board-certified in pediatrics) in 1995. I completed my PhD in molecular oncology in 1998 under a UK Medical Research Council grant. In August 2000, St. Jude recruited me as a new faculty in their neurobiology and brain tumor program in the Cancer Center.
About 4 years ago, I became a leader of the neurobiology and brain tumor program. This has been a tremendous experience. The program includes more than 30 of the highest-quality clinical and research faculty members. I have learned a great deal from my time as co-leader of the program. When I was asked recently to consider the position of Director of the Comprehensive Cancer Center, I was excited to take these lessons and apply them across the other cancer disciplines at St Jude.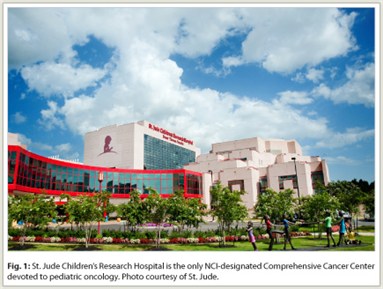 Plans for the Future
What is your vision for St. Jude moving forward?
Basic and clinical research at St. Jude covers a multitude of disciplines. My overarching goal is to work with our faculty to marshal our very best science to improve care in the clinic. We see more than 450 children with newly diagnosed cancer each year, and 80% of those children are enrolled on trials that are initiated by our own cancer center investigators. These children are our most precious charge. Ensuring that our research initiatives and clinical care are at the highest-level possible is my mission.
Will your extensive background in childhood brain tumors affect the broader scope of your new position?
From the beginning, St. Jude has challenged me to give back as much as the great opportunities it has afforded. I arrived here from England as a "wet behind the ears" researcher, but I had the very best of mentors in the likes of Tom Curran, Amar Gajjar, and Larry Kun. These folks taught me how to think about science and translational research in a way that's meaningful for patient care.
My approach to science and clinical research has certainly grown and been shaped by my work in brain tumors. In my new role, I am excited at the prospect of bringing these important lessons to the other programs. Historically, we've had a very good program in developmental therapeutics for solid malignancies; we now have the opportunity to take it to even greater heights under the co-leadership of Michael Dyer, PhD, a wonderful scientist, and Alberto Pappo, MD, one of our leading clinicians.
We have similarly strong leadership, science, and clinical research in our hematologic malignancies, cancer prevention and control, and neurobiology and brain tumor programs. The basic science programs within the Cancer Center at St. Jude are also incredible; ensuring close interaction at all levels with the clinic in meaningful and productive ways will be key.
Current Challenges
Over the past few decades we've seen substantial advances in pediatric cancers. What current challenges keep you awake at night?
Over the past 50 to 60 years, with few exceptions, pediatric cancer mortality rates fell steadily—that is, until about 15 years ago. Since the mid-1990s this progress has stalled. This flattening of the curve represents hundreds of lost lives and devastated families: That keeps me awake.
One likely reason for this plateau in survival rates is that standard chemotherapy, surgery, and radiation are now used to maximum efficacy. Further tweaking of these modalities is unlikely to bring more than very small returns in patient benefit. More than ever, our focus must be on understanding disease biology and exploiting this knowledge to develop innovative therapies.
So, how do we best develop new therapies for children with cancer? One of the lessons I have learned from my own research is the great value of multidisciplinary teams. The combination of state-of-the-art technologies including genomics, stem cell biology, and animal modeling provides the opportunity to improve our understanding of disease biology at a pace that is not achievable when any one discipline operates in isolation.

My own research is showing that childhood brain tumors previously regarded as single entities actually comprise distinct diseases or subtypes with different origins, mutations, and clinical outcomes. This knowledge brings both opportunities and challenges. In preclinical research, we now have the opportunity to model these subtypes of cancer with much greater accuracy, allowing for the development of new treatments tailored to specific tumor subtypes.
Our clinical trial designs must become smarter. If we are to test drugs appropriately in the clinic, we must introduce better ways of matching the right patients to the right drug. This will demand the development of robust diagnostic tests that can accurately detect tumor subtype from routine clinical material. Also, since we are making rare diseases rarer through the discovery of subtypes, we must learn how to conduct multicenter and likely multinational trials.
Cost of Care
Do the current economic woes and struggle to reign in health-care expenditures pose difficulties for the future research and clinical goals of St. Jude?
Fortunately not. The generosity of individuals around the nation who daily contribute to the mission of St. Jude through their giving is extremely humbling. As a foreigner, I have never ceased to be amazed by the generosity of the people of the United States and their recognition of St. Jude as a national resource for children with cancer. Their donations make the work we do possible.
Next year marks the 50th anniversary of the opening of St. Jude. Throughout this time, the institution has been responsible for countless key advances in the survival and quality of life of children with cancer. These achievements would not have been possible without those ongoing donations. Importantly, that generosity allows us to do the kind of cutting-edge work that also makes us extremely competitive for external peer-reviewed grant funding. Indeed, St. Jude remains one of the most competitive academic medical institutions. That combination of resources remains a robust recipe for success in the fight against childhood cancer.
Further Reflections
Any last thoughts?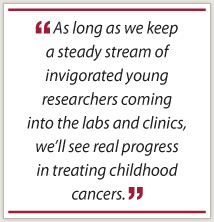 I see a bright future for St. Jude and beyond. Every day, the Cancer Center is making new discoveries that hold great promise for clinical care. We've joined various new enterprises, such as the Pediatric Cancer Genome Project. This collaboration with the Washington University School of Medicine in St. Louis is assembling the whole genome sequence of 600 pediatric cancers. It is thrilling see these data coming through—the results are going to change the way we look at these diseases.
That's one example that fuels my optimism. As long as we keep a steady stream of invigorated young researchers coming into the labs and clinics, we'll see real progress in treating childhood cancers. Another source of optimism is the global collaborative spirit. There seems to be an encouraging new openness among researchers in pediatric oncology. If we build on this spirit, we'll see much more rapid breakthroughs in our efforts to cure children with cancer. ■
Disclosure: Dr. Gilbertson reported no potential conflicts of interest.
---