Prognostic Factors Associated With Survival in Platinum-Resistant Ovarian Cancer

Overall survival time was doubled in women with recurrent platinum-resistant ovarian cancer who have BRCA1/2 mutations, who were treated with PARP inhibitors, and whose tumors were homologous repair–deficient (HRD-test–positive), according to a study that examined prognostic factors for survival in a platinum-resistant population.1

Erika J. Lampert, MD

Laura Chambers, DO
"Recurrent platinum-resistant epithelial ovarian cancer has a poor prognosis, and limited data are available to predict specific patient outcomes among this high-risk group," noted Erika J. Lampert, MD, a resident in the Obstetrics, Gynecology, and Women's Health Institute at the Cleveland Clinic in Ohio. She presented these findings at the Society of Gynecologic Oncology (SGO) 2023 Annual Meeting on Women's Cancer.
To look for prognostic factors for survival, Dr. Lampert and her team from the Cleveland Clinic and The Ohio State University conducted a retrospective cohort study of 305 patients seen between 2009 and 2017. Survival was defined as the time from platinum resistance (disease progression within 6 months of platinum chemotherapy) until death. The patients' median age was 63 years, 89% were White, and almost 90% had a good performance status at initial chemotherapy.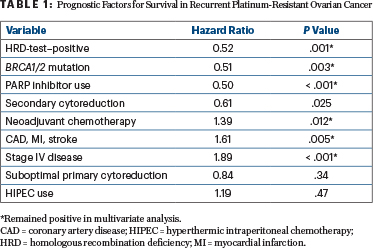 The study's key findings are below, with hazard ratios (HRs) shown in Table 1:
Overall survival was twice as long for women with HRD-test–positive tumors, those with BRCA1/2 mutations, and those who received PARP inhibitors.
Overall survival was improved in patients who underwent secondary cytoreductive surgery.
Overall survival was worse in patients who had neoadjuvant chemotherapy, suboptimal initial resection, or stage IV disease.
Overall survival was worsened by the presence of cardiovascular comorbidities.
Overall survival was not affected using hyperthermic intraperitoneal chemotherapy.
Senior investigator Laura Chambers, DO, Assistant Professor in the Division of Gynecologic Oncology at The Ohio State University, shared these comments with The ASCO Post: "Historically, we have considered patients with platinum-resistant ovarian cancer as having a uniformly poor prognosis, with a median overall survival of 9 to 12 months. Our findings suggest that within this patient cohort, there is significant heterogeneity in outcomes, and this may be helpful for patient counseling, treatment planning, and identification of patients for clinical trial enrollment." 
DISCLOSURE: Dr. Lampert and Dr. Chambers reported no conflicts of interest.
REFERENCE
1. Lampert EJ, Yao M, Morton M, et al: Prognostic factors of survival in women with recurrent platinum-resistant epithelial ovarian cancer. Society of Gynecologic Oncology 2023 Annual Meeting on Women's Cancer. Abstract 465. Presented March 26, 2023.
---