GOG 3026: Durable Responses With Ribociclib Plus Letrozole in Low-Grade Serous Ovarian Cancer

In patients with recurrent low-grade serous ovarian cancer, treatment with ribociclib plus letrozole was not only active, but led to outcomes that are comparable to those achieved with current agents—with a particularly striking 19-month duration of response—according to Brian M. Slomovitz, MD, Professor of Obstetrics and Gynecology at Florida International University and Director of Gynecologic Oncology at Mount Sinai Medical Center in Miami Beach, Florida.1
"Ribociclib and letrozole is an active combination in patients with low-grade serous ovarian cancer. The overall response rate, progression-free survival, and duration of response compared favorably to the most active agents previously investigated," Dr. Slomovitz said in a presentation at the Society of Gynecologic Oncology 2023 Annual Meeting on Women's Cancer (Table 1).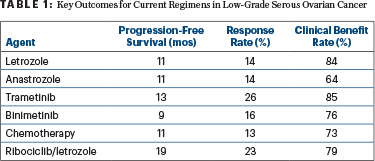 "We can definitely say that ribociclib plus letrozole is comparable to other available treatments, but we can also say it appears to be favorable when it comes to progression-free survival and duration of response…. There's also the ability to achieve a response after unlimited prior therapies," he told The ASCO Post. He added that a head-to-head comparison of this treatment with others would be essentially impossible in a rare tumor such as low-grade serous ovarian cancer.
About Low-Grade Serous Ovarian Cancer
Low-grade serous ovarian cancer constitutes 5% to 10% of serous carcinomas in the ovary. They arise de novo or from precursor serous borderline tumors; 80% are stage III at diagnosis. Prognostic factors primarily include younger age, later FIGO stage, residual disease after primary surgery, and somatic MAP kinase mutations. While low-grade serous ovarian cancers are associated with prolonged overall survival, 80% or more will recur, Dr. Slomovitz said.
At least 95% of low-grade serous ovarian tumors are estrogen receptor–positive. Hormonal manipulation is a treatment option for this malignancy, as it is for hormone receptor–positive breast cancer. Low-grade serous ovarian cancer is shown to respond to aromatase inhibitors, tamoxifen, fulvestrant, and leuprolide in multiple treatment settings; however, for patients with recurrent disease, responses are limited.
The reported response rate to aromatase inhibitor monotherapy, for example, is only 14% and it is even less for other endocrine agents; for relapsed disease, only about 8% of patients can be expected to respond to chemotherapy, though responses can exceed 40% when bevacizumab is given with chemotherapy. Response rates to MEK inhibition are about 25%, he said.
"Inhibition of cyclin D kinases 4 and 6 (CDK 4/6) is a rational therapeutic option in this disease, as there is evidence that inhibition may help overcome hormonal resistance," Dr. Slomovitz pointed out. Copy number variation shows frequent loss of the chromosome 9p region in CDK that encodes p16. Two thirds of low-grade serous ovarian cancers have an absence of p16. Expression and loss of p16 could be a predictive marker for treatment with CDK4/6 inhibitors, he suggested.

Brian M. Slomovitz, MD
GOG 3026 Details
The single-arm open-label study included 51 patients with recurrent low-grade serous ovarian cancer. Patients were allowed unlimited prior therapies (with a median of one prior line), but previous use of CDK4/6 inhibitors or letrozole was excluded. Previous treatment included chemotherapy for 73%, hormonal therapy for 27%, and immunotherapy for 13%.
Patients on the GOG 3026 study were treated with ribociclib at 600 mg daily for 3 weeks on, one week off, plus letrozole at 2.5 mg daily for 28-day cycles until progression. The primary endpoint of overall response rate was 23% for 48 evaluable patients, all partial responses; the clinical benefit rate was 79%. The median duration of response was 19.1 months (range = 4.8–35.8), progression-free survival was 19.1 months, and median overall survival was not reached.
When the analysis included only the 42 patients who had confirmatory assessments with two computed tomography (CT) scans, the response rate was 26% and clinical benefit rate was 90%. The median time to response was 7.9 months, with a range of 2 to 22 months. For the 42 patients with confirmed responses, 64% experienced a reduction in target lesions. Almost 40% of patients remain on the study, Dr. Slomovitz reported.
Dr. Slomovitz explained that low-grade serous ovarian cancers are hormonally driven and have a more indolent course. Unlike high-grade tumors that respond to cytotoxic chemotherapy quite rapidly, their time to response to a more cytostatic therapy is typically longer. This means that patients who were stable on ribociclib/letrozole could convert to responders. "Several of the patients are still on therapy without a documented response and without progression. We are hopeful that with longer follow-up … they may respond [to therapy]," he said.
The toxicity profile was as expected for these agents. The most common grade 3 adverse events were decreases in neutrophils (44%) and white blood cells (8%). Overall, the combination was extremely well tolerated.
Dr. Slomovitz commented that the findings warrant the development of a strategy for U.S. Food and Drug Administration (FDA) approval. 
DISCLOSURE: Dr. Slomovitz has served as an advisor or consultant for AstraZeneca, Eisai, Genentech, Genmab, GOG Foundation, GSK, Karyopharm, Imvax, Incyte, Merck, Myriad, Onconova, and Seagen. 
REFERENCE
1. Slomovitz BM, Deng W, Killion J, et al: GOG 3026: A phase II trial of letrozole + ribociclib in women with recurrent low-grade serous carcinoma of the ovary, fallopian tube or peritoneum: A GOG Foundation study. Society of Gynecologic Oncology 2023 Annual Meeting on Women's Cancer. Abstract 137. Presented March 24, 2023. 
---
Related Articles
Amanda Nickles Fader, MD, Professor of Gynecology and Obstetrics, Professor of Oncology, and Vice Chair of Gynecologic Surgical Operations at Johns Hopkins Health System, Baltimore, provided her thoughts on GOG 3026 for The ASCO Post.
Dr. Fader applauded the investigators and the Gynecologic...