An Early Love of Science Led to a Career in Breast Cancer Research for Sara M. Tolaney, MD, MPH

In this installment of Living a Full Life, Guest Editor Jame Abraham, MD, spoke with Sara M. Tolaney, MD, MPH, a faculty member of Dana-Farber Cancer Institute and Brigham and Women's Hospital, where she is Chief of the Breast Cancer Program. Her current research focuses on the development of novel therapies for breast cancer.
Breast cancer specialist Sara M. Tolaney, MD, MPH, is the daughter of immigrants from India, who moved while in their early 20s to Pasadena, California. Dr. Tolaney spent her childhood in a neighborhood directly across from the California Institute of Technology.
"I was one of three children, the middle child between two brothers, and I think growing up in the Caltech environment accelerated my love of science. After graduating from high school, I decided to go East and went to Princeton University, where I majored in chemistry, played tennis, and where I met my future husband," said Dr. Tolaney.
Sara M. Tolaney, MD, MPH

Sara M. Tolaney, MD, MPH
On fellowship training with oncology luminary Dr. Eric Winer: "It was an unbelievable experience working with Dr. Winer, a phenomenal clinician who always puts the patient first, a true role model for any young fellow entering the field."
On creating disease-specific cohorts: "Disease-specific cohorts bring together all our different disciplines—clinicians, scientists, clinical researchers, pathologists, imagers, and patient advocates—into one room, which can foster cross-fertilization of new ideas."
On the need for expanded mentorship in oncology: "While individual mentorship is important, I also think young clinicians need to learn from a deeper breadth of people [group-style mentorship], given the complexity of science today."
After earning her BS in chemistry from Princeton University, Dr. Tolaney returned home to California to attend medical school at the University of California, San Francisco (UCSF). "As far back as grade school, I always remember wanting to pursue a career in medicine. When I was in high school, my dad was diagnosed with prostate cancer, and, unfortunately, he currently has metastatic disease. Also, during high school, my mom was diagnosed with lupus, so I witnessed what my parents went through and wanted to become the kind of person who cared for very vulnerable people who were ill," said Dr. Tolaney.
An Oncology Rotation Seals the Deal
Dr. Tolaney cited her time on oncology rotations at UCSF as the final component in her decision to pursue a career in cancer research and treatment. "I knew right away that oncology offered a unique opportunity not only to create a personal relationship with patients, but also to provide step-by-step longitudinal care at the most challenging time of their lives. My husband's mother was diagnosed with metastatic breast cancer when we were doing our undergraduate work at Princeton. So, there was also that experience with cancer that played a part in my decision to become an oncologist," she shared.
Asked about any mentors at UCSF, Dr. Tolaney replied: "There wasn't one particular mentor I can single out. However, Julie Hamilton was my attending on the oncology rounds, and she was absolutely wonderful, a true inspiration on doctor-patient relations. When you're in medical school, it's such a whirlwind experience, so I was glad various circumstances gave me an early desire to pursue oncology."
Dr. Tolaney continued: "After earning my medical degree, I went to Johns Hopkins for my internal medicine residency, where I was fortunate to work with Dr. Antonio Wolff. I quickly developed a passion for breast cancer treatment and research leading to drug development.
During Dr. Tolaney's first year of fellowship, she worked with oncology luminary Eric Winer, MD, who was Chief of the Dana-Farber Breast Cancer Program. "It was an unbelievable experience working with Dr. Winer, a phenomenal clinician who always puts the patient first, a true role model for any young fellow entering the field. And, given my desire to get into drug development, I began writing clinical trials with Eric, which accelerated my desire to make a difference in breast cancer. However, even though I was passionate about drug development, I wanted to figure out how to optimally tailor therapy to the individual patient in order to improve outcomes while also reducing toxicities of therapy," Dr. Tolaney stated. "That experience helped me hone my research efforts to personalized therapy based on the individual patient, with much of my early career spent on de-escalating and escalating therapies to coincide with each patient's needs, including work in early-stage HER2-positive disease, where we were able to develop trials using less toxic therapeutic approaches while always preserving outstanding outcomes. And through all of that, it made me realize the importance of translational research to help us identify biomarkers needed in personalized medicine. Fellowship was a huge step in maturing my career path."
GUEST EDITOR

Jame Abraham, MD, FACP
Jame Abraham, MD, FACP, is Acting Chair of the Taussig Cancer Institute and Chair of the Department of Hematology and Medical Oncology at Cleveland Clinic. He is also Professor of Medicine at Cleveland Clinic Lerner College of Medicine.
Joining Dana-Farber
During fellowships in hematology and medical oncology at Dana-Farber, Dr. Tolaney obtained her MPH from the Harvard School of Public Health in 2007. In 2008, she joined the staff of Dana-Farber Cancer Institute and Brigham and Women's Hospital, as a medical oncologist and clinical investigator in the Breast Oncology Center.
Dr. Tolaney continued: "I was fortunate to get involved in phase I clinical trials in early drug development work at Dana-Farber, which at that time was called our Early Drug Development Center. In that role, I worked under Geoff Shapiro and Ian Krop, who taught me the fundamentals of the drug development process, along with how to interact with partners in industry. That experience gave me a lot of opportunities to take a novel agent and move it forward. For instance, I did the very first-in-human studies with abemaciclib, and we saw a strong signal for activity in hormone receptor–positive breast cancer, and that then led us to combine it with endocrine therapy and investigate its activity in patients with brain metastases. It then led to involvement in large phase III trials. It's an incredible journey, taking a drug from first-in-human studies into the pipeline all the way through registration," said Dr. Tolaney.
Assuming a Leadership Position
When Dr. Winer left Dana-Farber in 2021, Dr. Tolaney took over as Chief of Breast Oncology. "What I've learned over the years is leadership can allow one to have a much greater impact than one can have individually," she explained. And that's also what I love, having the opportunity to provide a vision that will ultimately help advance the field of breast cancer. In addition, it gives me a great opportunity to train our fellows and junior faculty, and help usher in a new generation of bright, young oncologists who will move the field forward. Additionally, I'm fortunate enough to be at Dana-Faber, which is an institute that has been at the forefront of cancer treatment and research," continued Dr. Tolaney.
Partnering With Industry
Dr. Tolaney pointed out that as a leader in basic, translational, and clinical research, Dana-Farber puts equal emphasis on research and patient care. Moreover, Dana-Farber's approach is well positioned to create strategic partnerships with industry, which can accelerate new drug development and translational research.
"Partnering with industry allows us to share promising signals from our research early in the process, which can then lead to a robust and targeted development plan," Dr. Tolaney explained. "I love the sharing of information between the academic institution and industry because in today's challenging environment, it's necessary to tap resources from both entities."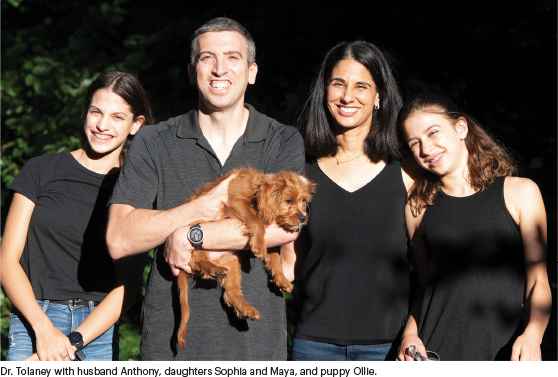 However, according to Dr. Tolaney, academia could do a better job of partnering with industry on the translational side, not solely on the clinical trials side, which is too often the case. She expanded on this topic: "For example, if an industry partner wants to do a trial looking at a population of patients with minimal residual disease, how can it move forward without knowing what the prevalence is in a particular situation without partnering with those who have the clinical samples? I think we need to partner even earlier than we do, in the translational stage, so we can find better and more effective ways to launch clinical trials. And, in my new role here at Dana-Farber, I've tried to build those bridges with industry, so we can exploit the best possible ways to get promising new agents into the pipeline," said Dr. Tolaney.
New Ideas and Mentoring
"One of the most critical aspects of creating better outcomes is that we need to learn something from every patient who walks through our doors," Dr. Tolaney continued. "One of my initial steps in my new leadership role is to foster a better understanding between what we learn in the laboratory and bring it to the clinic as rapidly as possible, and also taking what we learn in the clinic and bridging it back to the lab. To help that effort, I created what we call disease-
specific cohorts that essentially bring together all our different disciplines—clinicians, scientists, clinical researchers, pathologists, imagers, and patient advocates—into one room, so to speak, which can foster cross-fertilization of new ideas," she said.
Dr. Tolaney stressed the importance of career-building efforts, to assist new clinicians entering the challenging field. "When I started, we created mentorship committees for all our fellows and junior faculty. Although I do value individual mentorship, I also think they need to learn from a deeper breadth of people, given the complexity of science today. So, we have regular team meetings that provide group-style mentorship that covers all the constituent parts of the careers they'll be pursuing. I think the program has worked out very well so far, and it's very rewarding. Between the clinical research efforts, administrative work, mentoring, and clinical work, I'm very busy, but I love what I do," said Dr. Tolaney.
Building a Supportive Environment
What advice does an oncology leader have for other women entering the field? "It is a challenge for women, especially those who are planning to have children, to enter such a demanding field, but it is well worth it. I had my first child during fellowship and a second child soon after I'd joined the faculty here at Dana-Farber. It was very hard to take that amount of time off from your career and then play catch up when you return from maternity leave. However, I'd never do anything differently."
Dr. Tolaney mentioned the need for oncology leaders to assure that women in the field are given all the support they need to balance their careers and their families. "For example, one of our faculty told me she had to drop her kids off at school, but we also hold a research meeting at 8:00 AM; by the time she returned, the meeting would be half over. So, I changed the start time of the meeting, so she would be able drop her kids off and participate in our meetings. We need to be flexible when possible. In the long run, it benefits everyone. I want to create an atmosphere where hard-working, young oncologists can balance their career and their family life without the undue stress that I and other women face." 
DISCLOSURE: Dr. Tolaney has served as a consultant or advisor to Novartis, Pfizer, Merck, Lilly, Nektar, NanoString Technologies, AstraZeneca, Puma Biotechnology, Genentech, Eisai, Sanofi, Celldex, Bristol Myers Squibb, Paxman, Seattle Genetics, Odonate Therapeutics, AbbVie, Silverback Therapeutics, G1 Therapeutics, OncoPep, Kyowa Hakko Kirin, Samsung Bioepis, CytomX Therapeutics, Daiichi Sankyo, Athenex, Immunomedics/Gilead, Mersana, and Certara; and has received institutional research funding from Genentech/Roche, Merck, Exelixis, Pfizer, Lilly, Novartis, Bristol Myers Squibb, Eisai, AstraZeneca, NanoString Technologies, Cyclacel, Nektar, Immunomedics, Odonate Therapeutics, Sanofi, and Seattle Genetics.
---