Drive, Curiosity, and a Love of Science: One Nurse's Road to a Leadership Role in Oncology

For this installment of the Living a Full Life series, guest editor Jame Abraham, MD, spoke with Deborah Watkins Bruner, RN, PhD, FAAN, noted for her work in patient-reported outcomes, symptom management, and comparative effectiveness of radiotherapy modalities. Her current research is focused on the role of the human microbiome in carcinogenesis and cancer treatment outcomes.
DEBORAH WATKINS BRUNER, RN, PhD, FAAN

On her early experience caring for patients with cancer: "I honestly thought I'd spend my career in hospice and palliative care, but life takes all kinds of twists and turns."
On her research interests: "The human microbiome is a relatively new, promising area of science. I think it's going to be vitally important in helping us understand the role the bacteria that live on and in us play in the development, metastatic processes, and exacerbation or mitigation of toxicities associated with cancer and treatments."
On achieving professional success: "Success is more like the game Chutes and Ladders: You take a couple of steps forward; you take a couple of steps back. There's never a linear pathway to success."
Dr. Bruner was born and reared in Chester, a city situated on the western bank of the Delaware River outside of Philadelphia. As a young girl, she dreamed of becoming an oceanographer until her mother pointed out that a career involving boats and open water might not be a good call for a girl prone to seasickness. "So, I ended up in nursing, which, in the 1970s, was a traditional job for women. I never dreamed I would end up in research. I loved patient bedside care, and that's what I thought I'd always do. But early on in my nursing career, I gravitated toward patients with cancer. That probably influenced my later career path into research," said Dr. Bruner.
Dr. Bruner received her nursing degree from West Chester University in 1978. Her oncology career began during a nascent period in the field, giving her a deep understanding of the then and now. "I'm old enough to remember a time before we had dedicated cancer wards, and patients with cancer were mixed in with patients on the medical surgical floor. Those with cancer were generally assigned to me, and I had a particular empathetic relationship with patients who had end-stage disease. I honestly thought I'd spend my career in hospice and palliative care, but life takes all kinds of twists and turns. I became a gynecologic clinical nurse specialist, and that's where my interest in research started."
Career-Changing Mentor
As Dr. Bruner's gynecologic nursing career matured, she discovered a glaring lack of research dedicated to women's health, particularly sexual health. Her search for evidence-based data on treatment modalities for women with gynecologic malignancies, symptom management, and sexual health issues eventually led to a career in research.
Dr. Bruner continued: "I entered the field of radiation therapy when I joined Fox Chase Cancer Center. I spent 16 fruitful years at Fox Chase working with Gerald Hanks, MD, FASTRO, who was a giant in the field. I started with Dr. Hanks as the nurse manager and was promoted to a special position, running the prostate cancer risk assessment program. Dr. Hanks was the type of mentor who didn't just give you advice; he gave you the opportunity and resources you needed to make things happen. If I am one-tenth the mentor he is, I will consider myself successful. He mentored numerous leaders and had an eye for talent. His mentorship was critical to my career in every way."
Dr. Bruner shared her thoughts on the start of her career in cancer research. "I actually started doing research before I had a PhD, which is unusual. I wrote the National Cancer Institute–sponsored clinical trial cooperative and the Radiation Therapy Oncology Group's (RTOG, now NRG Oncology) first-ever quality-of-life study, even before I had a doctoral degree. I was a very early pioneer in patient-reported outcomes and symptom management in the clinical trial cooperative groups. I often found myself the only woman at the table in clinical trials leadership and in fact, I was the only female scientist in executive leadership during the merger of three legacy groups, NSABP, RTOG, and GOG into NRG Oncology. It's been a really interesting journey as a female nurse within a male-dominated physician world to be accepted in leadership roles. However, I've been fortunate and have had a lot of great collaborators and mentors along the way."
Move to a University Setting
Dr. Bruner spent 16 years at Fox Chase, and during that time received her PhD in nursing from the University of Pennsylvania (UPenn). Within 4 years of completing her doctoral studies, she was offered a faculty position from her alma mater. "When UPenn reached out to me, I didn't realize it was a big deal, as I'd never worked in academia. I interviewed out of respect for a mentor on my dissertation committee who invited me, although I did not intend to move.Naively, I made UPenn what I thought was an outrageous offer, which included full professorship (never having been an assistant or an associate professor) and an endowed chair; I figured they'd turn me down and I could happily continue my work at Fox Chase, which I loved, and would have fulfilled any obligation to my mentor. No one was more surprised than I was when they gave me everything I asked for and more, so off I went to UPenn, and it turned out to be a tremendous career move," said Dr. Bruner.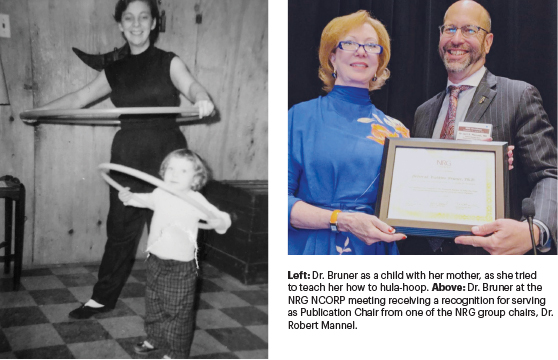 Once at UPenn, Dr. Bruner became one of the program leaders for cancer control at the Abramson Cancer Center. She also began teaching and mentoring, which would become a valued addition to her career. "I didn't think I was going to like teaching as much as research, but I really enjoyed it. UPenn also gave me a new opportunity to mentor the next generation of researchers, and that has become a passion," said Dr. Bruner.
Mentorship
According to Dr. Bruner, mentorship is one of a leader's fundamental responsibilities. Once again, she acknowledged her most valued mentor, Dr. Hanks, for helping to shape her mentorship approach.
"Nurses in radiation oncology back in the early 1990s were not well utilized. They put patients in a room and took their blood pressure. I came from gynecologic oncology, where nurses had a partnership with physicians. I came into radiation oncology and saw how frustrated the nurses were. So, I told Dr. Hanks this wasn't what nurses in the radiation oncology setting should be doing; they should be doing symptom management and patient evaluations. Frankly, I said, we are your partners, not your maid servants. Instead of firing me, my boss said: 'I don't understand all you're talking about, but I believe you understand it. So, give me a proposal and show us what you want to do.'"
"Thus, good mentorship revolves around trusting people, helping them to have confidence in their own knowledge, and then giving them the opportunity to move forward with great ideas. Moreover, I think a lot of people mentor based on what they've done, not on what the future is going to be. Mentorship has to be a little bit fearless to help people see the path they themselves have not taken; you want your mentee to do something bigger and better than you've done yourself," explained Dr. Bruner.
A Talk Leads to a Career Change
Dr. Bruner was invited to give a talk at Emory Winship Cancer Institute, which turned into another career move. "Walter Curran, MD, and I worked in radiation oncology at Fox Chase together years before he took the position as Director of the Cancer Center at Emory, and he invited me down to Atlanta to give a talk. Afterward, Wally asked me what it would take to get me to come to Emory. I said: 'You know I'm a born-and-raised Northern girl,' but he said he was from Philly, too. So, I went down, took a hard look, and decided to accept the position. It turns out I absolutely love Emory and living in Atlanta. Emory faculty are stellar, and I have been so proud to be here during the Ebola and COVID outbreaks, where Emory researchers have been global leaders in diagnostics, vaccines, and treatment," she related.
Dr. Bruner has held multiple positions at Emory University including holding the Robert W. Woodruff Professor of Nursing, Nell Hodgson Woodruff School of Nursing; Professor, Department of Radiation Oncology, Emory University School of Medicine; and Associate Director for Mentorship, Education, and Training, Winship Cancer Institute. She currently is Senior Vice President for Research at Emory, overseeing research strategy and operations for the university. And, as always, mentorship is high on Dr. Bruner's priority list.
GUEST EDITOR

Jame Abraham, MD, FACP
Dr. Abraham is Professor of Medicine, Lerner College of Medicine, and Chair of the Hematology and Medical Oncology Department at Taussig Cancer Institute, Cleveland Clinic.
Despite the challenges of juggling multiple leadership roles, Dr. Bruner maintains her research ambitions. She continues leading the National Community Oncology Research Program (NCORP) in NRG Oncology and her current efforts in the laboratory are focused on the role of the human microbiome in carcinogenesis and cancer treatment outcomes. "The human microbiome is a relatively new, promising area of science. I think it's going to be vitally important in helping us understand the role the bacteria that live on and in us play in the development, metastatic processes, and exacerbation or mitigation of toxicities associated with cancer and treatments."
A Mother's Inspiration
Dr. Abraham asked what motivated Dr. Bruner's fierce independence at the beginning of her career, when she was often the lone woman in a crowded male environment. Dr. Bruner responded: "I had a great mother who helped mold my independence and drive. She was one of the moms who when you came home from school and said proudly you got an A–, she would ask why you hadn't gotten an A+. She could be tough, but she instilled in me the belief that I could do anything. Having that kind of early support and encouragement from my mother was the grounding I needed and gave me the confidence to try, fail, and not be afraid to try again—all essential to being the lone woman in a room full of men."
No Expert on Balancing Work and Life
How does a busy researcher and department head balance work and private life? "Of all the things I've done well, balance is not one of them. My boys are 10 years apart, so I had a 1-year-old and an 11-year-old as I was working full time and earning my PhD. I ended up in the emergency room every year of doctoral school with asthma because I wore myself to the ground. So I was not an expert on balancing work and life, especially early in my career. I was blessed with a lot of energy, a supportive husband and mother, and I have an unquenchable curiosity for science. It gets me up every day; the research questions that hurt my brain the most are the things I love the most. With great curiosity and great partnerships, there's almost nothing we can't do. As I have matured, I work hard and play hard in blocks of time. It is not a daily balance, but it balances out over time."
Global Outreach Work
Dr. Bruner has also taken leadership roles in global oncology outreach programs. One of her passions has been working with health professionals to improve training for patient care in Ethiopia. Dr. Bruner chaired the Advisory Committee of the Emory University PhD Partnership Program in Nursing with Addis Ababa University, Ethiopia, to assist with the development of the first nursing doctoral program in the country. The program has now had three classes of doctoral graduates, who will go on to teach and conduct research in the university. Dr. Bruner has also had funding to assist in training physicians to transition from two-dimensional to modern three-dimensional radiation therapy to improve cancer care in Ethiopia.
"I am in constant awe and inspired by the intelligence, commitment, and compassion of the medical professionals in Ethiopia. They are acutely aware of the resource challenges they face while working hard to provide optimal patient care, and yet they never cease to do their best to provide treatment and comfort to those suffering from cancer," said Dr. Bruner.
Closing Thoughts
"Success is more like the game Chutes and Ladders: You take a couple of steps forward; you take a couple of steps back. Sometimes, you end up sliding down one of those chutes where you end up at the bottom again and have to start over. Other times, you get a hand up, like from a mentor who offers a ladder where you can rise a couple of extra steps. There's never a linear pathway to success. I tell my mentees that anyone who is successful in academia has the same number of grant and publication rejections as those who are not successful—maybe even more. The truth is successful people are not always the most inherently brilliant, but they are always inherently persistent. Learn from critiques and mistakes, seek mentorship, and never give up." 
---