Selected Poster Presentations on Cancer Therapeutics and More

Although the live 2020 National Comprehensive Cancer Network (NCCN) Annual Conference was canceled, more than 100 posters scheduled for presentation are now available online, as part of the NCCN 2020 Virtual Annual Conference. The ASCO Post has summarized some of the clinical trial updates we found of particular interest.
Nivolumab/Temozolomide in Neuroendocrine Tumors
An interim analysis of a phase II trial in patients with advanced or metastatic neuroendocrine tumors met its efficacy analysis for nivolumab plus temozolomide.1 A partial response rate of 20% and a disease control rate of 93% were observed, with responses achieved across primary neuroendocrine locations and in patients with grade 2 and 3 tumors, reported Dwight H. Owen, MD, MS, of The Ohio State University Comprehensive Cancer Center, Columbus.

Dwight H. Owen, MD, MS
NCT03728361 is an open-label, nonrandomized, single-institution, investigator-sponsored phase II study of nivolumab (480 mg intravenously every 4 weeks) and temozolomide (200 mg/m2 orally for 5 days of a 28-day cycle, later reduced to 150 mg/m2) in patients with advanced or metastatic neuroendocrine tumors of any grade or primary site (n = 28) or recurrent/refractory small cell lung cancer (n = 25). For the neuroendocrine tumor cohort, the primary sites were the bronchi (33%), small bowel/ampulla (47%), and pancreas (7%), with 13% of an unknown origin. For 60% of the patients, this was the first-line regimen. The majority of patients (n = 14) had grade 2 or 3 neuroendocrine tumors.
Temozolomide has shown activity alone and in combination with capecitabine in neuroendocrine tumors and has had an immunomodulatory impact on lymphoid cells in patients with advanced cancers.
The interim efficacy analysis was performed after the first 15 patients in the neuroendocrine tumor cohort were treated. After a median follow-up of 10.4 months, the median progression-free survival was 10 months, and the median overall survival was not reached. The toxicity profile was consistent with the known toxicities of each agent; tolerability of temozolomide was improved at a starting dose of 150 mg/m2. The study is continuing to accrue patients.
Are All Tumor Boards Really Multidisciplinary?
Hospital tumor boards bring together multidisciplinary specialists to decide upon the best treatment plan for a given patient, but good outcomes could potentially be compromised by power plays, according to a study from The State University of New York presented by Barbara Oureilidis-DeVivo, PhD, MBA, a specialist in organizational behavioral management in health-care settings.2

Barbara Oureilidis-DeVivo, PhD, MBA
Through qualitative research utilizing ethnographic methods, incluing observations and interviews with participants in tumor boards, Dr. Oureilidis-DeVivo concluded that most tumor boards exemplify a hierarchical world in which medical specialties, expertise, and social subordination heavily influence the decision-making process of the majority of multidisciplinary tumor boards. Social hierarchy wields power to status-advantaged tumor board members over those who are status-neutral or disadvantaged."
She evaluated 44 tumor boards between 2014 and 2018 at 5 teaching hospitals in the United States and 2 in the United Kingdom. Data were collected from field observations of nearly 200 patient cases and through 28 nonstructured and semistructured interviews with surgeons, medical oncologists, interventional radiologists, radiation oncologists, nurses, and patient care coordinators. This analysis showed that the problem of "hierarchy" was present in 66% of tumor boards.
Among the specialists, surgeons had the power of persuasion most often, the study found. Consistently, surgeons were the physicians most often implicitly using their power to direct tumor board members toward surgical treatments, whereas other subspecialists often acquiesced in subordination but questioned the motives of the surgeons, she observed.
Historically, surgery has been viewed as the gold standard cancer treatment, elevating surgeons to the top of the medical status ladder. This position, according to Dr. Oureilidis-DeVivo, "gives them implicit permission to lead the tumor board and dominate cancer management either for or against surgical interventions, sometimes despite clinical merit." Surgeons are also often the first specialists to see patients, creating "surgical dominance through the referral pattern," she added.
Unfortunately, the pattern of dominance by status-advantaged members understandably breeds resentment, her interviews showed. This often prohibits participation by others, thus biasing narratives in favor of one viewpoint from the most status-advantaged physicians, Dr. Oureilidis-DeVivo concluded.
Outcomes in Locally Advanced NSCLC
Although isolated locoregional recurrence of non–small cell lung cancer (NSCLC) is relatively common, its optimal treatment is undefined. A study from Johns Hopkins compared outcomes after definitive therapy for isolated locoregional recurrence vs de novo locally advanced NSCLC and found them to be similar.3 The findings suggest that curative local therapy for isolated recurrences, according to the paradigm for locally advanced NSCLC, is advisable.

Cole Friedes, BS
"This is the first study to compare a controlled cohort of patients with isolated locoregional recurrence with a de novo equivalent," according to Cole Friedes, BS, of The Sidney Kimmel Comprehensive Cancer Center at Johns Hopkins. He reported that, following treatment with curative intent, outcomes were similar between the groups. The findings support the use of aggressive combined-modality treatment in lieu of systemic therapy alone for patients with locally recurrent disease, he said.
The retrospective cohort analysis involved 65 patients with isolated locoregional recurrence treated with definitive salvage therapy, primarily chemoradiation. Baseline characteristics did not significantly differ between this cohort and a comparative group of 302 patients with de novo locally advanced NSCLC. A propensity score–adjusted analysis found no significant differences in median progression-free survival, time to distant metastasis, or overall survival, Mr. Friedes reported.
Is Chemotherapy-Related Toxicity Underreported by Physicians?
Patients with colorectal cancer undergoing chemotherapy are significantly more likely to report toxicities than are their treating oncologists, a single-center study has shown.4 "Our study provides real-world evidence of consistent underreporting of toxicity from chemotherapy by many physicians.... This gap did not narrow for actionable toxicities," Sonali Agrawal, BS, of Fox Chase Cancer Center, Philadelphia, indicated in her "Top Abstract" poster.

Sonali Agrawal, BS
The prospective study included 40 patients undergoing chemotherapy for colorectal cancer (70% were stage IV; 63% were receiving FOLFOX [fluorouracil/leucovorin/oxaliplatin] with or without a biologic; 62% had an Eastern Cooperative Oncology Group performance status of 0). Patients completed patient-reported outcomes–Common Terminology Criteria for Adverse Events forms at the start of therapy and at the subsequent follow-up visit. The severity of toxicity was ranked on a 5-point scale as "none," "mild," "moderate," "severe," or "very severe." Provider assessment of grade ≥ 3 toxicity was collected via questionnaires administered in real time and also by chart review. Actionable toxicities were defined as those that commonly may limit chemotherapy or require a dose modification (eg, mouth sores, diarrhea, nausea, vomiting, rash, hand-foot syndrome, and neuropathy).
Agreement between patients and providers for the toxicity assessments was often lacking. Table 1 shows the toxicities for which statistically significant differences were found.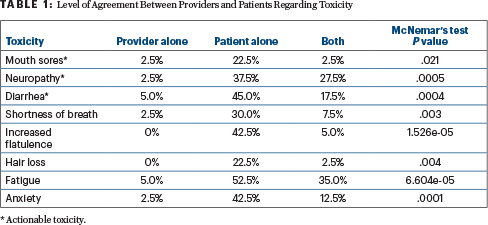 "Incorporating patient-reported outcomes in toxicity reporting and management may provide additional information to physicians to help tailor chemotherapy and toxicity management plans," Ms. Agrawal stated. The team will be correlating toxicity data with 2-year survival.
'Encyclopedic Tumor Analysis' of Refractory Breast Cancer Treatment
The disease control rate was 100% in a small study of patients with refractory breast cancer whose treatment was guided by "encyclopedic tumor analysis."5
Via deep multianalyte interrogation of the tumor interactome, researchers from India developed an "encyclopedic tumor analysis" to evaluate gene mutations, copy number variations, fusion, gene expression (mRNA and immunohistochemistry), and in vitro chemoresistance profiles of viable tumor cells. These analytic findings were used to assign patient-specific as well as label- and organ-agnostic combination treatment regimens.
Dadasaheb Akolkar, PhD, of Datar Cancer Genetics Limited in India, described the results of 27 patients with advanced refractory breast cancer progressing after at least two prior lines of treatment. "The tumor analysis identified actionable indications even in patients who had no targetable mutations," Dr. Akolkar reported.

Dadasaheb Akolkar, PhD
Patients received tumor analysis–guided treatment, including a targeted agent (label-agnostic) in six patients, a cytotoxic drug in four patients, and combination therapies in 16 patients. The response rate was 57%, including one complete response, and 100% achieved disease control. The 90-day progression-free survival rate was 96%; at last follow-up, the median progression-free survival was approximately 4 months.
"Multianalyte tumor profiling can reveal latent actionable vulnerabilities in refractory cancers. Encyclopedic tumor analysis–guided treatments were safe and offered meaningful survival benefits in this heavily pretreated cohort with advanced refractory breast cancers," Dr. Akolkar concluded.
Breast-Conserving Surgery: Factors in Decision-Making
An evaluation of almost 60,000 patients with early breast cancer sought to identify key factors in a woman's use of breast-conserving surgery over mastectomy.6 "Our real-world evidence study contributes to informing clinical practice on the significant patient- and community-level factors associated with breast-conserving surgery," Judy George, PhD, of IBM Watson Health in Cambridge, Massachusetts, stated about her "Top Abstract" poster.

Judy George, PhD
The findings were based on a retrospective observational study of the IBM MarketScan Commercial and Medicare Supplemental Database from January 2012 through March 2018. The study focused on 57,299 patients, of whom 67% had breast-conserving surgery. Although breast-conserving surgery increased overall, reaching a rate of 73% in 2018, this group demonstrated some differences compared with women who chose mastectomy.
Increased use of breast-conserving surgery was associated with older age, access to and use of genetic services, and residence within communities with a higher density of physicians specialized in medical genetics and nuclear medicine. Decreased use of breast-conserving surgery was associated with certain comorbid conditions and residence in the South, Midwest, or West.
Of note, patients aged 60 years or older were 96% more likely to undergo conservative treatment (P < .0001), relative to women younger than age 50. Patients tested for BRCA1/2 mutations were 25% more likely to undergo conservative treatment, compared with those who did not have genetic testing (P < .0001).
The authors acknowledged this privately insured claims database may not represent all populations and clinical data such as biomarkers and hormone receptor status may further explain the choice of one surgical approach over the other. 
DISCLOSURE: The investigator-sponsored trial presented by Dr. Owen is funded through a collaborative research grant between Bristol-Myers Squibb and The Ohio State University Comprehensive Cancer Center. For Dr. Akolkar's study, his company, Datar Cancer Genetics, offered commercial services in the oncology domain. Dr. George is employed by IBM Watson Health, a commercial entity that provides services in the oncology domain. Dr. Owen, Dr. Oureilidis-DeVivo, Mr. Friedes, and Ms. Agrawal reported no conflicts of interest.
REFERENCES
1. Owen DH, Wei L, Goyal A, et al: A phase 2 trial of nivolumab and temozolomide in advanced neuroendocrine tumors: Interim efficacy analysis. J Natl Compr Canc Netw 18:CLO20-054, 2020.
2. Oureilidis-DeVivo B. Tumor boards: The influence of social hierarchy on cancer treatment decision-making. J Natl Compr Canc Netw 18:BP120-020, 2020.
3. Friedes C, Mai N, Fu W, et al: Comparative outcomes of patients with locoregional recurrent disease versus de novo locally advanced NSCLC treated with definitive therapy. J Natl Compr Canc Netw 18:CLO20-036, 2020.
4. Agrawal S, Meeker CR, Aggarwal S, et al: Provider versus patient reported outcomes in colorectal cancer patients undergoing systemic therapy: A real world experience. J Natl Compr Canc Netw 18:HSR20-076, 2020.
5. Akolkar D, Patil D, Ranade A, et al: Clinical utility of encyclopedic tumor analysis to treat breast cancer patients who have failed standard of care treatments. J Natl Compr Canc Netw 18:CLO20-028, 2020.
6. George J, Tkacz J, Roebuck MC, et al: Real-world evidence study of factors associated with breast cancer conserving surgery for females diagnosed with early stage breast cancer. J Natl Compr Canc Netw 18:HSR20-085, 2020.
---