Prioritizing Patients With Metastatic Disease for Palliative Radiotherapy
MSK issues guidance on balancing the risks and benefits of such treatment during the COVID-19 pandemic.

In anticipation of how the COVID-19 pandemic might impact oncology care as the coronavirus spread across New York City, radiation oncologists with expertise in the management of metastatic disease and inpatient oncologic emergencies at Memorial Sloan Kettering Cancer Center (MSK) met in late winter to discuss best practices in palliative care radiotherapy to prioritize patients with urgent medical needs. A prepublication version of the guidance they developed was released in early April1 and will be published in a future issue of Advances in Radiation Oncology.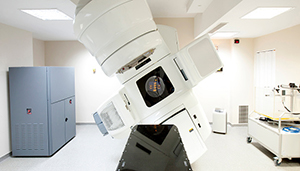 Photo credit: Getty
The experts developed a three-tier system to identify patients with metastatic cancer requiring palliative radiotherapy and whose outcome might be compromised if their treatment was delayed. According to the recommendations, patients with oncologic emergencies, including neurologic symptoms, tumor bleeding, and airway compromise requiring palliative radiotherapy, are given the highest priority and receive Tier 1 designation. Patients with symptomatic disease, excluding an oncologic emergency, in which radiotherapy is the standard of care, and patients with asymptomatic disease in which radiotherapy is recommended to prevent possible near-future functional deficit receive Tier 2 designation. Patients with symptomatic or asymptomatic disease in which radiotherapy is one of the effective treatment options would receive the lowest priority, or Tier 3 designation.
The guidance is not meant to restrict palliative care for patients needing radiation therapy, according to the paper's authors, but rather is a way to objectively evaluate patients with oncologic emergencies in the setting of the COVID-19 pandemic. During this time, hospital resources are in high demand, and these guidelines are a way to protect both patients and staff members from becoming infected with the virus.
"Our intention was never to make guidelines that restrict care for our patients. It was to prepare ourselves for a situation in which we may need to prioritize certain treatments," said Divya Yerramilli, MD, MBE, Assistant Attending Physician in Radiation Oncology at MSK and lead author of this paper. "We understand that every time patients come in and out of our department, they are at risk for potential exposure to the coronavirus, as are our staff. With that in mind, we wanted to develop guidelines for if we find ourselves in an emergency situation in which prioritization of care needs to be made. We will have a way to do that based on objective criteria and medical need and not on subjective variation and bias."
Reducing Patients' Exposure to COVID-19
In addition to recommendations for prioritizing patients for palliative care radiotherapy, the guidance also suggests shorter courses of accelerated regimens for palliative radiation to reduce the amount of time patients spend in the clinic receiving treatment without jeopardizing their outcome.1 "We wanted to develop evidence-based guidance for the use of accelerated radiation that will provide the same level of palliation as longer courses of palliative radiation therapy," said T. Jonathan Yang, MD, PhD, Director of Metastatic Disease in the Department of Radiation Oncology at MSK and senior author of this paper. "In the setting of the COVID-19 pandemic, we are trying to reduce exposure of the virus to patients and staff. There are data-driven palliative radiotherapy regimens that can be used in much shorter courses without compromising patient outcomes. Hopefully, other institutions will use this guidance in their radiation department."
Ensuring High-Quality Cancer Care
Although it has not been necessary to activate the tier system, because measures were taken to ensure that the department is able to continue to care for the influx of patients by maximizing medical resources, Dr. Yerramilli said it is important for cancer institutions to have treatment contingency plans in place. This way, we can ensure that patients continue to receive high-quality cancer care during any type of emergency.
"We have to be prepared for any crisis situation," continued Dr. Yerramilli. "We may be turning the corner now on the COVID-19 pandemic, but we didn't know how serious this outbreak would be or how long it would last when we developed this guidance. We came up with these recommendations so we would have an objective set of guidelines to follow based on medical need and not on what is most expedient in a moment of crisis."
Dr. Yerramilli is thankful it has not yet been necessary to invoke these recommendations. "I would like to emphasize there are multiple ways to deliver symptom relief to patients with metastatic cancer; radiation therapy alone or in conjunction with other treatments is one. Palliative medicine involves many therapeutic options for symptoms that cause patients distress, and radiation is one of them."
She continued: "Perhaps this is the time to remind ourselves to be deliberate with the choice of treatment, whether we are in a crisis situation or not. By using the tier system, we can identify patients for whom radiation is the necessary and best option and patients who may benefit from other management strategies." 
DISCLOSURE: Dr. Yerramilli reported no conflicts of interest. Dr. Yang has served as a consultant or advisor to Debiopharm Group, Galera Therapeutics, and ­resTORbio and has received research funding from AstraZeneca and Kazia Therapeutics.
REFERENCE
1. Yerramilli D, Xu AJ, Gillespie EF, et al: Palliative radiotherapy for oncologic emergencies in the setting of COVID-19: Approaches to balancing risks and benefits. Adv Radiat Oncol. April 1, 2020 (early release online).
---