How the COVID-19 Pandemic Is Propelling the Delivery of Home Care for Patients With Cancer
A Conversation With Justin E. Bekelman, MD

In 2019, the Penn Center for Cancer Care Innovation at the University of Pennsylvania's Abramson Cancer Center began planning a demonstration program, called Cancer Care at Home, to broaden the delivery of oncology treatments to patients in the home setting. The existing services offered by Penn Home Infusion Therapy, part of Penn Medicine at Home, included home infusions of the cytotoxic chemotherapy agent fluorouracil and supportive care, such as hydration and antiemetic therapy for chemotherapy-induced nausea and vomiting; these services are provided to more than 670 patients throughout eastern Pennsylvania, southern New Jersey, and northern Delaware.
The Cancer Care at Home program, launched in February 2020, has now added 12 chemotherapeutics that previously were not frequently provided via home infusion. The agents include leuprolide, dose-adjusted EPOCH (etoposide, vincristine, doxorubicin, cyclophosphamide, and prednisone), zoledronic acid, denosumab, filgrastim, pegfilgrastim, rituximab, and bortezomib for the treatment of breast and prostate cancers, lymphoma, and multiple myeloma. Thirteen additional therapies are being considered for home infusion later this year. As of this past April, 301 patients with cancer have been referred for home infusion care through the program, a 46% increase in the number of patients previously receiving either treatment or supportive care at home, bringing the total to 980 patients.
The Cancer Care at Home program offers patients the services of a multidisciplinary care team, all trained in home infusion therapy. These team members include clinical pharmacists and Oncology Nursing Society–certified nurses as well as palliative care providers.

Justin E. ­Bekelman, MD
The ASCO Post talked with Justin E. ­Bekelman, MD, Director of the Penn Center for Cancer Care Innovation and Associate Professor in the Departments of Radiation Oncology and Medical Ethics and Health Policy at the Perelman School of Medicine at the University of Pennsylvania, about the benefits of providing home-infusion cancer therapeutics, especially in the advent of the COVID-19 pandemic.
Origins of Cancer Care at Home
Please talk about the origins for initiating the Cancer Care at Home program to bring cancer therapeutics to the home setting.
We know advances in oncology care have resulted in improvements in survival and quality of life for patients with cancer. We also know the delivery of that care is inherently multidisciplinary and takes place in multiple settings, which can produce fragmented, unnecessary, or suboptimal care and financial burden for patients.
In 2018, we launched the Penn Center for Cancer Care Innovation as a platform for interdisciplinary teams to tackle the most intractable challenges in cancer care delivery. In addition to the Cancer Care at Home program, some examples of our work include developing chatbots to improve oral cancer drug adherence and symptom management and leveraging insights from behavioral economics and predictive analytics to nudge clinicians and patients toward higher-value cancer care. We are also testing new cancer treatment payment models to improve care delivery, access, and affordability.
We started this program before the outbreak of COVID-19, because we thought it could be a win-win-win for everyone, including patients, Penn Medicine, and payers. The program is even more essential now to continue cancer treatments for patients who are immunocompromised to reduce their risk of infection with the coronavirus, to decrease the density in our infusion suites, and to increase hospital capacity.
Breaking Down Barriers to Home Cancer Care
How do patients receive chemotherapeutics at home, and who administers that care?
Treating oncologists order the cancer drugs, which are administered by Penn Home Infusion Therapy nurses, who have been certified by the Oncology Nursing Society. All the equipment is delivered directly to patients' homes. The injections and infusions are conducted using safety and quality protocols that match what patients would experience in the hospital or clinic facility.
Early on, we found that oncologists and patients were understandably resistant to the idea of receiving treatment at home. We reduced those barriers by addressing their concerns directly; making it easy for physicians to order home infusions and for patients to receive cancer drugs at home; and explaining the safety procedures, credentialing, and training of the nurses providing the care at home. Once we addressed those barriers and started receiving positive feedback from our patients and physicians, we knew the program would get traction.
Penn Home Infusion Therapy had been providing skilled nursing services, rehabilitation therapies, and other supportive services to eligible patients throughout the Pennsylvania region for years. What's new is that we are taking 12 cancer treatments previously reserved primarily for in-clinic care and making them available in the home setting.
We found that patients with breast cancer thought the program was terrific. They often have to take leuprolide monthly, sometimes for 5 to 10 years—a significant burden that often meant taking time off from work. Now, they can receive their injections in their home at their convenience.
Any remaining barriers to at-home care came down once COVID-19 hit, which pushed us to scale the program in just a few weeks. From mid-March to late-April, we have seen a nearly 700% increase in the number of patients participating in the program—from 39 to 310.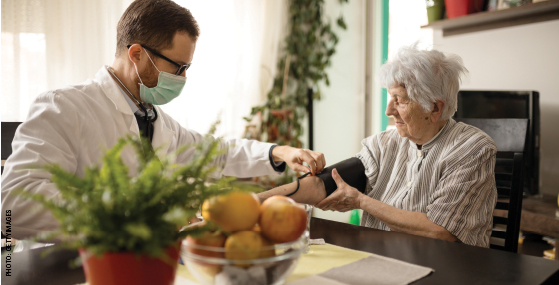 Photo credit: Getty
Developing Innovative ­Reimbursement Practices
Is there an additional cost to patients for receiving cancer treatment at home?
We know there are different insurance health-care benefit plans, and receiving treatment in different sites of care, such as the hospital, outpatient clinic, physician's office, or home, impacts health-care reimbursement for providers and out-of-­pocket expenses for patients. For example, for patients with Medicare, at-home treatments are often paid through Medicare Part D instead of Part B. Therefore, patients may have higher or lower out-of-pocket costs depending on their insurance benefits. Cancer care at home programs need to anticipate and get ahead of these issues so patients' financial burdens are not impacted by the shortsightedness of insurance policies.
Medicare, Medicaid, and commercial insurers need to develop new rules to appropriately pay for at-home cancer care. Today, physicians and health-care systems are paid for administering cancer drugs in clinics and managing complications in hospitals. We need to refine reimbursement policies to allow patients with cancer to receive appropriate cancer drugs at home, as well as symptom management. Reimbursement policies should incentivize or promote, and at least not obstruct, innovation in the delivery of cancer care that is more patient-centric.
It is important to note there are some types of cancer therapies that must be administered in the outpatient clinic or hospital setting. The goal of this program is not to transfer all cancer care to the home setting, but rather to establish the home setting as a place where appropriate patients can receive appropriate care that does not require outpatient or inpatient-level resources.
Determining Good Candidates for Home Infusions
Who are appropriate patients for home-infusion care?
To begin, we have to choose the right medicines for the right patients for home cancer care. There are certain cancer drugs, for example some taxanes, we would not use in the home setting because we know they have a high incidence of adverse reactions, which can be complicated to manage in specific clinical situations. In addition, the medications need to have the right stability for home infusion. For example, we have to ensure the drugs can be stored properly at the right temperature prior to administration. We have to ensure that patients can tolerate treatments administered at home.
High-quality cancer care is about individualizing treatment for patients, and we always give both patients and their physicians the option of receiving treatment in the infusion suite or at home, based on these factors.
Making Health-Care Systems Stronger
Do you have plans to expand the program to include cancer therapies for other cancer types?
Yes, we are assessing 13 additional cancer therapies for home infusion, some of which we advocate moving home, especially during the COVID-19 pandemic. One is pembrolizumab, which could have a big impact on patients with lung or head/neck cancer, among others. The COVID-19 pandemic is enabling us, and in some ways forcing us, to make difficult changes in how we deliver cancer care. However, scaling these therapies for home infusion beyond the current pandemic crisis will require significant changes in insurance reimbursement policy and benefit design, so it is economically sustainable for providers and does not increase the financial burden for patients.
I believe the measures we are taking to provide cancer care during the pandemic will make our health-care system stronger and will make cancer care better. The Cancer Care at Home program is a great example of why we are so passionate about the work we do at the Penn Center for Cancer Care Innovation. We know there will continue to be challenges to scaling the program, but providing cancer care at home is here to stay. 
DISCLOSURE: Dr. Bekelman has received grants from Pfizer, UnitedHealth Group, North Carolina Blue Cross Blue Shield, and Embedded Health Care, and has received personal fees from Optum, CVS Health, and the National Comprehensive Cancer Network.
---