Artificial Blood Substitute
Vienna, 1939

The text and photograph here are excerpted from a four-volume series of books titled Oncology: Tumors & Treatment, A Photographic History, The Radium Era: 1916–1945 by Stanley B. Burns, MD, FACS, and Elizabeth A. Burns. The photograph appears courtesy of Stanley B. Burns, MD, and The Burns Archive. To view additional photos from this series of books, visit burnsarchive.com.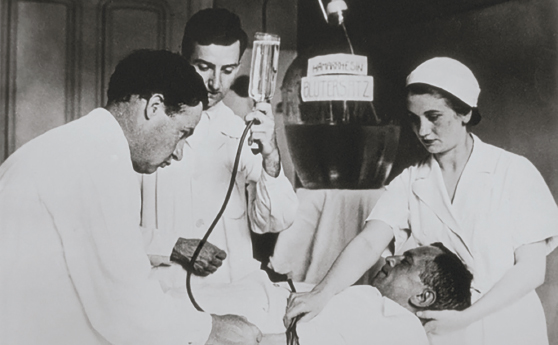 For millennia, blood loss was the most dreaded complication and limiting factor in surgery. The development of physical methods to conserve blood by elevation and bandaging of the extremities was the first small step in preserving the blood supply to vital organs. At the turn of the century, the infusion of salt solutions as blood volume substitutes was recognized, and its use progressed from subcutaneous and rectal routes to direct intravenous instillation. Direct blood transfusion became established by the first decade of the century.
Modern concepts of the effects of blood loss were introduced in a landmark work by George Washington Crile, MD, founder of the Cleveland Clinic. He presented research on shock, fluid replacement, and the use of substances such as adrenaline to support blood pressure. In 1908, Dr. Crile also invented a stop-cock device and vessel inserter that allowed direct, person-to-person blood transfusion. This direct transfusion method was in vogue until about 1940. During World War I, methods of preserving blood and various blood substitutes were developed.
An Elusive Quest
The Holy Grail of blood replacement is the creation of an artificial blood substitute that contains the characteristics, properties, and equal value of whole blood. This photograph illustrates one attempt in this endeavor by Dr. Gottdenker of Vienna. Unfortunately, his substitute was a failure. The "premature announcement" is a commonly used ploy to advance medical science, raise hope, and promote the researcher.
The creation of a blood substitute still remains an elusive quest. If one were found, it would solve a multitude of medical conditions, as well as trauma, injury, and surgical needs. The amazing advances of medicine in the past century, especially in genetic engineering, increase the hope that a blood substitute will be developed.
---