Researchers Supported by Conquer Cancer, the ASCO Foundation, Earn Spot in Clinical Cancer Advances 2019

The work of nine researchers who have previously received funding from Conquer Cancer is featured in ASCO's Clinical Cancer Advances 2019. Visit CONQUER.ORG/CCA for more details.
In two separate trials, Conquer Cancer–supported investigators produced research results that improved treatment for patients with non–small cell lung cancer (NSCLC). Suresh S. Ramalingam, MD, led a trial at Winship Cancer Institute at Emory University; Pasi A. Jänne, MD, PhD, led another study at the Dana-Farber Cancer Institute.


Suresh S. Ramalingam, MD (left), received a Conquer Cancer CDA in 2006 supported by AstraZeneca. Pasi A. Jänne, MD, PhD (right), received a YIA in 2001 supported by Eli Lilly & Company.
Patients received treatment with either a standard epidermal growth factor receptor tyrosine kinase inhibitor (EGFR) or the third-generation EGFR tyrosine kinase inhibitor osimertinib.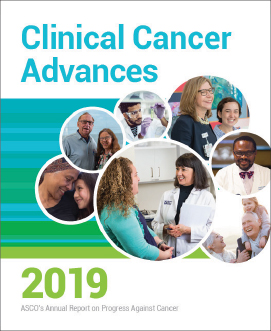 Taken together, trial results showed that the treatment almost doubled the time to disease progression achieved with older medicines and also improved quality of life for patients. Based on these data, osimertinib has become the new initial treatment of choice in patients with NSCLC with certain mutations, including those not responsive to older therapies.
In April 2018, the U.S Food and Drug Administration (FDA) approved osimertinib for the first-line treatment of patients with metastatic NSCLC whose tumors have EGFR exon 19 deletions or exon 21 L858R mutations, as detected by an FDA-approved test. ■
© 2019. American Society of Clinical Oncology. All rights reserved.
---