Emily Whitehead, Early Recipient of CAR T-Cell Therapy for ALL, Celebrates 7 Years Cancer-Free

Among the success stories in the treatment of acute lymphoblastic leukemia (ALL) in children and young adults is the development of chimeric antigen receptor (CAR) T-cell therapy. The field of cellular immunotherapy was still in its infancy in 2012 when Emily Whitehead, then 7, became the first pediatric patient enrolled in a clinical trial investigating CAR T-cell therapy CTL019, now known as tisagenlecleucel, underway at Children's Hospital of Philadelphia (CHOP), and led by Carl H. June, MD, David L. Porter, MD, and Stephan A. Grupp, MD, PhD, and their colleagues at the University of Pennsylvania and CHOP.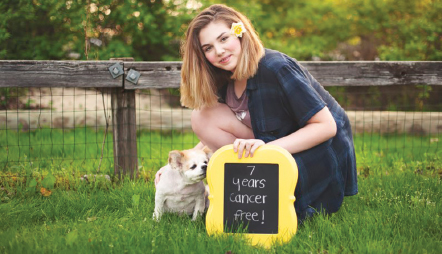 Photo courtesy of the Emily Whitehead Foundation: emilywhiteheadfoundation.org
Diagnosed with ALL when she was 5 years old, Emily had exhausted all treatment options before enrolling in the experimental study, which saved her life. Now, 14, Emily remains in remission and is an active, healthy, and happy teenager.
On July 12, 2017, Tom Whitehead, Emily's father, testified before the Oncologic Drugs Advisory Committee to advocate for approval of tisagenlecleucel for the treatment of B-cell precursor ALL. On August 30, 2017, the U.S. Food and Drug Administration (FDA) approved tisagenlecleucel for the treatment of patients aged 25 and younger with B-cell precursor ALL that is refractory or in second or later relapse. On May 1, 2018, the FDA approved tisagenlecleucel for the treatment of adult patients with relapsed or refractory large B-cell lymphoma, including diffuse large B-cell lymphoma, high-grade B-cell lymphoma, and diffuse large B-cell lymphoma arising from follicular lymphoma.
"It is very inspiring to me to be 7 years cancer free and that my story is helping other kids from all over the world. We will continue to raise money for all of the kids around the world that need the same treatment that I got in hopes to try to get them to have the same end result that I did. Always remember to never give up and smile everyday!"

— ~ Emily




Tweet this quote



Recent research by Dr. Porter and his colleagues evaluating the combination of the tyrosine kinase inhibitor ibrutinib and anti–CD19-directed CAR T-cell therapy in the treatment of patients with chronic lymphocytic leukemia (CLL) is showing that the treatment may be eliciting durable responses in patients with progressive disease and that combinations of targeted therapies and CAR T-cell therapy may change the standard of care for patients with advanced cancer. ■
---