Charles G. Mullighan, MBBS (Hons), MSc, MD, Named St. Jude Comprehensive Cancer Center Deputy Director

The St. Jude Children's Research Hospital Comprehensive Cancer Center has appointed Charles G. Mullighan, MBBS (Hons), MSc, MD, as its new Deputy Director. In this new position, Dr. Mullighan will help guide precision medicine and preclinical strategic research initiatives for the Center, which is the nation's only National Cancer Institute (NCI)-designated Comprehensive Cancer Center devoted solely to children.

Charles G. Mullighan, MBBS (Hons), MSc, MD
In August 2018, the NCI awarded St. Jude Comprehensive Cancer Center the highest possible rank and the best numeric score in the hospital's history during the renewal of its $36 million Cancer Center Support Grant. An NCI-designated Comprehensive Cancer Center like St. Jude must possess a research-based portfolio that extends from the laboratory to the clinic and includes population-based science. Centers must also be actively engaged in professional and public cancer education and outreach.
At St. Jude, the Comprehensive Cancer Center is organized as five cross-disciplinary, multidepartmental programs aligned to specific diseases and research concepts: Developmental Biology and Solid Tumor, Neurobiology and Brain Tumor, Hematologic Malignancies, Cancer Control and Survivorship, and Cancer Biology. The Cancer Center supports nine centralized, state-of-the-art shared resources to facilitate the design, implementation, analysis, interpretation, and reporting of research.
Professional Experience, Awards, and Research
Dr. Mullighan joined the St. Jude hospital in 2004 and the Department of Pathology faculty in 2008. He serves as Co-Leader of the Cancer Center's Hematological Malignancies Program, holds the William E. Evans Endowed Chair, and serves as Medical Director of the St. Jude Biorepository. He has received a 2017 National Cancer Institute R35 Outstanding Investigator Award and the 2016 American Society of Hematology William Dameshek Prize. In 2016, he was the first recipient of the St. Baldrick's Foundation Robert J. Arceci Innovation Award.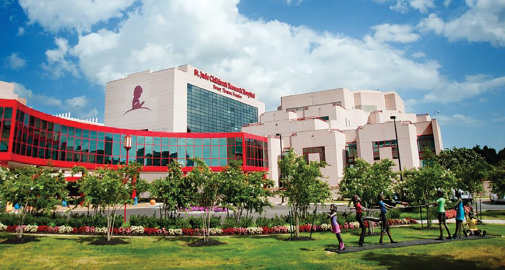 St. Jude Children's Research Hospital is the only NCI-designated Comprehensive Cancer Center devoted to pediatric oncology. Photo courtesy of St. Jude.
Dr. Mullighan's research uses integrated genomic, epigenomic, and experimental approaches to understand acute lymphoblastic leukemia (ALL) and related disorders. He has led studies that have defined the inherited and somatic genetic alterations in ALL. These findings have led to genomically informed diagnostic approaches and multiple clinical trials testing precision medicine approaches. In 2018, he established the Public Resource of Patient-derived and Expanded Leukemias, or PROPEL, initiative. The initiative makes available to the scientific community one of the world's largest collections of clinically and genetically characterized xenograft leukemia samples from children and adults.
Dr. Mullighan received his undergraduate degree in medicine and surgery from the University of Adelaide in Australia, a master's degree from the University of London in England, and a research Doctor of Medicine degree from the University of Adelaide. He is a fellow in hematology of the Royal College of Pathologists of Australasia and the Royal Australasian College of Physicians. ■
---