A Year in Review
Genitourinary Cancers Almanac

The past year has seen groundbreaking advances in the treatment of genitourinary (GU) cancers, which in some cases are resulting in altering the standard of care for patients with renal cell carcinoma, prostate cancer, and urothelial carcinoma. Some of the biggest changes that have occurred are for the treatment of metastatic renal cell carcinoma, and there are several recent research developments that could affect patient care.

Sumanta Pal, MD, Guest Editor
Clinical Trials in Advanced Renal Cell Carcinoma
Results from the KEYNOTE-427 study,1 a phase II trial evaluating the programmed cell death protein 1 (PD-1) monoclonal antibody pembrolizumab as first-line monotherapy in patients with advanced non–clear cell renal cell carcinoma, show that the therapy demonstrated an overall response rate of about 25%. In patients with chromophobe histology, the overall response rate was 9.5%.
Because there are no U.S. Food and Drug Administration (FDA)-approved therapies for patients with non–clear cell renal cell carcinoma, there is a significant unmet medical need for safe and effective treatment options for these patients, and the results from KEYNOTE-427 warrant further evaluation. You can read more about the study results on page 12.
Two other studies of particular note, KEYNOTE-4262 and JAVELIN Renal 101,3 showcase how first-line treatment options for advanced renal cell carcinoma are evolving rapidly from monotherapy agents targeting the vascular endothelial growth factor (VEGF) pathway to combinations of immune checkpoint inhibitors. (In 2018, the FDA approved nivolumab and ipilimu­mab in combination for the treatment of intermediate- or poor-risk, previously untreated advanced renal cell carcinoma.4)
These two phase III studies confirmed the benefit of combining an immune checkpoint inhibitor with a VEGF receptor tyrosine kinase inhibitor (TKI), axitinib, in the treatment of metastatic renal cell carcinoma. ­KEYNOTE-426 evaluated a combination regimen of the anti–PD-1 monoclonal antibody pembrolizumab and axitinib vs the multitargeted TKI sunitinib. In April, the FDA approved this combination for the first-line treatment of patients with advanced renal cell carcinoma. JAVELIN Renal 101 compared the anti– programmed cell death ligand 1 (PD-L1) monoclonal antibody avelumab and axitinib vs sunitinib alone. On May 14, the FDA approved avelumab in combination with axitinib for the first-line treatment of patients with advanced renal cell carcinoma.
Sunitinib has been the standard of care for first-line therapy for metastatic renal cell carcinoma, but the favorable results from these and earlier studies has altered the standard of care in previously untreated patients with advanced renal cell carcinoma. ­KEYNOTE 426 showed an overall improved survival and progression-free survival with the combination therapy, and ­JAVELIN found the combination improved progression-free survival. (For additional information on these studies, see pages 12–16.)
Also of particular interest are the results from the CARMENA phase III trial,5 which investigated sunitinib plus cytoreductive nephrectomy vs sunitinib alone in patients with metastatic renal cell carcinoma. Although cytoreductive nephrectomy has been the standard of care as a first-line treatment for patients with metastatic renal cell carcinoma for more than 20 years, the results from CARMENA, which showed that sunitinib alone is not inferior to cytoreductive nephrectomy plus sunitinib, may flip the existing paradigm for managing advanced-stage renal cell carcinoma. (See page 22 for more details.)
Advances in Metastatic Prostate Cancer
Significant progress is also being made in the treatment of both castration-sensitive advanced prostate cancer and castration-resistant prostate cancer, as the results from two large phase III studies, LATITUDE6 and ARCHES,7 show.
In a final analysis of the long-term survival outcomes and safety results from LATITUDE, which evaluated the efficacy of adding abiraterone acetate plus prednisone to androgen-deprivation therapy (ADT) in men with newly diagnosed, castration-sensitive, metastatic prostate cancer, the combination therapy with ADT was associated with significantly longer overall survival than placebo plus ADT—53.3 months vs 36.5 months, respectively—and had a manageable safety profile. These findings are so notable, they support the use of abiraterone acetate plus prednisone as a standard of care in patients with high-risk metastatic castration-sensitive prostate cancer.
In the ARCHES randomized trial, 1,150 men with metastatic prostate cancer who had just begun treatment with ADT or who had just completed treatment with docetaxel and ADT were randomly assigned 1:1 to receive either ADT alone or ADT plus enzalutamide. The primary endpoint of the trial was radiographic progression-free survival, which has been a regulatory accepted endpoint similar to metastasis-free survival. The goal of the trial was to delay radiographic progression or death. Findings from ARCHES demonstrated a 61% reduction in the risk of radiographic progression or death with the addition of enzalutamide compared with ADT plus placebo. And, importantly, even the nearly 20% of participants who had received prior docetaxel therapy benefited from the addition of enzalutamide. Complete results from these studies appear on pages 24–28.
Novel Approaches in the Treatment of Urothelial Carcinoma
Bladder cancer is the most common cancer involving the urinary system, and about 90% of all bladder cancers diagnosed in the United States are urothelial carcinoma. The disease is much more common in men than women: in 2019, about 61,700 men and 18,770 women will be diagnosed with bladder cancer and about 12,870 men and 4,800 women will die from the disease.8 Over the past year, the results from three clinical trials show promising advances in the treatment and management of urothelial carcinoma and in addressing the unmet needs of this patient population.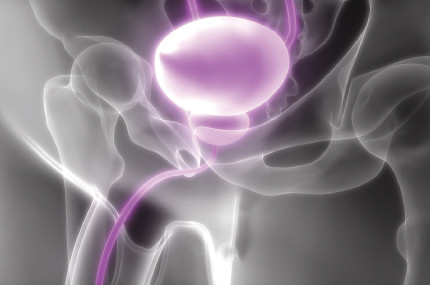 Three-dimensional illustration of the bladder and urinary tract. Photo: Getty Images.
In a randomized phase III trial assessing adjuvant sequential chemotherapy plus radiotherapy vs adjuvant radiotherapy alone for locally advanced bladder cancer after cystectomy, the results show that the addition of adjuvant chemotherapy to postoperative radiotherapy significantly improved disease-free survival after radical cystectomy. The 2-year disease-free survival for patients treated with adjuvant chemotherapy plus postoperative radiotherapy was 62% compared with 48% for patients treated with postoperative radiotherapy.9
The findings from another important trial evaluated sacituzumab govitecan, a novel antibody-drug conjugate of the humanized anti–Trop-2 monoclonal antibody linked with SN-38, the active metabolite of irinotecan, in a cohort of 45 heavily pretreated patients with relapsed or refractory metastatic urothelial cancer. These results are also suggesting benefit for patients with limited treatment options. In this small phase I/II basket trial, presented during the 2019 Genitourinary Cancers Symposium, single-agent treatment yielded an objective response in 31% of patients. For 50% of patients, these responses have lasted at least 12 months. Overall, the median progression-free survival was 7.3 months, and the median overall survival was 16.3 months. In addition, sacituzumab govitecan was reasonably tolerated, with few patients discontinuing the treatment due to adverse events, and none due to neutropenia.10
And finally, a small phase Ib/II trial investigating the combination of lenvatinib, a VEGF multikinase inhibitor, plus pembrolizumab in patients with advanced urothelial cancer induced responses in a quarter of the patients in the study. The study findings show an objective response rate of 25% and a median progression-free survival of 5.4 months. According to the data presented at the 2019 ASCO–Society for Immunotherapy of Cancer (SITC) Clinical Immuno-Oncology Symposium, of the 20 patients enrolled in the study, 1 remains in complete remission.11 (Find complete details of these study findings on pages 30–33.)
NCCN Updates Its Clinical Practice Guidelines
Earlier this year, the National Comprehensive Cancer Network® (NCCN®) made several critical updates to its Clinical Practice Guidelines (NCCN Guidelines®), three of which are particularly relevant to the practice of genitourinary oncology, including the treatment of kidney, prostate, and muscle-invasive bladder cancers.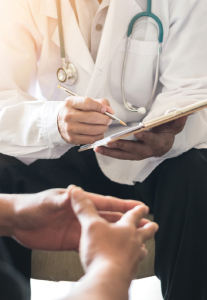 Photo: Getty Images.
Among the major changes in the guidelines is an update to the risk categorization, including good risk, intermediate risk, and poor risk, in the treatment of kidney cancer. Previously, all three categories were used to identify appropriate first-line therapies for patients with kidney cancer. Now, "good risk" is in its own risk category, and the intermediate- and poor-risk categories are combined.
Significant changes were made to the clinical practice guideline for prostate cancer as well, including additional refinements in taking patients' family histories; new recommendations for germline and somatic testing; the use of upfront androgen receptor blockers in men at high risk; suggestions on intermittent vs continuous androgen-deprivation therapy; and consideration of whether to treat the primary tumor in men diagnosed with de novo metastatic prostate cancer.
The updated guideline also calls for all patients to be tested with next-generation sequencing for the genes linked with aggressive prostate cancer, including MLH1, MSH2, MSH6, PMS2, and the homology-directed repair genes, BRCA1, BRCA2, ATM, PALB2, and CHEK2.
There are also major revisions in the guideline for muscle-invasive bladder cancer. Among the clinical practice changes are a distinction between patients with stage II disease who are candidates for cystectomy and those patients requiring noncystectomy therapy; platinum-ineligible patients, regardless of PD-L1 expression, can be treated in the first line with atezolizumab or pembrolizu­mab, with other options including gemcitabine or gemcitabine plus paclitaxel; and post–checkpoint inhibitor, patients who are cisplatin-­ineligible should receive gemcitabine/carboplatin. Platinum-eligible chemotherapy-naive patients can receive gemcitabine/cisplatin or dose-dense methotrexate, vinblastine, doxorubicin, and cisplatin (DDMVAC), with growth-factor support.
A review of 2019 updates to the NCCN Clinical Practice Guidelines in Oncology can be found on page 34. ■
Guest Editor: Sumanta Pal, MD, is Co-Director of the Kidney Cancer Center at City of Hope in Duarte, California.
DISCLOSURE: Dr. Pal is a consultant for Pfizer, Novartis, Aveo, Myriad, Genentech Exelixis, Bristol-Myers Squibb, Astellas Pharma, Ipsen, and Eisai.
References
1. McDermott DF, Lee J-L, Ziobro M, et al: First-line pembrolizumab monotherapy for advanced non-clear cell renal cell carcinoma: Results from KEYNOTE-427 cohort B. 2019 Genitourinary Cancers Symposium. Abstract 546. Presented February 16, 2019.
2. Rini B, Plimack E, Stus V, et al: Pembrolizu­mab plus axitinib vs sunitinib for advanced renal cell carcinoma. N Engl J Med 380:1116-1127, 2019.
3. Choueiri TK, Motzer RJ, Campbell MT, et al: Subgroup analysis from JAVELIN Renal 101: Outcomes for avelumab plus axitinib sunitinib in advanced cell renal cell carcinoma. 2019 Genitourinary Cancers Symposium. Abstract 544. Presented February 16, 2019.
4. U.S. Food and Drug Administration: FDA approves nivolumab plus ipilimumab combination for intermediate or poor-risk advanced renal cell carcinoma. Available at www.fda.gov/drugs/resources-information-approved-drugs/fda-approves-­nivolumab-plus-ipilimumab-combination-intermediate-or-poor-risk-advanced-renal-cell. Accessed May 15, 2019.
5. Méjean A, Ravaud A, Thezenas S, et al: Sunitinib alone or after nephrectomy in metastatic renal-cell carcinoma. N Engl J Med 379:417-427, 2018.
6. Fizazi K, Tran N, Fein L, et al: Abiraterone acetate plus prednisone in patients with newly diagnosed high-risk metastatic castration-sensitive prostate cancer (LATITUDE): Final overall survival analysis of a randomized, double-blind, phase 3 trial. Lancet Oncol 20:686-700, 2019.
7. Armstrong AJ, Szmulewitz RZ, Petrylak DP, et al: Phase III study of androgen deprivation therapy with enzalutamide or placebo in metastatic hormone-sensitive prostate cancer. The ARCHES trial. 2019 Genitourinary Cancers Symposium. Abstract 687. Presented February 14, 2019.
8. American Cancer Society: Key Statistics for Bladder Cancer. Available at www.cancer.org/cancer/bladder-cancer/about/key-­statistics.html. Accessed May 15, 2019.
9. Zaghloul MS, Christodouleas JP, Hwang W-T, et al: Randomized phase III trial of adjuvant sequential chemotherapy plus radiotherapy versus adjuvant radiotherapy alone for locally advanced bladder cancer after radical cystectomy: Urothelial carcinoma subgroup analysis. 2019 Genitourinary Cancers Symposium. Abstract 351. Presented February 14, 2019.
10. Tagawa ST, Faltas BM, Lam ET, et al: Sacituzumab govitecan (IMMU-132) in patients with previously treated metastatic urothelial cancer: Results from a phase I/II study. 2019 Genitourinary Cancers Syposium. Abstract 354. Presented February 15, 2019.
11. Vogelzang NJ, Encarnacion CA, Cohn AL, et al: Phase Ib/II trial of lenvatinib plus pembrolizumab in urothelial cancer. 2019 ASCO-SITC Clinical Immuno-Oncology Symposium. Abstract 11. Presented March 1, 2019.
---