2019 Updates to NCCN Clinical Practice Guidelines in Genitourinary Oncology

The 24th Annual Conference of the National Comprehensive Cancer Network® (NCCN®) was held this past March in Orlando, Florida. Updates to a number of Clinical Practice Guidelines (NCCN Guidelines®) were reported, including three relevant to the field of genitourinary oncology: kidney cancer, prostate cancer, and muscle-invasive bladder cancer.
Kidney Cancer Risk Categorization

Eric Jonasch, MD
Eric Jonasch, MD, Professor in the Department of Genitourinary Oncology at The University of Texas MD Anderson Cancer Center, Houston, and Vice-Chair of the NCCN Kidney Cancer Panel, discussed updates to the kidney cancer clinical practice guidelines. Risk categorization, i.e., good risk, intermediate risk, and poor risk, has been used to identify appropriate first-line therapies for patients, as well as alternative options. In particular, he noted that good risk was now its own risk category, whereas intermediate- and poor- risk categories were now combined. The impact on treatment as identified in the NCCN Clinical Guidelines follows:
For patients with intermediate- and poor-risk renal cell carcinoma, ipilimumab/nivolumab along with cabozantinib are appropriate treatment options.
For patients with good-risk disease, sunitinib and pazopanib can be considered until combinations of immunotherapy agents and tyrosine kinase inhibitors are approved.
The combinations of pembrolizumab/axitinib and avelumab/axitinib may become options for all risk groups. [Editor's note: Both combinations have since received approval from the FDA for the first-line treatment of advanced renal cell carcinoma (April and May 2019, respectively)].
Prostate Cancer

James L. Mohler, MD

Emmanuel S. Antonarakis, MD
James L. Mohler, MD, Associate Director for Translational Research, Chief of Inter-Institutional Academics, and Professor of Oncology at Roswell Park Comprehensive Cancer Center, Buffalo, New York, and Emmanuel S. Antonarakis, MD, of The Sidney Kimmel Comprehensive Cancer Center at Johns Hopkins: presented updates to the NCCN Guidelines for Prostate Cancer. These included further refinements in taking a family history, new recommendations for germline and somatic testing, use of androgen receptor blockers up front in men at high risk, advice regarding intermittent vs continuous androgen-deprivation therapy, and consideration of whether to treat the primary tumor in men diagnosed with de novo metastatic prostate cancer. All patients should be tested with next-generation sequencing for the following genes associated with increased incidence and/or aggressiveness of prostate cancer: MLH1, MSH2, MSH6, PMS2, and the homology-directed repair genes BRCA1, BRCA2, ATM, PALB2, and CHEK2.
In summary, the new guidelines in prostate cancer distinguish between intraductal and ductal carcinoma. A higher incidence of germline mutations is found in intraductal cancers, which can have treatment implications. Further, Dr. Mohler presented the following updates:
Patients with intermediate-risk disease are now categorized as favorable vs unfavorable risk. Active surveillance may be appropriate for some favorable intermediate-risk patients.
Intermittent androgen deprivation is considered as safe as continuous ADT for men with nonmetastatic prostate cancer. Intermittent androgen therapy should be considered in men with metastatic disease.
Treatment of the primary tumor is controversial in men with low-volume metastatic prostate cancer
Second-generation androgen receptor blockers are recommended in addition to androgen-deprivation therapy for patients with nonmetastatic castration-resistant prostate cancer and a prostate-specific antigen doubling time of 10 months or less.
Muscle-Invasive Bladder Cancer

Thomas W. Flaig, MD
Updates to the guidelines for muscle-invasive bladder cancer were presented by Thomas W. Flaig, MD, Professor of Medicine and Associate Dean, University of Colorado Cancer Center, Aurora. In the updated version: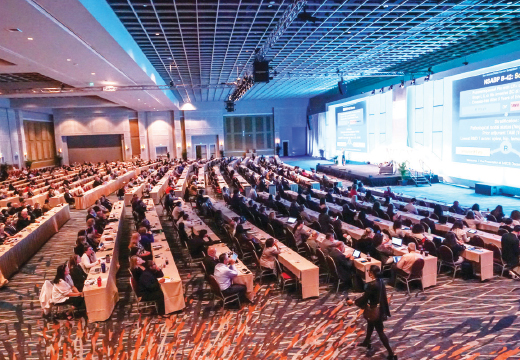 NCCN 2019: Attendees at the 2019 NCCN Annual Conference in Orlando, Florida. Photo courtesy of NCCN.
---