Stage IV Lung Cancer Did Not Stop Me From Climbing Mera Peak
Although it's a constant challenge, I refuse to let cancer define my life.

A veteran mountain climber and skier, I've been healthy for most of my 61 years, so it was especially shocking to experience a bout of shortness of breath during a moderately intense mountain bike ride with my wife, Jan, in the spring of 2014. A never-smoker, I was used to climbing up high mountain altitudes with never any signs of respiratory distress, and now I was worried. I had just returned from a 2-week physically challenging skiing trip, where I had climbed up and skied down 10,000-foot mountains and was feeling fine until I biked up a not-very-steep hill and found myself gasping for air. 
A visit to my primary care physician for a physical exam and a series of cardiac stress tests failed to turn up the source of the problem. Finally, a chest x-ray showed small nodules throughout my lungs and a larger mass on my left lung. And although I remember thinking, "this can't be good," lung cancer seemed a remote possibility. 
After being admitted to the hospital, where I had a liter of fluid drained from my lungs, a thoracoscopic biopsy was performed on one of my lung nodules, and the pathology report showed I had stage IV non–small cell lung adenocarcinoma. A genomic test later found I have the epidermal growth factor receptor (EGFR) mutation. As if that news wasn't traumatic enough, a magnetic resonance imaging (MRI) scan showed the cancer had metastasized to my brain. I was devastated. 
Facing Personal Challenges 
A SERIES OF stereotactic radiation therapy to my brain was successful in removing a small tumor, and I was prescribed the EGFR inhibitor erlotinib (Tarceva) to halt the progression of the tumors in my lungs. The treatment kept me in remission for 9 months, during which time I went on a mountaineering holiday in the Italian Alps and climbed 6,288 feet up Mount Washington in New Hampshire. Although I felt fine during these trips, when I returned, I learned erlotinib was no longer working and my cancer was advancing. 
A 9-month protocol of a standard chemotherapy regimen failed to give me much relief. In 2016, I was enrolled in a clinical trial testing a third-generation EGFR tyrosine kinase inhibitor known as EGF816. Within days of being treated, I noticed I could breathe better and had more stamina. In fact, the drug was working so well for me that a friend suggested I join him on a climb up the 21,247-foot Mera Peak in Nepal. 
Coming to a Crucial Decision 
AFTER DISCUSSING the trip with my medical oncologist, Zofia Piotrowska, MD, at Massachusetts General Hospital (MGH), who said my lung function was pretty close to normal, she suggested I get the approval of another oncologist on my medical team, Tomas G. Neilan, MD, MPH, Director of the Cardio-Oncology Program at MGH.
A climber himself, Dr. Neilan found my cardiovascular function and health were in great shape. What he couldn't tell me with any certainty was how well a patient with stage IV lung cancer would fare at 21,000 feet, where there are lower levels of oxygen and decreased air pressure; even the healthiest climbers are at risk for altitude sickness and the possibility of pulmonary and cerebral edema. After considering my long experience as a mountain climber and my physical condition, and describing altitude-related symptoms to look out for, including coughing up blood and severe headaches, Dr. Neilan gave me his permission. I was on my way. 
Overcoming the Odds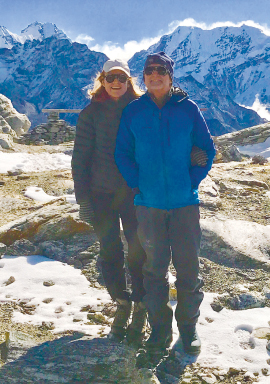 Jan and Andy Lindsay at Base Camp, at 18,000 feet on Mera Peak on October 14, 2017. Photo by Margaret Fahey.
I SET OFF on the 3-week trek up Mera Peak with Jan, an experienced outdoorswoman and a registered nurse; eight other climbers, including an emergency medical technician; several guides; and a team physician. During the first week of the climb, I took my time, resting periodically, and stayed in the back of the group. But once we got to 15,000 feet, my stamina was better, and I was able to maintain a steady pace, moving up to the middle of the pack. I was actually doing better the higher we climbed. 
On summit day, I knew I had to hunker down and prepare myself for the grueling 5-hour climb to the top of the mountain. The conditions we were facing—darkness, high winds, and –20-degree temperatures—were difficult, and it was hard for me to keep up and catch my breath. I was gasping all the way but didn't want to stop, because there was more at stake here than just overcoming a personal challenge. I was also using the climb to raise funds for cancer research at MGH (https://because.massgeneral.org/fundraiser/1067690).
Mr. Lindsay approaching the summit of Mera Peak at approximately 20,000 feet on October 15, 2017. Photo by Sandy Walker.
I wanted to give back to the dedicated clinicians and researchers who had given so much to me and who had made this climb possible. I've now lived with stage IV lung cancer for 4 years. When I was diagnosed, expecting to live 1 year was a gift, 2 years a miracle. Now, here I was about to stand atop Mera Peak, thanks to their efforts and cutting-edge treatments. 
On October 15, 2017, at 7:00 AM, I reached the summit and planted the MGH flag. It was a great feeling.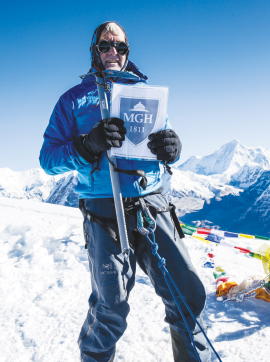 On October 15, 2017, at 7:00 AM, Mr. Lindsay reaches the summit of Mera Peak at 21,247 feet and plants the Massachusetts General Hospital flag in appreciation of his medical care and to raise funds for cancer research. Photo by Sandy Walker.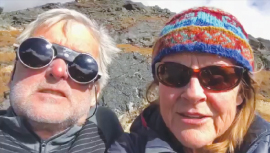 Andy Lindsay with his wife, Jan, after climbing Mera Peak in Nepal. Photo by Jan Lindsay.
Taking the Next Step 
MANY PEOPLE who aren't cancer survivors think if the cancer didn't kill you, it means you're cured. 
They don't understand that some of us are living with cancer as a chronic disease. And although it's a constant challenge, I refuse to let cancer define my life. 
I know eventually my cancer will become resistant to the experimental therapy I'm taking and hope there will be another one to take its place, and another one after that. But I'm not thinking too far into the future. Having cancer is like mountain climbing: All that matters is the next step ahead. ■
Mr. Lindsay lives in Ipswich, Massachusetts. 
Editor's Note: Columns that appear in the Patient's Corner are based solely on information The ASCO Post receives from patients and should be considered anecdotal. 
---