American Cancer Society Awards New Research and Training Grants

THE AMERICAN CANCER Society has approved funding for 110 grants totaling $47,624,000 to researchers and health professionals across 72 institutions nationwide in the first of 2 grant cycles for 2018. Of these grants, 101 are new and 9 are renewals of previous grants. 
Two individuals have been awarded the prestigious 5-year renewable American Cancer Society Clinical Research Professorship: 
Owen A. O'Connor, MD, PhD, of Columbia University, New York. Dr. Connors' lab hopes to develop novel treatments for peripheral T-cell lymphomas. 
Ronald M. Epstein, MD, of the University of Rochester, New York, will continue his work on mindfulness in the clinical care of patients, including using avatars that can give real-time feedback to improve communication between patients and their health-care providers. 
One American Cancer Society Clinical Research Professor was renewed for a 5-year term: Stephen J. Meltzer, MD, of Johns Hopkins University, is investigating the early diagnosis and cancer development in Barrett's esophagus, the required precancerous precursor of a type of esophageal cancer that is increasing at alarming rates in the United States.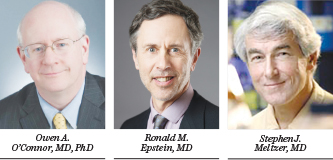 Investigator-Initiated Studies 
HIGHLIGHTS OF the investigator-initiated studies approved for funding in the current grant cycle follow: 
Mo Motamedi, PhD, of Massachusetts General Hospital, will focus on resistance to chemotherapy and the recurrence of disease. Dr. Motamedi hopes the work will lead to the identification and eventual development of new therapies against dormant cancer cells. 
Lindsey Seldin, PhD, of Vanderbilt University, will investigate mechanisms regarding how early breast tissue abnormalities lead to ductal carcinoma in situ, in the hope of improving breast cancer therapies for metastatic breast cancer. 
Catherine C. Smith, MD, of the University of California, San Francisco, aims to identify genes and mutations that lead to resistance to targeted therapies, which are used against approximately 30% of acute myeloid leukemia cases with FLT3 mutations. 
Breelyn Wilky, MD, of the University of Miami, will conduct a clinical trial of combination axitinib with pembrolizumab (Keytruda) for patients with sarcomas. 
Lyle Fagnan, MD, of Oregon Health and Science University, will study novel interventions in rural primary care practices and rural community-based organizations intended to increase human papillomavirus vaccination completion in both males and females aged 11 to 17 years. 
Courtney E. Sullivan, MSN, of the University of Alabama at Birmingham, proposes to develop measures of nursing quality and its influence on childhood cancer outcomes around the world. 
For more information about the American Cancer Society Research Program, visit http://www.cancer.org/research. ■
---