ACS and MRA Fund Research on Adverse Effects of Immunotherapy

THE AMERICAN CANCER SOCIETY (ACS) and the Melanoma Research Alliance (MRA) recently selected a group of scientists to receive newly established research grants to investigate the adverse effects associated with checkpoint inhibitor cancer treatments. The grants are funded by MRA and ACS under a joint agreement and that will go into effect July 1, 2018.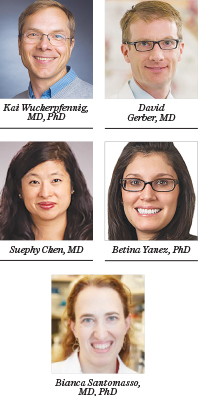 Kai Wucherpfennig, MD, PhD, of the Dana-Farber Cancer Institute, and David Gerber, MD, of The University of Texas Southwestern Medical Center, Dallas, have been granted the first ACS-MRA Multidisciplinary Team Awards. Dr. Wucherpfennig will conduct a clinical trial comparing steroids or the immunosuppressant infliximab (Remicade) for ipilimumab-induced colitis. Dr. Gerber will conduct a large, multicenter clinical trial to determine whether preexisting autoimmunity increases the risk of immune-related adverse events to immunotherapy. 
Suephy Chen, MD, of Emory University; Betina Yanez, PhD, of Northwestern University; and Bianca Santomasso, MD, PhD, of Memorial Sloan Kettering Cancer Center, have been granted the first ACS-MRA Pilot Awards. Dr. Chen will focus on improving the understanding of cutaneous immunotherapy-related side effects in patients with melanoma by studying tissue samples, blood work, and surveys completed by patients to characterize the skin side effects precisely. The goal of Dr. Yanez's research is to establish an evidence-based, Web-delivered oncology program, "OncoLink," to improve the management of immune checkpoint inhibitor side effects. Dr. Santomasso's research will focus on neurologic immune-related adverse events associated with immunotherapies. ■
---