Precision Medicine and My Own Activism Are Keeping Me Alive
I'm doing everything I can to stay ahead of my stage IV non–small cell lung cancer. So far it's working.

In 2009, I was living my dream. My work as a business development manager for a technology company was thriving; I had a satisfying social life; I was active in sports, especially hiking and biking; and I was involved in social justice causes as a volunteer at San Quentin State Prison, helping inmates overcome substance abuse problems. As it turned out, my work at the prison probably saved my life.
I know how capricious cancer is, and that at some point, my disease will start to advance. In the meantime, I'm ­figuring out plan C to stay one step ahead and living the best life I can.

— Dan Stranathan




Tweet this quote



One of the mandatory requirements of volunteering at San Quentin is a medical clearance exam to ensure you are healthy enough to work with the inmates. To my astonishment, I wasn't as healthy as I thought. In fact, the results from imaging scans, blood tests, and a tissue biopsy showed I had stage IV non–small cell adenocarcinoma. I was given 8 to 12 months to live.
Nothing prepared me for this news. The week before my diagnosis, I thought I was in the pinnacle of good health. I had completed a 21-mile hike that reached 4,000 feet in altitude and never felt a twinge of discomfort, not even the slightest symptoms of shortness of breath or coughing, and now I was facing a terminal illness and death.
Developing Plan B
Despite my poor prognosis, my oncologist decided to treat the cancer aggressively. I was prescribed 15 rounds of radiation therapy to shrink the tumors in my lungs, followed by 6 cycles of a chemotherapy cocktail consisting of paclitaxel, carboplatin, and bevacizumab (Avastin). At the end of the treatment, I had a computed tomography scan to see how effective the therapy had been; although it had managed to shrink the tumors in my lungs, the test spotted nodules in my liver, which were resolved after 6 rounds of gemcitabine. They've never been back.
Eight years ago, genetic testing to identify the driver mutations in my type of cancer was just beginning, and it was expensive to perform, so my oncologist suggested I first try the kinase inhibitor erlotinib (Tarceva), which targets tumors with epidermal growth factor receptor (EGFR) mutations, to see whether the drug would be effective for me. Erlotinib did prevent my tumors from growing and kept my cancer stable for the next 6 years, but, in 2015, when a new tumor was found in my left lung, I knew I had to put together a plan B to stay alive.
By then, genomic sequencing was more sophisticated and commonplace, and I was anxious to learn the genetic mutations driving my cancer. I was shocked to see that I had none of the common mutations, including EGFR or ALK, and instead had two novel ones: NTRK1 without fusion and PIK3CA. After learning what I could about my specific type of cancer and consulting with a second oncologist to determine my best next course of treatment, we agreed to try the monoclonal antibody nivolumab (Opdivo). After 25 infusions of the drug, my disease is once again stable, and there is no sign of new tumor growth.
Fierce Patient Advocate
Although I continue to do well, I know not every lung cancer survivor with metastatic disease is as lucky as me. I also know the pain of losing someone you love to cancer. Throughout my cancer survivorship, I have used social media to learn more about non–small cell lung cancer and new drugs in development and stay connected with other cancer survivors. It is also where I met Penny Blume, a stage 4 survivor of small cell lung cancer, and quickly fell in love. Although on opposite sides of the coasts, we managed to see each other every 6 weeks until the fall of 2013, when Penny became too ill to travel, and I brought her to my home in California to care for her until her death in early 2014.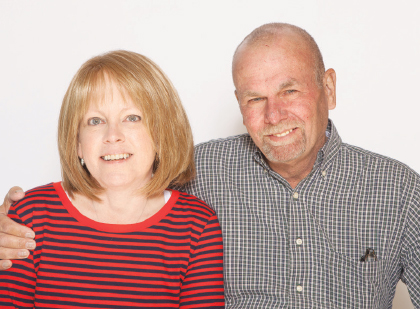 Don Stranathan and Penny Blume
Penny's death has only made me more determined to thwart cancer at every turn and to help other survivors live as long and as well as possible. I have become a fierce patient advocate for a number of lung cancer foundations, including LUNGevity, and I'm a consumer reviewer for the Department of Defense Lung Cancer Research Program. I also provide one-on-one support to newly diagnosed patients with lung cancer. I want to make sure no cancer survivor feels isolated and all survivors have the information they need to become active participants in their care.
Staying a Step Ahead
Cancer is not the first life-threatening disease I've had. In 1998, I was diagnosed with dilated cardiomyopathy and told I would die within the next 2 years without a heart transplant. I decided to take charge of my health and started exercising, changed my diet, and adhered to my physician's advice on medication. Over the next 24 months, I completely reversed my heart condition and no longer needed surgery.
When I was diagnosed with non–small cell lung cancer, I didn't know if I could cheat fate a second time, but I resolved to try.
Today, at 64, I can look back on my life with satisfaction and a sense of accomplishment of a life well lived. I've raised wonderful children and have the love of family and friends. I still lead an active lifestyle and live every day to the fullest. But I don't take anything for granted. I know how capricious cancer is, and that at some point, my disease will start to advance. 
In the meantime, I'm figuring out plan C to stay one step ahead and living the best life I can. ■
Mr. Stranathan is a patient advocate and lives in Santa Rosa, California.
---