Neratinib in Combination With Ado‑trastuzumab Emtansine in HER2-Positive Metastatic Breast Cancer

Puma Biotechnology presented interim results from the phase Ib/II FB-10 clinical trial of the oral pan-HER family irreversible tyrosine kinase inhibitor neratinib given in combination with the antibody-drug conjugate ado-trastuzumab emtansine (also known as T-DM1, Kadcyla) at the 2017 American Association for Cancer Research Annual Meeting in Washington, DC.1
The trial enrolled patients with HER2-positive metastatic breast cancer who had previously been treated with chemotherapy and the combination of trastuzumab (Herceptin) and pertuzumab (Perjeta). Study treatment consisted of the standard dose of ado-trastuzumab emtansine at 3.6 mg/kg administered intravenously every 3 weeks and neratinib administered orally at escalating doses of 120, 160, 200, and 240 mg/d continuously. Primary diarrhea prophylaxis with high-dose loperamide was administered.
For the 16 patients who were evaluable for efficacy, the objective response rate (complete plus partial responses) was 56%. More specifically, the efficacy results from the trial demonstrated that 3 patients had a complete response (CR) lasting 17.1 months, 11.9 months, and 12+ months; 6 patients had a partial response (PR); 3 patients had stable disease (SD); and 4 patients had progressive disease (PD). The number and types of response per dose cohort are summarized in Table 1.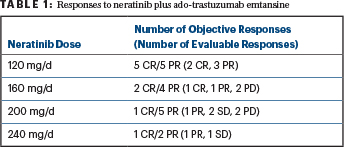 The most frequently observed grade 3 adverse events were diarrhea, nausea, thrombocytopenia, and hypertension. More specifically, for the 21 patients with available safety assessments, grade 3 diarrhea was reported in 4 patients (19%), grade 3 nausea was reported in 3 patients (14%), grade 3 thrombocytopenia was reported in 3 patients (14%), and grade 3 hypertension was reported in 2 patients (10%). There was 1 dose-limiting toxicity at the 120-mg dose (1 of 6 patients), 3 dose-limiting toxicities at the 200-mg dose (3 of 8), and 2 dose-limiting toxicities at the 240-mg dose (2 of 3). Additional patients are being accrued at the 160-mg dose to define the recommended phase II dose.

Jame Abraham, MD, FACP
Jame Abraham, MD, FACP, Director of the Breast Oncology Program at Taussig Cancer Institute, Professor of Medicine at Cleveland Clinic, and principal investigator of the study, said, "We are encouraged by these initial findings and will continue to enroll patients at the 160-mg dose to further evaluate the impact in this population." ■
Disclosure: Dr. Abraham has been a speaker for Genentech and Pfizer.
Reference
1. Abraham J, et al: NSABP FB-10. 2017 AACR Annual Meeting. Abstract CT013. Presented April 2, 2017.
---