Former Vice President Joe Biden and Congressman Kevin Yoder Pledge Continued Support to Conquer Cancer


Joe Biden
In a nearly hour-long address to more than 4,500 attendees at the 2017 Annual Meeting of the American Association for Cancer Research (AACR) on April 3, former Vice President Joe Biden lambasted President Trump's proposed $5.8 billion budget cut to the National Institutes of Health (NIH) and pledged his continued support for cancer research. Calling the cuts "draconian," the former Vice President said the funding reduction would set back the NIH budget and biomedical research by 15 years and result in shuttering laboratories, ending research careers, and delaying scientific breakthroughs.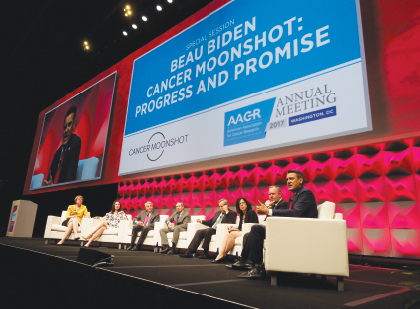 Session Panelists (left to right): Nancy Davidson, MD, Fran Drescher, Richard Pazdur, MD, Douglas Lowy, MD, Michael Caligiuri, MD, Elizabeth Jaffee, MD, Roger Dansey, MD, and Congressman Kevin Yoder. 2017 AACR Annual Meeting
"On the cusp of fundamentally transforming the impact of cancer on society, on the cusp of saving and extending lives for Americans, the President of the United States is not only not doubling down on our investment, he's proposing draconian cuts, not only to biomedical research but also to the entire scientific expertise across the board," said Mr. Biden.
Saying that he believed the proposed budget would not pass Congress and never be enacted into law, the message being sent to young people interested in scientific careers was nevertheless damaging, because it could deter people from pursuing those careers "out of fear that these fields are no longer important to the country." Citing the progress being made since the national Cancer Moonshot initiative was launched a year ago to accelerate cancer research and accomplish in 5 years what typically takes 10 years, the former Vice President said the Cancer Moonshot has evolved from a program to a national and global movement, which has already resulted in greater scientific collaboration and data sharing.
This past June, Mr. Biden announced the launch of the National Cancer Institute's Genomic Data Commons, a data repository that enables data sharing across cancer genomic studies. Since then, said Mr. Biden, researchers have accessed these data 80 million times, "increasing the chances exponentially that we can find some additional answers [to cancer]. We can do more together than we can by working alone," he stated.
Ending the 'Scourge of Cancer'
The Cancer Moonshot was launched in response to the death of Mr. Biden's son Beau Biden of glioblastoma in 2015 and the Obama Administration's desire to quicken the pace of cancer research. Late this past year, in bipartisan cooperation, Congress passed the 21st Century Cures Act, which provides $6.3 billion in federal funding for drug treatment and a precision medicine initiative and includes $1.8 billion over 7 years for the Cancer Moonshot, now renamed the Beau Biden Cancer Moonshot.
During his speech at the 2017 AACR meeting, Mr. Biden reinforced his commitment to promote the cancer research enterprise through collaboration of government, academia, and private sector partnerships. "The reason I'm going to stay involved is because for the first time in 45 years, there is some real significant movement in collaboration, which in my view is where the solutions are most likely to lie to double our rate in the fight against cancer," Mr. Biden told the audience. "Last year, when I laid out the challenges you face and the system that needs improvement, it was to let you know that I'm with you, not against you. I, and a lot of other people, are still involved in this and will continue to fight for you to give you the support and conditions you deserve to help end this scourge of cancer."
Expediting Cures

Nancy Davidson, MD

Richard Pazdur, MD

Elizabeth Jaffee, MD

Michael Caligiuri, MD

Douglas Lowy, MD
Biden's speech was followed by a panel session on the "Beau Biden Cancer Moonshot: Progress and Promise," moderated by Nancy Davidson, MD, Past President of AACR and Executive Director of Oncology at Fred Hutchinson/University of Washington Cancer Consortium and President of the Seattle Cancer Care Alliance. Panelists included Elaine L. Chao, U.S. Secretary of Transportation, who shared her story of losing her mother, Ruth Mulan Chu Chao, to lymphoma; Fran Drescher, actress and cancer survivor and founder of Cancer Schmancer; Richard Pazdur, MD, Director of the U.S. Food and Drug Administration (FDA) Oncology Center of Excellence; Douglas Lowy, MD, Acting Director of the National Cancer Institute (NCI); Elizabeth Jaffee, MD, AACR President-Elect 2017–2018; Co-Chair of the Cancer Moonshot Blue Ribbon Panel; and Deputy Director of the Sidney Kimmel Comprehensive Cancer Center at Johns Hopkins; Michael Caligiuri, MD, President of the AACR and Director of The Ohio State University Comprehensive Cancer Center; Congressman Kevin Yoder (R-Kansas), Co-Chair of the House of Representatives Cancer Caucus; and Roger Dansey, MD, Senior Vice President of Global Clinical Development Oncology at Merck Research Laboratories.
Asked to comment on the impact the Beau Biden Cancer Moonshot is having on initiatives at the FDA and the NCI, Dr. Pazdur said one of the lasting legacies of the Cancer Moonshot is the creation of the FDA's Oncology Center of Excellence and the integration of oncology programs within the FDA to help expedite the development of oncology products and the evaluation of drugs, biologics, and devices in the treatment of cancer.
"Not only does [the launch of the Center of Excellence] have an implication for getting out drugs faster, not only does it have an implication for regulatory work, but it also has implications for having the FDA be involved with other academic centers and professional groups and actually developing regulatory science and the science that we will use in the regulation of drugs and in drug development in general," said Dr. Pazdur.
He also noted that another important aspect of the Cancer Moonshot initiatives for the FDA is an examination of how clinical trials are designed and whether there are better ways of performing clinical trials. "They include seamless trial designs, where we merge phase I, phase II, and phase III testing together taking a look at eligibility criteria, making them reflect more real-world situations by taking a look at large, simple trials," he added.
Dr. Lowy agreed that in the short time since the Cancer Moonshot was launched, the new funding resource for the NCI—$300 million in fiscal year 2017—is already having a positive impact on the agency's ability to fund new cancer research initiatives. According to Dr. Lowy, the agency has made 15 different Cancer Moonshot–related research announcements, which will be funded this fiscal year, and the NCI has created implementation teams, which are in the process of prioritizing how to move forward with new awards in fiscal years 2018 and 2019.
"In the spirit of the Cancer Moonshot, this is designed to greatly accelerate the pace of cancer research and for people to work together," said Dr. Lowy. "The third point I want to make is that the NCI can't do this alone. Instead we are looking forward to partnering with the private for-profit sector, with private philanthropy, advocates, and many other groups. Former Vice President Biden talked about the international agreements that were made, and we look forward to this being a global effort to deal with this terrible disease."
Promise of Bipartisan Congressional Support
Joe Biden at 2017 AACR Annual Meeting
During the panel discussion, Dr. Davidson asked Congressman Yoder if the momentum created by the passage of the 21st Century Cures Act for increased funding for scientific research would be sustained in the future. "These are different times, I understand, politically, and people may be a little nervous about where Congress is going and what Washington may do as it relates to funding," said Mr. Yoder. "So first and foremost, I'm here to reassure you that this continues to be a priority for this Congress … to fund cancer research, to fund the NIH, to make good on our promises on the Moonshot and the legislation passed in the 21st Century Cures Act. This continues to be a heavy priority for us and part of that is because many of us see this as not another line item on the budget…but something that is fundamental to who we are as American people and a prioritization of what matters in this country and in this Congress. This is an issue that, of course, affects both political parties equally."
Mr. Yoder said that both Democrats and Republicans were joining forces to send a clear message to researchers and young people considering the field of cancer research of their commitment to fund science to end cancer. "[We want] to reassure them and let them know that our commitment is strong, that our commitment is unwavering, and that we are unified in our quest to go to war on cancer and to cure this disease and treat this disease coupled with innovative ways to solve this disease in as many ways as possible," revealed Mr. Yoder. "We know that the federal government plays a key role in that, so with the Moonshot and with the work all these men and women are doing, and all that you are doing, we are here to be your ally and to let you know that support will continue to be there regardless of who operates the White House." ■
---